Golden Girl Lindsey Vonn's Top 5 Fitness Tips
Golden Girl Lindsey Vonn's Top 5 Fitness Tips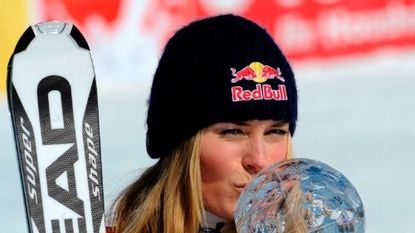 (Image credit: Archives)
Olympic gold medalist Lindsey Vonn stopped by our offices last week to dish about her medal, her man (skier Thomas Vonn) and her upcoming vacation (she's thinking Virgin Islands). In a pink tweed blazer, jeans, and Tory Burch shoes, it was a different Lindsey than the one we saw on the slopes, but we loved it! We asked for her top fitness tips, and here's what she said:
1. Do something! No matter what your goal, start with baby steps. Even 20 minutes of cardio a day gets you closer than sitting on the couch.
2. Get creative. Lindsey admits to cramming in 20 sit-ups or 40 push-ups in airports and hotels when she's on the road, not training. Building the habit of doing something every day, no matter where you are, is key.
3. Weight lifting gets a bad rap. It only bulks you up if you go overboard with too-heavy weights. Lindsey recommends more reps but at a lower weight to tone muscles and burn calories.
4. Eat and run. Traveling for training for much of the year, this girl's got eating on the road figured out. At Starbucks, she'll order an egg white and spinach wrap, plus coffee with non-fat milk. If she's ordering a salad to go, she throws out half the dressing right away. At home in Vail, where she loves cooking for Thomas, she makes chicken and rice--light on the gravy for her.
5. Change it up. Lindsey's second-favorite sport, tennis, is a great way to get outside and stay active without going crazy training in the gym. The point is to switch workouts enough that your body--and brain--don't get bored.
Related Video