Editors handpick every product that we feature. We may earn commission from the links on this page.
The Best Yoga Mats for Comfort and Zero Slips, According to Yogis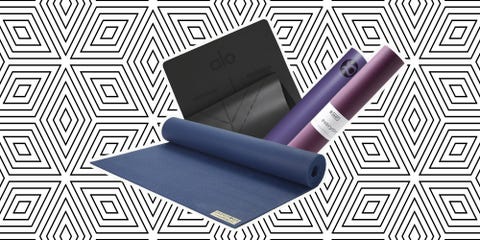 Finding the perfect yoga mat is kind of like dating—you don't really know what you're looking for, but once you find it you'll wonder how you made do with anything else. Whether you're a seasoned yogi or about to sign up for your first class, a clearer mind, happier body, and better overall health starts with what you (literally) practice on. Now, more than ever, we could all take advantage of the balance and ease yoga provides us with both physically and mentally—even if we're forced to do it from our living rooms. Begin your practice with any of these mats, below, that yoga-loving women swear by.
"My current go-to yoga mat is the B MAT Strong in Cacao. This thicker mat (6mm) is perfect for my at-home practice, offering loads of cushioning and support with the same renowned B MAT grip. I also love this color; it's so grounding and soothing, which is important these days. And, of course, all B MATs are eco-friendly based on their production process and composition."
—Andrea Morris, B Yoga Founder & CEO
The Culture Fit Yoga Mat: Pink Kente
CultureFit® Clothing
$89.99
"The yoga mat I currently love is the Culture Fit Yoga Mat: Pink Kente. After a long day, I enjoy rolling out this mat to meditate and stretch. It has a nice grip so my hands are not slipping. As a Liberian-Nigerian American, the vibrant Kente print allows me to feel rooted and grounded in mind, body, spirit, and, most importantly, culture."
—Toyin Omisore, Roam Loud Wanderer in Chief
"The FS Mat is sleek and minimalistic, so it looks good in any space. At 5mm thick, it helps support your joints as you move and is both sweat and slip proof. I love to use it for yoga and for lengthening and sculpting with our FORWARD__Floor classes."
—Rachel Warren, FORWARD__Space Founding Instructor and Director of Instructor Training and Development
Manduka PRO™ Yoga Mat 6mm
"I'm 6'3" so the PRO Long Mat is a favorite. It will fit anyone–even your tallest friend or family member. I also love the ultra-dense support it offers. Not to mention, it will provide you with more real estate when you decide to head back to a studio class."
—Paul Zaengle, Manduka CEO
The B MAT Everyday Long 4mm
"I love the B Yoga mats. They provide a better grip than any other mat I've tried and the soft cushy texture feels great on my feet. It rolls up really well and comes in a variety of beautiful colors. Plus, it's a female-founded company and I love to support other female founders whenever I can."
—Joanna Griffiths, Knix CEO & Founder
"My favorite yoga mat is the Lululemon reversible 3mm. It's cushy enough to provide real support, but also incredibly lightweight to take with you anywhere! I love the mat's versatile material, which is crucial since I practice in both the studio and outdoors at Sweat Sessions. As a bonus, I love the color options because each side has its own hue, which allows for a little personality."
—Lauren Danziger, Meatpacking BID Executive Director, Sweat Sessions Creator & Lululemon ambassador
"My number one home gym essential is the Chakra yoga mat from Alo Yoga. It's a zero-slip mat meaning wet or dry, you will not slip. No towel needed. It also has alignment guides on the mat to keep your practice on point. Paired with that, I could not go a day without Alo Moves! It's the perfect online gym that lets me practice anywhere I want. Yoga, fitness, meditation—Alo Moves has it all."
—Ashley Galvin, Alo Moves instructor

"I really love the Manduka Pro Lite. It grips really well, so I have more confidence in my posture. It's so much lighter than any of my other yoga mats, so I don't feel like it is a hassle to carry around. Also, I like that they offer so many color options. Seeing a colorful mat when I start my workout boosts my mood."
—Michelle Wahler, Beyond Yoga Co-Founder & CEO
"There's a lot to love about Jade Yoga's Harmony Mat: It has great grip, it's made of eco-friendly natural rubber, and it's favored by my NYC yoga studio of choice, Sky Ting. I have the midnight blue one, and my trick for keeping it from collecting lint between wipe-downs is folding it in half before rolling it like this."
—Erica Cerulo, Of a Kind Co-Founder
"We love the Jade Harmony Mat both for in studio and at-home practice. It has a perfect amount of grip so you won't slip in poses like downdog, but also enough cushion for when you have to put weight on your knees or lie on your back. Plus, it's made sustainably with natural rubber (no synthetics) and for every mat sold, they plant a new rubber tree. Also, lots of fun colors to compliment your preference/mood for practice."
—Chloe Kernaghan and Krissy Jones, Sky Ting Co-Founders
Manduka eKO® Lite Yoga Mat
"My favorite mat to practice on is the eKO Lite Mat by Manduka. It provides a naturally grippy surface that is perfect for classes that get you sweaty, and it gets bonus points for being made from biodegradable natural tree rubber."
—Sarah Larson Levey, Y7 Studio Founder & CEO
This content is created and maintained by a third party, and imported onto this page to help users provide their email addresses. You may be able to find more information about this and similar content at piano.io