The 19 Best Face Massage Tools for At-Home Spa Feels
There's no skin problem these rollers, stones, and gadgets can't handle.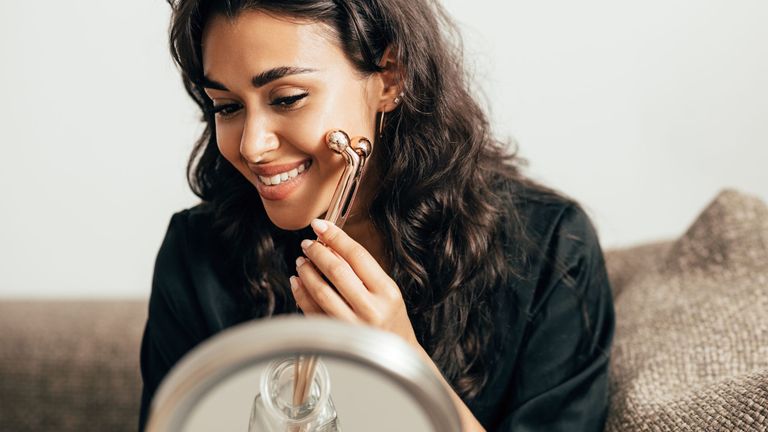 (Image credit: Getty Images ¦ Artem Varnitsin / EyeEm)
To say that skin, the largest organ in the human body, is moody...feels like an understatement. But there is good news: When your skin is in the midst of a major mood swing, the best facial massagers promise to slough away stress and puffiness. Believed to have been used for beauty purposes as far back as 17th century China, face massage tools now come in many forms: jade rollers, gua sha tools, and facial massage devices, to name just a few. Next time your skin is feeling stressed and unhappy, a nice facial massage powered by one of the below tools will spoil your skin with the loving, lifting, and sculpting it needs.
Do facial massage tools really work?
Yes and no. Any kind of face massage can offer lymphatic drainage benefits to help your skin eliminate toxins and rid itself of puffiness. Your tool of choice can be anything—jade roller, electric device, whatever works for you. Face massagers can also help your skin absorb its favorite serums or face moisturizers. That said, when it comes to de-puffing and de-inflaming, the effects of facial massage will be short-term.
So turn on some relaxing tunes, have a glass of wine nearby, then get to unwinding with one of these face massage tools that are sure to bring sensorial spa-like feels to your own bathroom. Massage on.
Julia Marzovilla is an E-Commerce Writer at Marie Claire covering all things fashion, beauty, and entertainment. Offline, she's most likely browsing the web for another pair of black boots or listening to music too loudly—often at the same time.