I Swapped My Morning Coffee for Bone Broth to See if It Made Me a Better Person
It's the latest thing, so...might as well.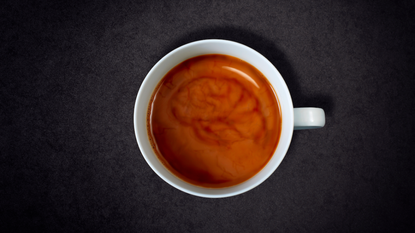 (Image credit: Archives)
I've made a lot of ambitious New Year's resolutions over the years ("Lose 30 pounds by Valentines Day" or "Stop texting people and call them instead") but this year's decision to give up coffee felt downright insane at times.
After spending the holidays in Italy drinking thrice-daily double espressos, my body was in desperate need of a detox. I felt sluggish, unbalanced, and mainly just bleh. The internet told me that drinking bone broth would make me into Beyoncé overhaul my life, so I decided to try it for one whole week.
No coffee—bring on the piping hot cup of salty, meaty water. Mmm.
A quick Google search made me realize I was far from the only millennial hopping on the bone both craze. Three (!) broth-only shops have apparently opened in my N.Y.C. neighborhood in the last few months alone. So transitioning my Starbucks habit to a Brodo one wouldn't be a huge inconvenience. More importantly, I wouldn't have to actually cook the broth myself, which requires slowly simmering the "heads, feet and knuckles" of various animals. No. Thank. You.
Before I fully committed, I checked with nutritionist Lisa Kilgour to find out what I was getting myself into.
"Bone broth is a nutrition powerhouse," explains Kilgour. "It's full of all the minerals your bones need, in a super absorbable, digestible form. Bone broth also comes with a big hit of collagen, and collagen is important for skin elasticity." So the salty stuff will help you look younger and it'll aid in your digestion. Damn.
And unlike the fast-acting jolt of caffeine, bone broth will give you a steady dose of energy throughout the day—without the afternoon crash, notes Kilgour.
So with that, I jumped into a weeklong adventure of swapping coffee for broth in the name of health and journalism.
Day 1
After a 7 a.m. spin class, I made my way over to Brodo feeling cold, cranky, and in dire need of coffee. I did *not* feel like drinking salty, savory broth first thing in the morning, and the smell of it alone almost made me walk out of the store and give up on the experiment altogether.
But in the name of bettering myself—*eye roll*—I held my breath and opted for a "Morning-A-Go-Go," which Brodo's chef Marco Canora says is the closest thing to a coffee substitute. Because it includes stimulating herbs. (Didn't add up to me either at first but just go with it.)
It took me three attempts to swallow the first sip down, and when I finally succeeded...it was absolutely delicious. Never underestimate how nice it is to drink something warm and hearty as you trudge home in below-freezing temperatures. Moreover, the broth made me feel surprisingly full for a little over two hours (this, mind you, after a sweat sesh sans breakfast).
Keri Glassman, founder of Nutriouslife, explains the phenomenon: "Broth is light on the digestive system and it replenishes electrolytes after an intense workout." Considering I've always hated Gatorade, this was a ✔️ in my book.
I didn't notice much of a change in my brain function throughout the day, which, according to Brodo founder Andrew Garner, was probably thanks to a small amount of caffeine in the "stimulating herbs."
But fine, I'll admit it. I was dying for a coffee by lunchtime, had a splitting headache at 3 pm., and was fast asleep by 9 p.m.
Day 2
I had purchased a 32-ounce bucket of Brodo's "Hearth Broth" (a mixture of turkey, beef, and chicken) that was supposed to last me the rest of the week, but I accidentally microwaved the whole thing and then drank it in one sitting for breakfast. My boyfriend called the whole situation "disgusting," but I loved it! …For the first hour.
Not long polishing off after my liquid breakfast, my head started pounding. Was it a caffeine withdrawal or was my body just rejecting the sheer volume of bone broth I had consumed? Who knows. The headache lasted all day and made it nearly impossible to get any work done. Once again, I was asleep (and cranky AF) by 9 p.m.
Day 3
I started the day with chicken broth mixed with coconut and ginseng, which tasted a little bit like Tom Yum soup. I felt fine all day, until around 4 p.m. when I temporarily forgot about my commitment to brothing and ordered an iced coffee. Oops! I took three sips, immediately felt nauseous, and threw it away. Perhaps my detox was beginning to work?
Day 4
After another intense morning workout (another regrettable New Year's resolutions), Brodo's barista suggested I try the "What Came First," which contains egg yolks for extra protein. Considering my recent traumatc experience with raw eggs, I was hesitant.
Thankfully, it tasted delicious and kept me full until lunch. "When you get into the habit of drinking broth, you may find yourself not needing a meal," says Chef Canora. "The broths are very filling on their own, and you can add in high-quality fats that up the calorie count."
My caffeine headaches had pretty much subsided at this point in the week, and I finally felt like my brain was back to functioning at its normal, non-crash-y level.
Day 5
Here's a sentence I never thought I'd type: I woke up at 7 a.m. on Saturday morning craving bone broth. I grabbed another Morning-A-Go-Go before an hour-long weight-lifting class—which was, no joke, one of the hardest workouts I've ever done in my life. I felt full and strong from the inside out, and for the first time all year (all 14 days of it!) I felt healthy and just plain good.
"It may not be a flavor you initially want in the morning, but your body craves things that are good for it," says Kilgour. "All you have to do is drink [bone broth] for a couple of days and then your body will be like, 'I want more of it.'"
Um, yes. That's exactly what happened to me.
Day 6
I started the day with Brodo's "Sipping Beauty," a combination of chicken broth, lemon, and parsley—Brodo's version of a classic hot tea. That night, a friend commented that my skin was "literally glowing," before asking if I was pregnant. I hadn't changed anything in my skincare routine and I was most definitely *not*pregnant (thanks, Mirena!), so we both realized it had to be the bone broth. Sweet!
Kilgour explains: "Your body is getting a huge dose of minerals with every cup you drink. Your skin will glow when you're eating really well." Which = worth it, but so hard.
Day 7
After seven days of brothing, I grew to genuinely love the way the drink made my body feel—full, warm, and healthy, all day long. My skin looked #flawless and my digestive system was operating in peak form (I'll spare you the details).
But like any good addict, I still missed coffee. A lot. Like, more than I missed my college boyfriend during semester abroad, which I didn't even think was humanly possible.
Thankfully, in the battle between coffee and bone broth, there doesn't have to be one winner. "In the long term, I'm not worried about people who are healthy and have a cup of coffee a day," says Kilgour. "Coffee can be a part of your life, as long as it's working for you." Phew.
"Still," Kilgour adds, "I'd recommend incorporating bone broth into your diet. Maybe not every single day, but if you can drink it a couple days each month, you'll get a healthy dose of nutrients."
So the moral of the story is I'm trying to rely less on coffee and more on bone broth—within reason. The one downside? The $11-a-day broth habit is doing major damage to my wallet, which means that if I'm serious about it, I'm going to need to—gulp—brave the chicken feet recipe.
Marie Claire on Facebook for the latest celeb news, beauty tips, fascinating reads, livestream video, and more.
Celebrity news, beauty, fashion advice, and fascinating features, delivered straight to your inbox!