Weight-Loss Plan: Calorie Counting vs. Exercising
What's the most effective way to drop the pounds? Two MC staffers sign up for a 30-day challenge — one revamps her eating plan, the other joins the gym — to see who comes out the biggest loser.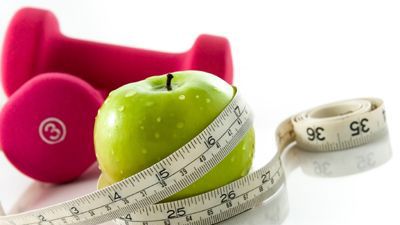 (Image credit: iStock)
Marie Claire Newsletter
Celebrity news, beauty, fashion advice, and fascinating features, delivered straight to your inbox!
Thank you for signing up to Marie Claire. You will receive a verification email shortly.
There was a problem. Please refresh the page and try again.
CALORIE CRUNCHER: Amy Grippo, 29
THE STATS:
Goal: Lose 10 pounds
Starting weight: 139 pounds
Height: 5'1"
Starting BMI: 26.3 (overweight)
Final BMI: 24.4 (normal)
Pounds lost: 10
THE CHALLENGE: I'll be honest: I hate to exercise! I count walking as my only form of real physical exertion. Yet I was eager to trim down for an upcoming vacation to Puerto Rico — and wanted to do it without hitting the gym. While I've never been one to crash diet, my relatives are big fans of low-carb/high-protein plans (like Michael Thurmond's regimen), so I've often followed along in the past — losing, then inevitably regaining the pounds when I stopped.
THE STRATEGY: I wanted a healthful, long-term plan, but I also needed to be bikini-ready in just six weeks. I gravitated to the Mayo Clinic Diet, the trusted hospital's first-ever weight-loss book, because it isn't a rigid eat-this-not-that meal plan, but more of a food-pyramid-inspired puzzle. And thank God, it also doesn't rule out alcohol. I could consume 1200 calories a day, which were divvied up into servings: four or more servings of fruits and vegetables, four servings of carbs, and just three servings of protein, dairy, and fats. It was up to me to decide how to make meals out of these. (And while the plan does recommend exercise, I didn't make any significant changes to my physical activity, save for walking instead of driving when doing errands, which totaled less than three miles in a week.) Still, I needed help getting started, so I called up Jennifer Nelson, R.D., and coauthor of the book, to coach me through it.
THE HARD PART: I leveled with Jennifer from the start — the weekends have always been my waistline's worst enemy. I dine out most Friday and Saturday nights with friends and have standing Sunday dinners with my Italian in-laws. This translates to three days of fried foods, pasta, and Amstel Lights. Plus, portion control has just never been in my vocabulary. Weekdays are better — my husband and I make an effort to cook everything or rely on Sunday's leftovers (of which there are plenty) as a way to save money. But I typically work late two weeks out of every month and often resort to gluttonous takeout, like steak tacos from the nearby burrito spot.
THE EXECUTION: I quickly realized that planning ahead was the key to a healthy routine. I even started brown-bagging dinner on nights I was putting in overtime at the office. Sunday evenings became dominated by three hours of prep work to make a week's worth of meals from Mayo's accompanying Fix-It and Enjoy-It! Healthy Cookbook. The morning glory breakfast muffins and turkey meatloaf proved to be both satisfying and tasty. And each recipe comes with a helpful servings and calories breakdown, so there was never any guesswork. Since alcohol is considered a sweet — which the Mayo plan recommends keeping to 75 calories or less — I had to cut back from another meal in order to have more than one glass of Pinot Grigio with dinner. No exceptions.
THE RESULTS: The calculated effort paid off. Within the first four days, I lost 2 pounds. I hit a plateau in the third week — the scale wouldn't budge past 134 pounds — but a week later, I was able to crack it and dropped down to 132. All without any concerted exercise! I was diligent about my diet but not perfect — I snuck meatballs and pumpkin pie at Sunday dinners, but skipped the seconds. The scale speaks for itself.
THE FUTURE: While I'll let myself veer off course in Puerto Rico, I vow to keep going when I return. Besides, my husband keeps begging me to remake the Italian bean and potato salad. Maybe I'll bring it to the in-laws'.
CALORIE FACT: 85 PERCENT OF DIETERS LOST 10 TO 50 POUNDS WITHOUT EXERCISING, ACCORDING TO A STUDY AT TUFTS UNIVERSITY.
NEXT PAGE: -->
FITNESS FANATIC: Andrea Volbrecht, 30
THE STATS:
Goal: Lose 8 pounds
Starting weight: 126 pounds
Height: 5'4"
Starting BMI: 21 (normal)
Final BMI: 21
Pounds lost: 0
THE CHALLENGE: I haven't exercised regularly in more than five years. Even then, I was your typical cardio junkie — devoted to the treadmill, allergic to strength training. But after recently turning the big 3-0 and after two years of marriage, I've packed on 10 pounds — most of which landed around my midsection. (My carb-heavy diet of cereal, pizza, and Thai takeout isn't helping, either.) So when my husband relocated to Syracuse, NY, a few months ago for work, I decided to spend the extra alone time at the gym.
THE STRATEGY: For me, working out was an easier change to make than tackling my diet. I signed up for once-a-week, hour-long sessions with Stewart Mackie, a trainer at Reebok Sports Club NY. He also devised a fitness plan for me to follow on my own, which I aimed to pull off three days a week.
THE EXECUTION: The workouts went like this: a five-minute warm-up on the stationary bike followed by a series of circuits that alternated between cardio sprints and ab and leg work. The leg circuits were excruciating — Stewart even had me running interval drills (appropriately called suicides!) like I was in junior high gym class again. I admit, I'm a bit wimpy — I get tired carrying groceries home — so Stewart incorporated 5- and 8-pound weights every week to build my upper body strength. He also introduced me to the Bosu ball for balance exercises to tighten my core muscles and flatten my stomach. When he wasn't at my side, I was putting in 45-minute sessions on my own. On weekends, I did yard work and gardened while visiting my husband to make up for missing the gym.
THE HARD PART: Imagine my frustration when, two weeks in, the scale hadn't budged. I did, however, start noticing subtle changes in my body. I had lost some flab around my middle, and my endurance was up. Those five-minute bike rides had left me out of breath at first; now I was pushing a half-hour at the same intensity. When I mentioned to Stewart that I wasn't losing weight, he explained the bigger picture: I was losing fat but gaining muscle. And since muscle burns calories more efficiently than fat, he assured me that this would work to my advantage for sustained weight loss in the long run.
By week three, life started to get in the way. I skipped three days in a row after an unusual bout of insomnia — stress at work plus the five-hour commute to visit the hubby was taking its toll on me. But meeting up for my mandatory session with Stewart helped me bounce back — he showed no mercy.
THE RESULTS: Believe it or not, I'm not discouraged by the stubborn scale (at week four, I am back to the regular workouts, and my weight's still the same). In fact, I've learned to stop obsessing over the numbers and enjoy the benefits: I've been waking up more refreshed on the mornings after exercise, and my energy level has skyrocketed. I also find myself looking forward to my workouts for a change — Stewart's plan showed me how to infuse my routine with variety, instead of cruising on autopilot.
THE FUTURE: I plan on keeping up with Stewart's workouts, scaling down to three solo sessions a week, and checking in with him every couple of months. While I'm a healthy weight for someone my age, I'd love to see my body back to the fitness level I had in my 20s. The great thing is, I'm finally on the right track.
FITNESS FACT: WOMEN UNDER 35 WHO EXERCISE REGULARLY — E.G., RUNNING AT LEAST THREE HOURS PER WEEK — HAVE A 23 PERCENT LOWER RISK OF DEVELOPING BREAST CANCER BEFORE MENOPAUSE.
PREVIOUS PAGE:
Celebrity news, beauty, fashion advice, and fascinating features, delivered straight to your inbox!