The Old Hollywood Way to Work Out
The Old Hollywood Guide to Working Out - Old Fashion Exercising Techniques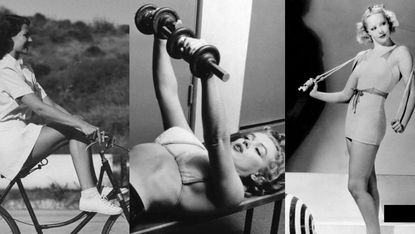 (Image credit: getty images )
Long before the days of SoulCycle and Lululemon leggings, silver screen sirens would get their heart rates up in unapologetically glamorous fashion. We're talking tailored-to-perfection wares for swimming in their Olympic-sized pools, biking through the Hollywood hills, jumping rope in heels, and even lifting weights (we're looking at you, Marilyn Monroe). A far cry from today's ClassPass lifestyle, here's how to put the leisure in athleisure like the best of 'em.
1. Go Swimming
For retro starlets like Jean Harlow, exercise that felt like leisure went a long way. Just as much of an opportunity to show off a stylish swimsuit as it was a way to get that heart rate up, swimming was a go-to activity. But whether you're taking a dip in Clark Gable's pool or at a local health club, swimming is an A+ way to maintain a healthy weight and tone your muscles.
2. Jump Rope
.... in heels. Okay, maybe not in heels if it will endanger your ligaments, but stars like June Knight looked to define their gams with rope-skipping as "raising the body on the toes (opens in new tab)" is said to sculpt calves, waistlines, and the buttocks. But really, jumping rope is a workout that will benefit your entire body as it engages almost every muscle in while helping to develop agility and balance. Plus, you can do it anywhere whether you're on an MGM lot or at home.
2. Do Yoga
Yoga wasn't the lifestyle it is today when Jayne Mansfield was doing backbends, but make no mistake, the celebrities of yore would have been all about the physical (increased flexibility, muscle tone, weight reduction), mental (helps with well-being and anxiety), and spiritual (because zen is precious in Hollywood) practices associated with the ancient Indian ritual.
4. Dance
For actresses of the golden age of Hollywood, you essentially had to be a triple threat i.e. able to sing, dance, and act. This made dancing a natural way to cut a trimmer figure for stars like Marilyn Monroe. In addition to helping you stay in shape, dancing improves flexibility, reduces stress, and increases energy. It's also believed to promote better grooming as you want to look *good* when you do it.
6. Go for Walks
Naturally slender and a professional-level dancer, Audrey Hepburn didn't have to do much by way of exercising. She was all about taking nice, long walks. They may seem low impact, but they're a solid way to maintain a healthy weight, improve circulation, and put you in a better mood. For proof, look no further than Hepburn's glow.
7. Ride a Bicycle
8. Play Tennis
Many of Hollywood's biggest stars were tennis enthusiasts as the game is great for socializing (which ultimately leads to longevity), catching some Vitamin D, losing weight, and de-stressing. Not to mention, the clothes = to die for.
Lauren is the former beauty editor at Marie Claire. She love to while away the hours at coffee shops, hunt for vintage clothes, and bask in the rough-and-tumble beauty of NYC. She firmly believes that solitude can be a luxury if you've got the right soundtrack—that being the Rolling Stones, of course.