25 Candles That Look Just as Good as They Smell
How many candles is too many candles? (Asking for a friend.)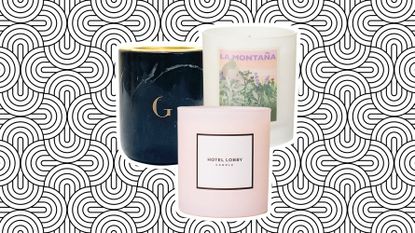 (Image credit: Marie Claire)
Let me start off by saying that I am very passionate about candles—I have three burning in my apartment at any given moment and also have a shelf dedicated to the ones that are "just for display." Now, after spending more time than ever indoors, that passion has been ignited (bad pun completely intended). Most people will try to tell you that fancy candles aren't worth the price, but you and I both know that there's nothing better than laying on the couch next to a dreamy candle that looks and smells good. Stock up on our top picks, ahead, that will carry you through all four seasons from pine to wood sage to sea salt to vanilla bean.
1/25
Hotel Lobby Signature Candle
If you've ever stepped inside The Edition or 1 Hotel, you won't need to be convinced to order Hotel Lobby's signature scent—filled with notes of agarwood, vetiver, and atlas cedar—inspired by the two chic hotel lobbies. The candle has a burn time of 65 hours.
2/25
Harlem Candle Co. 22K Gold Nightclub Map of Harlem
Once you're done burning Harlem Candle Co.'s "22K Gold Nightclub Map of Harlem" candle, use it as a cocktail glass for your next Zoom happy hour. Top notes include a mix of ozone, cassis, and mandarin blended with lily of the valley, pear, apple, and jasmin, and finished with dark notes of musk and sandalwood.
3/25
Roen 29 Palms
Enter a desert oasis after rainfall (think: desert sage, cedar, eucalyptus, palo santo, and white musk) thanks to Roen's "29 Palms" candle.
4/25
The 125 Collection Be F*cking Nice
It said what it said. The 125 Collection's "Be Fucking Nice" candle has an 80-hour (!) burn time, where you can choose from any of the Harlem-based brand's five signature scents: lavender and sage, metallic rose, spicy blood orange, sparkling bitch, and tobacco flower and vanilla.
5/25
Gilded Body The Nero Marquina Black Marble Scented Candle
Gilded's gorgeous black marble candle—the perfect addition to your coffee table—has nine fragrance options depending on the season. Allow us to recommend "Misty Moor," which emits a scent of lemongrass, jasmine, and green tea, if you're looking to create a calmer space.
6/25
Byredo Burning Rose
Byredo enthusiasts are most familiar with the brand's "Bibliothéque" scent (currently sold out), but "Burning Rose" is equally as delicious with its blend of deep woods and fresh rose petals.
7/25
FORVR Mood Left on Read
Jackie Aina's FORVR Mood wants Black women to experience the self-care they deserve. Light up the "Left on Read" candle, a delicate coconut milk sorbet scent, whenever you need to remind yourself how incredible you are.
8/25
Boy Smells Flora Mini Bundle
Get introduced to Boy Smells through its mini bundle of six signature scents: "Prunus," "Kush," "LES," "Gardener," "Lanai," and "Petal." Pro tip: Keep a couple for yourself, then gift the rest to your closest friends.
9/25
Marie Hunter Beauty Prosecco Signature Candle
With up to 90 hours (!!) of burn time, Marie Hunter's prosecco candle is a crisp ode to the cosmetic and fragrance brand founder's favorite wine. Expect an infusion of satsuma citrus, muguet, apricot, and passionfruit.
10/25
La Montaña First Light Candle
For a whiff of fresh mountain air in the morning while you stare out of your apartment window (same), light up La Montaña's "First Light" wild flora scent that releases notes of fennel, rosemary, rockrose, and mountain pepper.
11/25
La Boticá Casablanca Candle
Get transported to Morocco with La Boticá's Casablanca candle—a mix of fig leaf, galbanum, black currant, coconut, and cedarwood—created as an ode to the country's spirit and landscape.
12/25
Apotheke Christmas in New York Candle
Who says you can't burn a holiday candle year-round? Get in the spirit with Apotheke's beautifully illustrated vanilla, citron, and cinnamon-scented candle. When you're in full summer mode, switch to the brand's "From a Rooftop in August" candle.
13/25
Cavo After a Good Cry Candle
Do as the candle says and light up Cavo's 100 percent organic soy wax candle (an eclectic mix of rainwater, lavender, vanilla bean, and bourbon) after a good cry. God knows we could all use one these days.
14/25
Voluspa Voluspa Limited Edition Cut Glass Jar Candle
File this candle under: thing I would obsessively spend my Anthropologie discount on when I worked there. Voluspa's gorgeous Mokara scent is a coconuty blend of goodness that will leave any room feeling fresh and clean.
15/25
LE LABO Santal 26 Candle
It's not Le Labo's classic Santal 33, but it's the next best thing. Santal 26 is blended with amber, coco, vanilla, cedar, spices, musk, and sandalwood for a scent that's just the right hint of intoxicating.
16/25
Diptyque Baies Candle
Yes, this is the candle—in limited-edition packaging, might I add—that your friend has been obsessing over for years (and for good reason). If you already own Baies, try Figuier or Verveine, which smells equally as amazing as Baies' rosy presence.
17/25
LUMIRA Arabian Oud
With an 80-hour burn time, Lumira's Arabian Oud will transport you to the Middle East mostly thanks to oud, a rich wood scent, mixed with rose and sandalwood.
18/25
Capri Blue Anthropologie Capri Blue Ombre Faceted Glass Jar Candle
There's a reason why this is Anthropologie's top-selling candle: Its gorgeous exterior is at home in nearly any room and the perfection of its beachy scent—tropical fruits, sugared oranges, lemons, limes, and mountain greens—can't be denied. Find a pretty limited-edition exterior here.
19/25
Brooklinen Wake Scented Candle
Wake up near the ocean with Brooklinen's "Wake" candle. The home brand isn't only known for its soft and comfortable sheets—it has a small candle collection with the option to buy one regular size or a four-piece mini candle set. The "Nightcap" is also a top scent.
20/25
Homesick Candle
Alexa, play "A Thousand Miles." Homesick candles are great gifts for friends and family who live far away from you, complete with customized scents depending on the state you choose.
21/25
NEST Linen Scented Candle
Your home will smell like fresh laundry everyday with Nest's linen candle even if you haven't done laundry in three weeks. (I won't tell.)
22/25
Outdoor Fellow No.15 Cedarwood + Lavender