16 Sustainable Product Swaps to Make Your Home More Green (And More Chic)
You aren't trashy, so don't let your household be.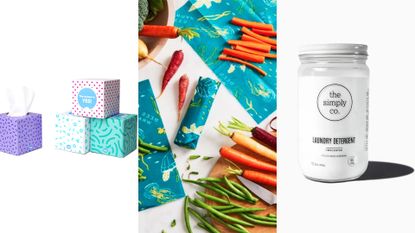 (Image credit: Courtesy)
Two years ago, I decided to test myself to go plastic-free for the month and WOAH. The exercise changed me, for real. I felt like I woke up to my consumption habits and suddenly became hyper-aware of the waste I create and, more importantly, where it ends up. But, in an effort to self-preserve and not feel like I'm a terrible, awful human being personally responsible for trashing the planet, I took it one step at a time. The biggest thing to remember about personal sustainability is to always aim to do your best and consider what's in your power to change. At times you'll feel like you're not doing enough, but don't panic. It's not a competition or an opportunity to compare one another—each step in the right direction is an important one.
How can I get started with more sustainable product swaps?
The most important first step that I learned from zero waste queen, founder and CEO of Package Free, Lauren Singer, is to examine your trash. Sounds gross, but it's the only way to really know what you toss out. Then, ask yourself if it's possible to eliminate some of the things you are throwing away OR try a more positive swap. In this process, I've personally tried a ton of different things, so I put together this easy and sustainable swap list. I hope this list can help point you in the right direction to be able to evolve with time, leading the way to a better future for us all.
Celebrity news, beauty, fashion advice, and fascinating features, delivered straight to your inbox!
Julia Gall is the former Style Director at Marie Claire, covering all things fashion, as well as styling tips, wardrobe upkeep and sustainability. Check her out at @juliasgall.