The 22 Best Gifts for Men on Amazon
From your dad to your cousin to your best friend, there's something for everyone.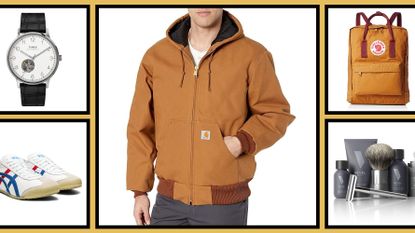 (Image credit: Courtesy)
We get it: Shopping for the men in your life can be hard. You don't want to get the same kind of gift for your brother or dad that you'd get for your boyfriend, and what on earth do you get for your tech-savvy younger cousin you only see a few times a year? Well, whatever they're into, we've searched high and how to find the perfect gift for them on Amazon. From Nintendo Switch holders to desk organizers to hiking manuals, there's a gift for every type of guy on this list.
1/22
Carhartt Men's Quilted Flannel Lined Duck Active Jacket
For Your Brother
I'm fairly convinced that all brothers wear the same coat for years and never think to buy a new one, ever. Give him a gift he'll put to good use this year with this coat from Carhartt.
2/22
Teslyar Wood Phone Docking Station
For The Guy Who Works From Home
If you have a guy on your list who loves having a home office but hates organizing it, he'd love to receive a tiny desk organizer. He can even take it back into the office with him when he goes back.
3/22
Lillie's Q Barbeque Sauce Variety Pack
For the Guy Who Loves Spice
If his favorite thing to binge is episodes of Hot Ones on YouTube, he'll love having a few different flavors of hot sauce in his cabinet.
4/22
Hatch Hatch Restore Clock
For the Guy Who's Up Early
Waking up can be painful, but this clock from Hatch makes it a little easier. It's designed to wake you up slowly, so he can say goodbye to waking up rushed.
5/22
Onitsuka Tiger Mexico 66 Shoes
For Fashionable Guys
Sneakers are an essential in every guy's closet, but this pair from Onitsuka Tiger are a stylish step up from his usual all-white or all-black pair.
6/22
TakeCase Carrying Case For Nintendo Switch
For the Gamer
If you have a gamer on your list, he can probably use a carrying case for all his gear. He'll never lose a game again.
7/22
Happy Socks Rolling Stones Happy Socks Gift Box
For the Musical Guy
Maybe you can't buy him tickets to see The Rolling Stones in 2022, but you can get him these socks. With six pairs to choose from, he can show off his good taste in music almost every day of the week.
8/22
Bevel Shaving Kit for Men
For The Self-Care King
This kit has everything the modern man needs to get the closest shave, period: a razor, shave brush, shave cream, oil, and a restorative balm.
9/22
Countryman Press America's Best Day Hikes
For the Outdoorsy Guy
If you've got a guy on your list who loves being outdoors, help him map out his next adventure by gifting him this book. It's organized by region, so he can plan ahead.
10/22
Ostrich Pillow Light Travel Pillow
For the Guy Who Travels
Sleeping on overnight flights just got a lot easier, thanks to the Ostrich Pillow. It can be worn in different ways, so he'll never get a neck cramp while leaning up on the window ever again.
11/22
Timex Waterbury Stainless Steel Watch
For the Guy Who Has Everything
A classic watch is the perfect gift for the guy on your list that has everything already. He'll wear this one from Timex every day.
12/22
House of Marley No Bounds Outdoor Speaker
This speaker lasts ten hours, plus it's waterproof- and dust-proof so there's really no reason not to buy it. Talk about big things in small packages.
13/22
Fire Sense Yakatori Charcoal Grill
For the Master Chef
If manning the grill is your dad's favorite hobby, gift him this Yakatori grill to help him learn something new.
14/22
Goodthreads Soft Cotton Washed Beanie
For Your Secret Santa Giftee
Beanies are a failsafe option for when you have no idea what to get a guy on your list. For under $20, you can get him a comfy hat that he'll wear all the time.
15/22
Della Pace "I Work Hard" Mug
For the Dog Dad
Show your local dog person some love with this funny mug. Whether he has his morning coffee in it or just keeps it on display, it'll be in his life forever.
16/22
Portable Press Star Wars: Fascinating Facts
For the Star Wars Superfan
Star Wars fanatics, rejoice! This book is full of facts that newer or younger fans might not know. Prepare to be schooled in Star Wars trivia.
17/22
Urban Armor Gear Apple Watch Band
For the Tech Obsessed Guy
Upgrade his tech game with this Apple Watch band. You could even get him a few different colors to match his different outfits.
18/22
UGG Neuman Slipper
For the Cozy Guy
Every guy needs a pair of UGG slippers. These have a rubberized sole, so they work for outdoor wear, too.
19/22
KPC Pro Skateboard Complete
For the Skater Boy
Maybe buy him elbow guards and a helmet alongside this skateboard? This model comes in 16 different color combinations.
20/22
Dolce & Gabbana D&G Light Blue By Dolce & Gabbana For Men
For the Guy Who Smells Good
This cologne is a best-seller because it smells good on just about everyone. It's the perfect gift if you know he's trying to find his signature scent, or if he just wants a new one to fit into his rotation.
21/22
Speck Presidio Wallet
For the Guy on the Go
If he's super anti-wallet, meet him halfway with this phone case that stores all of his important cards on the back of it.
22/22
Fjallraven Kanken Classic Backpack
For the Guy Who Commutes