These Beloved Kitchen Brands Are Slashing Prices On Their Bestsellers For Cyber Monday
From Le Creuset to De'Longhi to Hamilton Beach.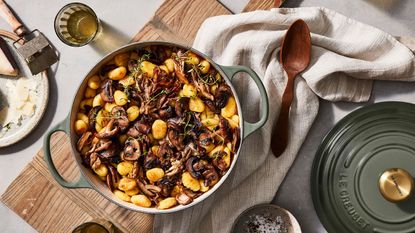 (Image credit: Le Creuset)
I absolutely love cooking—especially when fall and winter roll around. On days when it's raining or snowing, or when it's simply too chilly to step outside, there's nothing better than cooking a huge pot of soup or a hearty spaghetti sauce. The house smells incredible all day, and the cozy feel of a warm meal is bound to kick the winter blues any day. But experimenting with new recipes is easier (and safer) when you have the right ingredients, which means poring over pages upon pages of kitchenware, looking for a deal that suits both my needs and my price point.
Fellow chefs alike are in luck—it's now Cyber Monday, which means that prices have been slashed on hundreds of products perfect for all chefs—novice, advanced, or something in between. Below, I've listed some of my favorite can't-miss deals from the sales event.