A 'New Yorker' Report Claims a Tabloid Helped Cover Up a Trump Affair Story
A former Playboy model said she sold her story, but it was never published.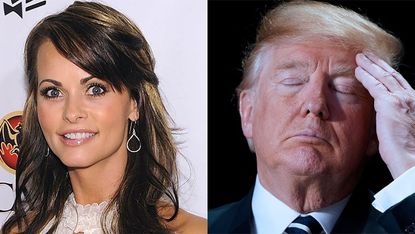 (Image credit: Getty Images)
On Tuesday, President Trump's lawyer said he paid $130,000 out of his own pocket to Stormy Daniels, an adult film actress who once claimed to have had an affair with Trump. Now, another woman is speaking out about her own alleged affair with the now-president. Reporter Ronan Farrow, best known for his reporting on the Harvey Weinstein scandal, has published his latest investigation in The New Yorker, claiming that former Playboy model Karen McDougal had an affair with Donald Trump, and a tabloid company paid her for her story—only to never publish it.
McDougal reportedly met Trump in 2006 during a Playboy Mansion pool party set up for an episode of The Apprentice. At that time, Trump had been married to Melania for less than two years, and Barron was only a few months old. McDougal claimed the two started to have an affair after that party, in eight pages of handwritten documents her friend, John Crawford, provided to The New Yorker. McDougal confirmed it was her handwriting but did not talk about details with the magazine.
According to her written account, the affair went on for several months. Trump would apparently fly her across the country and reimburse her for expenses to avoid a "paper trail," and he allegedly promised to buy her an apartment in New York City. McDougal wrote that she she ended the affair in 2007 out of guilt. "This is a new me," she told The New Yorker in an interview, without going into detail about specifics. "If I could go back and do a lot of things differently, I definitely would."
A Wall Street Journal article from 2016 reported that American Media Inc., the publisher of The National Enquirer, paid $150,000 to McDougal for her story, but the company never ran it. According to the report, it was a practice known as "catch and kill," a way to stop bombshell stories from going public. But AMI responded to that report with a statement, saying the $150,000 was to pay for two years of magazine covers and fitness columns, plus exclusive life rights to stories she has about any relationships with married men. "AMI has not paid people to kill damaging stories about Mr. Trump," the statement read.

The New Yorker report noted that David Pecker, the CEO and chairman of AMI, considers President Trump to be "a personal friend," and that former employees said the "catch and kill" situations were common when it came to celebrities like Trump. McDougal told the magazine that she didn't fully understand the terms of her contract when she signed it, and that only nine of her promised columns have been published. AMI said that's because McDougal did not deliver them.
A White House spokesperson told The New Yorker that President Trump denies having an affair with McDougal. "This is an old story that is just more fake news. The President says he never had a relationship with McDougal," their statement read. AMI said they did not publish McDougal's story because they didn't find it credible.
McDougal told Farrow she felt "braver" about speaking out in the age of the #MeToo movement, though she said her affair with Trump was consensual. After an illness she thinks was brought on by her breast implants, which she has had removed, she said she felt morally obligated to speak out about her past. "As I was sick and feeling like I was dying and bedridden, all I could do was pray to live. But now I pray to live right, and make right with the wrongs that I have done," she told the magazine.
Marie Claire email subscribers get intel on fashion and beauty trends, hot-off-the-press celebrity news, and more. Sign up here.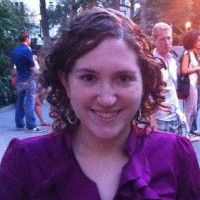 Megan Friedman is the former managing editor of the Newsroom at Hearst. She's worked at NBC and Time, and is a graduate of Northwestern's Medill School of Journalism.