Hail to the Chief
In Malawi, one in two girls is subject to arranged marriage before the age of 18. As a high-ranking woman in a man's world, Chief Theresa Kachindamoto is on a mission to empower girls.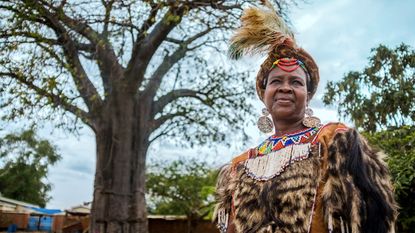 (Image credit: Charlie Shoemaker)
Senior Chief Theresa Kachindamoto, tribal ruler of the Dedza District in central Malawi, emerges from the car wearing electric-blue ceremonial robes. The 100 or so inhabitants of the village of Tseka, huddled on reed mats, fall into tense silence. Chickens, dogs, and small children scatter as the chief walks solemnly toward a seating area outside the headman's hut. This is not a social visit, and everyone knows it. Kachindamoto, a woman of towering repute, has come to perform what she considers her most crucial official duty: to end the illegal marriage of an underage girl and send her back to school.
Beatrice Kapito, a tiny 16-year-old in a pink T-shirt, sits at Kachindamoto's feet. Kapito was married at 13 and has a toddler son named Moses, who squirms on her lap. Her husband sits beside them with his head bowed.
As a powerful female member of tribal royalty in Malawi, a poor, landlocked country of 18 million people in Southeast Africa, the 59-year-old chief is fighting a zero-tolerance war against the endemic practice of child marriage. And despite obstacles, such as death threats from hard-line traditionalists, she is winning. In 2017 alone, the chief annulled some 200 child marriages in her district. During her 14-year reign, she has terminated the marriages of roughly 2,600 child brides and helped the girls finish their education, often by subsidizing their schooling. She also ensures that any offspring like Moses are taken care of by grandparents or other family members while their young mothers attend class. Today it is Kapito's turn. "I am nervous but excited," the teenager says in a hushed voice before the proceedings begin. "I can start my life all over again."
Each year, 15 million girls worldwide, or 28 every minute, become underage brides. It is against the law in Malawi for anyone under the age of 18 to marry, yet, due to the persistence of outdated customs, the country has one of the world's highest rates of child marriage. Almost one in two girls is a bride before her 18th birthday, and some are wed before the age of 15, according to the United Nations Children's Fund (UNICEF). Extreme poverty, gender inequality, and lack of education make the problem particularly acute in Malawi.
Kachindamoto accepts no excuses. Ruling over almost 1 million people in the Dedza District, she has fired male subchiefs who refused to ban child marriage and built up a large network of female informers, known as "secret mothers," across the district's 545 villages to ensure her rules are obeyed. "The chief has created a genius system for tackling child marriage from the ground up," says Habiba Osman, a program specialist at the UN Women's Malawi office in the capital, Lilongwe. "It works because she has involved the entire community."
Kapito grew up with five brothers and sisters in Tseka village. Her parents made bricks for as little as $1 a day, roughly the average wage in Malawi's rural agricultural areas. "When I was 12, my mother said she couldn't afford to feed me and told me to find a husband," she says. While many girls are married off to much older men—it is common for parents to offer their daughters as brides to pay off debts—Kapito married an 18-year-old neighbor, Mikiyasi Mkuthe, who is now 22. "Mikiyasi had just moved out of his family home, and he wanted a wife to help him in the house. He promised to give me food." After the wedding, Kapito dropped out in the eighth grade and became pregnant with Moses, now 3. As a new mother, she soon realized that her husband, who was also a school dropout, couldn't support them."He did some piecemeal work for cash, but it was never enough," Kapito says. "I had to sell barbecued mice on the roadside to survive."
Kachindamoto heard about Kapito through one of her secret-mother informers; she has at least one in every village, in most cases, a female elder who quietly observes local activities and reports back to her. It took time for Kapito's marriage to come to light, however, because her parents and other locals in Tseka tried to hide it. When Kachindamoto starts to address the assembled villagers, her fury is palpable. "You are fools. What were you thinking?" she rails, raising her arms so that her robes fan out like the wings of a giant bird. "This girl is far too young to be a mother. You will never improve your lives unless you educate your daughters."
Keeping girls in school, the chief believes, is the single most important factor in breaking the cycle of rural poverty and preventing lifelong problems for women—a view supported by the UN and other global bodies. In Malawi, an estimated 46 percent of girls leave school before the eighth grade, mostly due to early marriage and teen pregnancy. According to a World Bank report in June 2017, every year of secondary schooling completed increases an individual girl's future earning power by 18 percent, and ending child marriage worldwide could add $500 billion per year to the global economy. Educating girls has "a multiplier effect," the report says, not only increasing the health and wealth of women, but benefiting the lives of their children and boosting entire communities.
Kachindamoto turns to Kapito and tells her that she is now officially divorced."From this moment, you are married to the classroom," she says. "If you study hard, you could become a doctor, a teacher, or a policewoman. You must have a vision for your future." If the girls can't afford the full costs of tuition, fees, books, and uniform, which amount to $60 per year, the chief often makes up the shortfall from her own pocket. In a calm but stern voice, she then orders Kapito's mother to babysit Moses on weekdays (and asks how she can afford to wear nice clothes but not feed her own daughter), and says now ex-husband Mkuthe must "rise to the challenge of finding regular work" so he can help support the child. Kapito, tearful and overwhelmed, thanks the chief and promises to do her best. "I can't wait to go back to school and be with all my friends again," she says.
---
Back at her own village of Mtakataka, a 70-minute drive from Tseka over dirt tracks, Kachindamoto changes into her ordinary clothes—a multicolored African tunic and a Malawian sarong called a chitenje—and sits in her office to talk. She is more relaxed without her regal finery. Her eyes are kind and she has a gap-toothed smile. Half of her office, a small brick room with a concrete floor, is occupied by a stack of mattresses for a new schoolgirls' dormitory that she has helped fund. Her desk is squashed in one corner, piled high with papers and photos. Only her wooden chief 's chair, carved in the shape of a huge sea eagle clutching a fish in its talons, alludes to her formidable status.

"My opponents here say I am defying our traditional culture," she says. "But in my view we are redefining it." Her ultimate goal is not to terminate existing child marriages; it is to prevent them in the first place. After five years of political lobbying, Kachindamoto and other campaigners succeeded in getting Malawi's parliament to pass a bill in 2015 setting the minimum marriage age for both sexes at 18. Such efforts earned the chief the admiration of actress Emma Watson, who visited Mtakataka in October 2016 in her role as a UN Women Goodwill Ambassador. In March 2017, Kachindamoto also received a Global Leadership Award in Washington, D.C., at a ceremony attended by Hillary Clinton, from the international women's advocacy organization Vital Voices. "It is good that the law is on our side now, but enforcing it remains a big challenge," Kachindamoto says."In many areas people still believe a girl is ready to have sex and babies when she reaches puberty. We have to eradicate these old ways of thinking."
Many male elders argue that the chief is destroying their way of life. "Some have threatened me, saying things like, 'You are still quite young. Are you ready to die?' But I just tell them to go ahead and kill me, because it is the only way they will stop me from protecting our girls." Such fearlessness is in her DNA: In the Malawian language Chichewa, her family name of Kachindamoto means "Don't mess with fire."
The chief is married, with five sons between the ages of 19 and 30. Many local people, she says, speculate that she champions young women because she has no daughters of her own. But she believes the reason lies in her own upbringing. Her father was the area's senior chief, and she was the youngest of his 12 children. "When I was small, I thought he was a cruel man because he sent me away to boarding school," she says. "But later I understood that he wanted me to get ahead. He was strict because he loved me." In her early 20s, Kachindamoto landed an office job at a large college in the southern city of Zomba, Malawi's pre-independence capital, 200 miles from her home village. She worked there for the next 27 years and loved seeing young, urban women whose studies empowered them to pursue careers and achieve financial independence.
Kachindamoto thought she had left village life behind when, in mid-2003, she received a surprise visit from 15 members of her tribal royal family. Her elder brother, who had taken over from their father as Dedza's senior chief, had died. The family delegation had come to tell her that they had chosen her to replace him. Senior female chiefs are extremely rare in Malawi, so Kachindamoto was stunned. "Even though I had older siblings, they said they picked me because I was the most educated and successful," Kachindamoto says. "It was my duty to agree." Once she was installed as chief back in Mtakataka later that year, she was distressed to see so many teen girls walking around with babies strapped to their backs instead of wearing school uniforms."Growing up as a chief's daughter, I realized, I had been shielded from how people in our villages really lived," she says. "I had to act—I could not allow mistreated and uneducated girls under my rule."
The chief gathered together her 51 subchiefs (40 men and 11 women who oversee around 10 villages each) and made them sign an agreement banning child marriage in their areas under traditional law. She then began visiting villages to personally annul existing unions. When she discovered that four male subchiefs had ignored the agreement—aside from their attachment to tradition, local chiefs usually receive gifts of money or cows from parents for authorizing weddings—she fired them. "I was furious. Women in our culture are not supposed to swear. But I am senior chief, so I swore at them very loudly," she says with a throaty laugh. Parents who flout the ban are fined up to 10 chickens or one goat, a hefty sum in rural Malawi.
Kachindamoto also cracked down on other abusive traditions such as kusasa fumbi—or sexual cleansing—an initiation rite common in Malawi and other pockets of Africa. Pubescent girls, along with widows and women who have had an abortion, are sent to three-day camps and forced to have unprotected sex with hired older men, known as "hyenas," to "cleanse them of evil spirits" and prepare them for marriage. Believed to help prevent disease, the rite does the opposite: It increases the risk of girls contracting HIV, which affects 10 percent of Malawi's population, as well as other sexual infections, and exposes them to unwanted pregnancies. "We have eradicated these camps entirely in the Dedza District," says the chief. "If one took place today, I would know about it in the blink of an eye."
---
Child marriage is taking longer to wipe out because it can be harder to detect. Dedza comprises many remote hamlets spread over vast scrubland, and in some families, it's difficult to tell whether a young girl is a daughter, sibling, or spouse. In the case of Dolophina Makunje, 14, it took until she was almost eight months pregnant before one of the chief's secret mothers identified her as a child bride. "We lived far from the main village, so I didn't see or talk to many people," says Makunje, who is small for her age and looks even younger when she's wearing her school uniform, a simple white blouse and black skirt. "My husband used to beat me if I stayed away from the house," she says. "I was very relieved when some women sent by the chief came to rescue me a few months ago."
Makunje was orphaned at the age of 9—her parents died within a few months of each other from unknown illnesses—and she went to live with her married older brother. When she was 12, a 32-year-old man offered to marry her and gave her brother some chickens in exchange for her. Her husband used her as a laborer in his fields while he went drinking, she says, and then he used her for sex when he returned. "When I became pregnant last year, I didn't know exactly what was happening to me or how to take care of myself," Makunje says. She had no idea how to get to a prenatal clinic and did not see a doctor at all during her pregnancy until she was rescued. Tragically, when she was taken to a hospital to give birth, her baby girl was stillborn.
Makunje was spotted by a secret mother in time to save her own life. Malawi has one of the world's highest rates of maternal mortality, according to UNICEF, with pregnant teens making up 20 to 30 percent of deaths. The risk increases significantly if the girl is under 15. The Dedza District has only two women's clinics dedicated to reproductive health, funded until recently by the United Nations Population Fund (UNPFA). That funding has now been cut in the wake of the Trump administration's reinstatement in January 2017 of the so-called global gag rule,an executive order blocking $8.8 billion in U.S.financial aid to UNPFA and other global health organizations. Habiba Osman of UN Women says the cuts are having "a catastrophic effect" on the ability of local clinics in Malawi to assist family planning and prevent teen pregnancies. "Vulnerable child brides are the hardest hit," says Osman.
Secret mother Stella Inoki, 65, says it is crucial to act fast to minimize the trauma and damage caused by child marriage. "We are like dogs that go hunting," she says. "The sooner we find child brides, the more chance we have of saving their futures." Inoki has been a secret mother since 2010, when Kachindamoto began recruiting her network. The chief enlisted some men, or "secret fathers," too, but Inoki thinks women are better suited to the role. "Our job is to keep our eyes open, listen to rumors, and ask casual questions all the time," she says. "People think it's normal for older women like me to stick our noses into everyone's business, so we arouse less suspicion."
In addition to the secret mothers, the chief has a group of female volunteers in each of her villages to take care of child brides. "The first thing we do is take the girls for tests for HIV and other sexually transmitted diseases," says Brenda Dengu, 50, a volunteer in the village of Solomoti, near the chief's village. "If a girl is pregnant, we look after her until she has had the baby," Dengu adds."She must breastfeed the child for six months, according to the chief 's rules, and then return to school. The infant is put in the care of the girl's parents or other community members until she has finished her studies." Dengu, a tall woman in a floral dress, joined the women's group because she knows firsthand the chief is right. "Our family was poor and my husband wanted our daughter to marry early, but I insisted she complete her education," she says. Dengu's daughter, now 25, is a primary-school teacher. With her first few paychecks, she bought Dengu a refrigerator, something she had always coveted. "It has changed my life," she says. "Not only can I keep our food fresh, I use it to make chilled sorghum soda drinks to sell in our village."
Once she'd recovered her strength in early 2017, Makunje returned to classes at Solomoti Community Secondary School, a low white building with the clamorous racket of 400 students spilling from open windows. She receives some financial help from the chief, who has her own farm and receives occasional donations for her activism from local and international sympathizers. After finishing her homework, Makunje also does odd jobs like fetching water and farm work to support herself. "The days are long, but I am so happy," Makunje says. "When I was married, I cried because I thought there was nothing in my life to look forward to ever again. Now, I have freedom." Most former child brides in Dedza say they want to become teachers, nurses, office workers, or policewomen. But Makunje, whose favorite subjects are math and science, wants to be an engineer.
Still, it's far from smooth sailing. Former child brides suffer social stigma, especially when they return to school, and are often preyed upon sexually by older teenage boys who think they're easy targets. Lenford Kayira, the deputy headteacher at Solomoti school, says the staff works closely with Kachindamoto to educate male and female students about violence against women and other abuse. "We don't tolerate bullying or harassment, and we teach the students that girls are equal and must be valued," Kayira says. Although the number of boys going on to college is higher than girls, the ratio is slowly improving. "Girls are serious about their studies," he adds. Only 35 percent of college students in Malawi are female, according to UNESCO, but that has jumped from under 10 percent a few decades ago.
Kachindamoto is aware of the further challenges ahead, too. Her lifestyle is frugal for a chief, and she struggles to keep up with the costs of paying for girls in her district to attend school. Although fees and other expenses for secondary school are relatively low, her success in ending so many child marriages means it all adds up. Former child brides also often create extra financial strain on their families when they return home, but the chief insists that everyone must make sacrifices to ensure girls get an education. The future payoff will be worth it, she believes. "Eventually, it is my dream to have college scholarships and job-training centers to empower girls to fulfill their potential," Kachindamoto says, "so we will keep working toward that goal."
Aside from annulling thousands of child marriages, one of Kachindamoto's proudest achievements is how she is changing the ancient mind-set of the men under her rule. "More and more male subchiefs and village headmen are coming to me to say they realize the old ways are bad. They want to know how to improve the lives of girls." One of the male subchiefs she fired for breaking her ban six years ago, Pearson Chibanga, returned to her in 2016 to inform her that he had worked hard in an unofficial capacity to help his area eradicate all child marriages. After checking his claim, Kachindamoto graciously reinstated him to his position. "I was blinkered," says Chibanga, 59, a skinny man in an oversize brown suit. "We didn't question child marriage because it was our tradition, but the chief made me see how damaging it was."
Still, it's too much to hope that men like Chibanga have changed completely. While sitting next to the chief, Chibanga lets slip that he was thrilled when he got his job back because "men are born to lead." Chief Theresa Kachindamoto gives him a look worthy of her don't-mess-with-fire pedigree. "Not for much longer," she shoots back.
This story appears in the April 2018 issue of Marie Claire, on newsstands March 27.
Celebrity news, beauty, fashion advice, and fascinating features, delivered straight to your inbox!