The Moments That Led to a Movement: An Inside Look at the March for Our Lives
A Marjory Stoneman Douglas High School alum reflects on her experience at the largest student-led protest in U.S. history.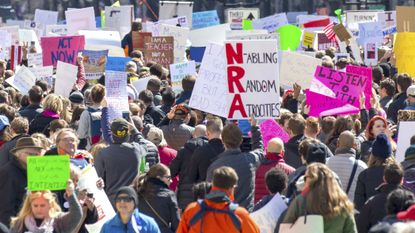 (Image credit: Getty Images)
The last time I was in Washington, D.C., it was 2009. I was an eighth grader at Coral Springs Middle School preparing to enter my freshman year at Marjory Stoneman Douglas High School. I stood in a crowd of approximately 1.8 million people—among these, 20 of my classmates and a few of my teachers—watching history unfold as Barack Obama was sworn into office as the 44th President of the United States. Nine years later, I found myself next to those same classmates, looking towards the Capitol in the distance as history unfolded once again. This time, we weren't celebrating. We were fighting.
---
We arrived at the JW Marriott at 8 a.m. Marjory Stoneman Douglas High School alumni from across the country gathered together in the hotel's banquet room where the alumni network hosted a breakfast and set up a meeting point for everyone to march together as fellow Eagles. Each table was covered with posters and markers for those who hadn't been able to make their signs yet. Signs that would later read, "Power to the Polls," "How Many More?" and "Our Kids > Your Guns." I made mine at 2 a.m. the night before. One side read, "Mental Illness Is Global. Mass Shootings are American. Enough" on the other side, "Which Side of History Are You On?" I ended up holding this sign for six hours—simultaneously using it to block the sun beating down on my face and hoping that it would help even one more person understand that accessibility to weapons of war are at the core of America's gun problem.
By the time we left the hotel an hour later to head to the March, thousands of people were already lined up in front of the U.S. Capitol. I squeezed next to strangers trying to wiggle into the alumni section, as camera flashes from a slew of reporters dominated my vision. It was in that moment I knew there wasn't going to be any actual "marching"—an impossible task with the estimated crowd size of 800,000. But once you heard the powerful voices on stage, it didn't matter. No matter where you were in the crowd, you could feel them. Feel their pain. Their anger. Their sadness. Their grief. My chest was heavy, not knowing who or what to expect as the first speaker walked up to the stage. All I could do was look at my mom and my friends anxiously waiting for what was to come. "Five, four, three, two, one..." the countdown ended and Andra Day took the stage with the Cardinal Shehan School Choir. The rally had begun.
As I stood next to my mother, my friends, and my former classmates, I was overwhelmed with an odd mixture of passion and sadness. I looked at the 14-year-olds around me, comforting each other as they listened to stories about their friends. At the woman next to me, Robyn Jackson, who held up a sign that read, "My 17-year-old son was shot and killed at a high school graduation party" with a picture of her son, Brandon, underneath it. At the first-time activists. At the woman adjacent whose shirt read, "We are Newtown. We Demand Action." At the man behind me who displayed loud and proud, "We are Great Mills." At fists held up as a symbol of agreement.
Gun violence statistics dominated the jumbotrons for the crowds to soak in between each speech. March for Our Lives had formed only four days after the shooting at my high school that took the lives of 14 students and three staff members while injuring another 14. But make no mistake—gun violence has tormented our country for decades.
MORE ON THE MARCH
As a member of the Stoneman Douglas community, this was an equally challenging and important concept for me to grasp. There hasn't been a day that goes by when I haven't thought about what happened on February 14. At first, it was odd seeing my high school, my city in national headlines. Now, there's a sense of normalcy. It has caused me to question my own part in this epidemic, my own feelings and reactions before and after this occurred in my hometown. Still, I felt incredibly proud of my community—especially Parkland activists David Hogg, Cameron Kasky, Emma González, Jaclyn Corin, Sarah Chadwick, Delaney Tarr, and Alex Wind—amongst countless others who organized the March.
But this March wasn't just about Parkland, it was about the lives lost to gun violence in the crevices of each and every rural and urban community across the country. Gun violence is not an if, it's a when. I knew this. But it wasn't until I experienced these specific moments in front of me, watching history unfold in real-time, that I could finally comprehend this—feeling the lump in my throat grow larger, tears running down my cheeks as the students began to speak.
The moment when Cameron Kasky, who read the names of the Parkland victims, demanded politicians to "represent the people or get out."
The moment when Trevon Bosley, a 19-year-old representing Chicago youth, reminded us that "Everyday shootings are everyday problems."
The moment when Delaney Tarr, a Parkland activist, emphasized that change relies on the passion of the people to fight for common-sense gun reform.
The moment when Sarah Chadwick, a Parkland activist, delivered a message directly to Senator Marco Rubio and encouraged us to remember how much money the NRA believes our lives are worth.
The moment when Edna Chavez, a 17-year-old from Los Angeles, spoke about the gun violence that doesn't make it on the front page of the newspaper and told us to never forget about people like her brother, Ricardo.
The moment when Alex Wind, a Parkland activist, reminded us that gun violence goes beyond our schools—it occurs in movie theaters, churches, concerts, and the streets.
The moment when Zion Kelly, a D.C. student whose twin brother was shot and killed in an attempted robbery, shared the harsh reality that he will never sleep in the same room as his brother again.
The moment when David Hogg, a Parkland activist, told us that inaction is no longer safe, and most representatives have no public stances on guns.
The moment when Naomi Wadler, an 11-year-old from Viriginia, reminded us of all of the African American girls who are dismissed from the media simply because of the color of their skin.
The moment when Mya Middleton, a 16-year-old from Chicago, took us through everyday life of gun violence in Chicago and shared her own story of being face-to-face with a gunman who threatened to find her. But there she remains, on stage.
The moment when Matt Post, an 18-year-old from Montgomery County, highlighted the moral corruption within our country.
The moment when Christopher Underwood, an 11-year-old from Brooklyn, shared how senseless gun violence took away his childhood.
The moment when Jaclyn Corin, a Parkland activist, made it clear that Parkland "cannot and will not do this alone" and encouraged everyone to "Keep screaming at your Congressmen."
The moment when Yolanda King, Martin Luther King Jr.'s granddaughter, became living proof that change is possible as she stood next to Jackie Corin.
The moment when Ryan Deitsch, a survivor of the Parkland shooting, stated, "We need to arm teachers..." The crowd falls silent. He then continues, "...With pencils, pens, and paper."
The moment when Aalayah Eastmond, a survivor of the Parkland shooting, reminded us that urban communities' voices always need to be heard. No exceptions.
The moment when Sam Fuentes, a survivor of the Parkland shooting, threw up in the middle of her speech while speaking her truth. She then wipes her mouth and utters, "I just threw up on international television, and it feels great!"
The moment when Alex King, an 18-year-old from Chicago, taught the crowd—whom he calls family—an African clap tradition that represents unity.
The moment when D'Angelo McDade, an 18-year-old from Chicago who was also on stage with King, emphasized that we are the survivors of unjust policies and a lack of resources in schools.
The moment when Matthew Soto, a 19-year-old from Stratford, Connecticut, spoke about his first-grade sister who was killed in the Sandy Hook Elementary School shooting and professes his support for Marjory Stoneman Douglas High School. "We do not have to live like this."
The moment when Emma González, a Parkland activist, had thousands of people in silence with tears dripping down their face until an alarm suddenly went off. She proclaimed, "Since the time that I came out here, it has been six minutes and 20 seconds. The shooter has ceased shooting and will soon abandon his rifle, blend in with the students as they escape and walk free for an hour before arrest. Fight for your lives before it's someone else's job."
The moment when each and every single person in the crowd held up their signs in resistance.
The moment when the jumbotrons displayed how many people were surrounding us—when we could barely turn our heads.
These moments? They have turned into a movement. A global movement to end gun violence. After the March, there was a feeling of relief and hope, but also of the enormity of the challenges laying ahead. My adrenaline was pumping even though I hadn't moved for six hours. I didn't know what to do with myself when the kids left the stage. Okay, so, do we leave? What next? My friends and family headed to a tent where alumni could grab water, snacks, and charge our phones. We all looked at each other, still in disbelief that these kids from our school inspired the world to come together and fight.
If you were at the March in D.C., or one of the 830 marches worldwide, you understand these moments, and you have made them your own. Cherish them, hold on to them. Remember your anger, remember your sadness, and remember to vote.
WHY WE MARCH
Celebrity news, beauty, fashion advice, and fascinating features, delivered straight to your inbox!
Rachel Epstein is a writer, editor, and content strategist based in New York City. Most recently, she was the Managing Editor at Coveteur, where she oversaw the site's day-to-day editorial operations. Previously, she was an editor at Marie Claire, where she wrote and edited culture, politics, and lifestyle stories ranging from op-eds to profiles to ambitious packages. She also launched and managed the site's virtual book club, #ReadWithMC. Offline, she's likely watching a Heat game or finding a new coffee shop.