7 Sex Workers Better Suited to Run the Free World Than Donald Trump
Stormy Daniels isn't the only one who could overpower the POTUS.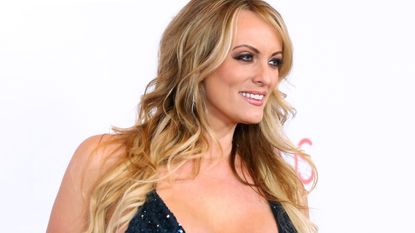 (Image credit: Getty Images)
Free advice to the Internet trolls (and the White House legal team): Do not come for Stormy Daniels. ICYMI: Daniels, née Stephanie Clifford, the adult film star in a "fake news" battle with President Donald Trump, is a force to be reckoned with. As we saw on Sunday's ratings-smashing episode of 60 Minutes ("He knows I'm telling the truth") or on Twitter ("I am NOT going anywhere"), Daniels is not taking shit from Trump—who continues to deny their affair, despite a $130,000 hush agreement signed just days before the 2016 election. Or anyone else, for that matter.
A sex worker, as defined by The World Health Organization, is any individual who receives compensation for performing a sexual service, whether that be an escort, stripper, or adult film actor. Recently, sex workers have begun to speak out more than ever before against stigmatization, demanding acknowledgement that their careers are legitimate and that they are valuable citizens. Sex workers across the country have joined together for the Sex Workers' Festival of Resistance, a march on Bourbon Street protesting the shuttering of strip clubs in NOLA, and the Stripper Strike movement in NYC. Unfortunately, they're doing so in the era of Trump, a man who dubs women that upset him "bimbos" and who—through his public policies and his private actions—has shown he gives zero shits about women's rights.
America is diverse, ever-evolving, and deserves better, so we've created a non-exhaustive list of sex workers—the same women Trump dismisses as "disgusting"—who we think would be better at Trump's job than Trump. Because stigma is stupid, and sex workers are hella worthy beings.
Gizelle Marie knows how to unite people for a cause. Marie, a stripper in New York City, spurred a country-wide revolution last fall when she started the hashtag campaign #NYCStripperStrike to raise awareness for unjust working conditions for female dancers in strip clubs, especially women of color. Today, she urges fellow sex workers to boycott racist and sexist employers, in an effort to make clear that strippers are workers who deserve rights like any others. She's also social media savvy, using her Instagram and Twitter profiles to keep the fire lit for the fight. As it says on her Insta, with women like her in charge, "We only going up from here."
R.J. Thompson identifies as a "queer, mixed-blood Cherokee with deep Southern roots," and has worked to overcome his minority statuses in order to help others who struggle. Along with working as a go-go dancer and adult film actor, Thompson is a human rights lawyer and the Director of the Sex Workers Project at the Urban Justice Center, an organization that provides free legal aid and social services to sex workers and survivors of human trafficking. The list of groups he has a leadership role in is truly spectacular, including the US Human Rights Network, the National Gay and Lesbian Task Force, and Amnesty International USA. To top it off, he's a vegan bodybuilder. Trump, on the other hand, eats McDoubles' in bed.
Charlotte Rose has been busy. In 2013, she won Sex Worker of the Year at the Sexual Freedom Awards, an annual British event honoring excellence in the sex work industry; in 2014, she ran for office in her local elections; and today, she is the host of a popular sex-positive radio show in the UK, titled Rose Talks Sex. Rose is a London-based sex-trainer, dominatrix, and proud to be both an independent escort and an independent candidate, campaigning on behalf of sexual freedom. Her platform highlights her desire to speak for discriminated individuals who cannot speak for themselves, especially the disabled and the elderly. While Trump's tweets often hint at a desire to restrict the power of the free press, Rose actively fights against censorship. Notably, in 2014, she used her platform to organize a protest outside the London Parliament as part of the #PornProtest movement, spurred by anti-porn censorship in the UK. Her political mantra is "A Rose Among Thorns," as she argues that too many politicians are more concerned about the economy than those who run it.
At 45, Ceyenne Doroshow, a trans woman, was incarcerated for 28 days in a men's prison. She was arrested for being an escort, and has since become an advocate, not just for other sex workers, but also for trans-individuals, and women everywhere. She has held leadership roles at many non-profit organizations, but eventually started her own: Gays and Lesbians Living in a Transgender Society, better known as GLITS. GLITS provides crisis support for transgender sex workers, and supports asylum seekers. Not only is Doroshow a change-making maven, she's also damn cool. She's been featured in a major documentary, and also published a cookbook, Cooking in Heels, which features heartfelt recipes and stories about how she overcame adversity with the help of her love for cooking.
Anna Saini is a proud queer woman of color, as well as a writer, academic, and activist. Growing up working-class, Saini turned to escorting as a way to support herself. Now, she's a community activist fighting against mass incarceration, racist policing, and the drug war, specifically attempting to make medical marijuana more accessible. She works doggedly to make life better for low-income, minority communities. Saini has also written and contributed to anthologies about the process of healing from sexual assault, urging others to speak their truth. Who would you rather have lead the free world: a sexual assault survivor fighting for justice, or an alleged sexual predator? Your ball, America.
If you only know Amber Rose for being Kanye West's stripper ex-girlfriend or Wiz Khalifa's baby mama, then that's a goddamn shame. There's so much more to her than that. An unapologetic feminist, Rose is eager to show the world that women should not be reduced to their bodies. She has used her public presence to fight for women's rights, dismantling preconceived notions about sex work and calling out victim blamers and slut shamers. In fact, she has reclaimed the word "slut." October 2017 saw the third annual Amber Rose SlutWalk, a festival complete with breast cancer exams, HIV testing, and a march against sexual injustice and gender inequality. Something tells us that if Rose were president, she wouldn't be repealing Title X funding, or telling breastfeeding mothers that they are "disgusting." In a country where the leader has reduced women to "dogs," Rose refuses to stop barking for her sisters.
Prior to November 2009, Brooke Magnanti was known to the world by her pseudonym, Belle de Jour, under which she published two best-selling books about her work as a call girl in London. Since letting the world know how she paid her way through graduate school, Magnanti has toiled tirelessly to prove that sex workers can be intelligent human beings. Her books were eventually turned into the show Secret Diary of a Call Girl, and she went on to write a popular science book entitled The Sex Myth, which discusses sexual politics from a sex worker's perspective. She has a master's degree in genetic epidemiology, a Ph.D. in forensic science, works as a child health scientist, and has conducted extensive research on the link between thyroid cancer in England and the fallout of the Chernobyl disaster in the Ukraine. She's also got Daniels' back on Twitter: "Stormy Daniels is keeping pressure on and keeping a story moving, something a lot of people have been unwilling or unable to do. More power to her." More power to them all.
RELATED STORY
Celebrity news, beauty, fashion advice, and fascinating features, delivered straight to your inbox!