Meet the Woman Fighting for Democracy in Thailand
The country is in the midst of a human rights crisis; June Charoensiri is working—and risking her own freedom—to change that.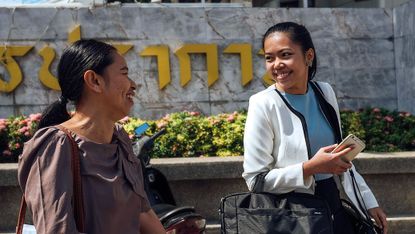 (Image credit: Getty Images)
Sirikan Charoensiri has been arrested three times—once even for the high crime of sedition—simply for doing her job. Turns out the Thai government isn't too happy with the work of the 32-year-old lawyer.
Americans tend to think of Thailand as a tourist's paradise, with turquoise water, golden temples, and visits to elephant sanctuaries. But it's not such a paradise for its citizens of late. May 2014 saw a coup d'etat and since, the country has been living under military rule, with no elections, civilians tried in military court, and a ban on even discussing politics.

That's why Charoensiri (who prefers to go by the first name "June") co-founded the attorneys' collective Thai Lawyers for Human Rights. The group works pro-bono to defend those in Thailand whose human rights have been violated or who have been arrested on politically-motivated charges, like peacefully protesting. "The military government repealed the constitution and wrote their own, giving the head of the junta unchecked power," Charoensiri tells MarieClaire.com in an exclusive interview. "Basically he can make any order and it cannot be reviewed by court or any other branches of the government."
That unbridled power has led to a complete dissolution of due process in Thailand. "The military can arrest any person and keep them in a military camp for up to seven days without charges," she explains. "They say that this is not an arrest and detention. They say this is an 'attitude adjustment.'"
Charoensiri and her team provide what legal aid they can to these victims, but know that they cannot right the wrongs in their country alone. A significant portion of their work is to document the abuses taking place, in an effort to make the rest of the world take note. "Personally, I don't do much of the litigation, the criminal cases," says Charoensiri. "But I continue to advocate internationally for human rights situation in Thailand, so that the support will come to the people who are struggling for democracy."
Her work against Thailand's military dictatorship caught the eye of the State Department here in the U.S. Last month, Charoensiri was invited to Washington, D.C., to receive the Secretary of State's International Woman of Courage Award, which "recognizes women around the globe who have demonstrated exceptional courage and leadership in advocating for peace, justice, human rights, gender equality, and women's empowerment, often at great personal risk and sacrifice," according to the Department. Charoensiri was honored alongside nine other women at a ceremony with First Lady Melania Trump.
"To be honest, when I knew that I was selected as one of the ten awardees, I thought that I'm too young," Charoensiri tells me, admitting to suffering from the same impostor syndrome many other successful millennial women fall prey to. "You see the profiles of other honorees, and they were outstanding, fighting women from around the world. But me, I'm still young."
Regardless, Charoensiri will continue to fight the authoritarian leaders in her country, despite the threat to her own freedom. "They are using legal proceedings against me to silence me and stop me from working," she says.
Charoensiri believes that the junta is pursuing her in an effort to send a "message to other human rights lawyers, other human rights activists and defenders that this is the price if you criticize the military ruling." But the brave young attorney won't be deterred. "I can't give up because this is not just about myself."
RELATED STORY
Danielle McNally is a National Magazine Award–winning journalist. She is the executive editor of Marie Claire, overseeing features across every topic of importance to the MC reader: beauty, fashion, politics, culture, career, women's health, and more. She has previously written for Cosmopolitan, DETAILS, SHAPE, and Food Network Magazine.