New Athletic Rule Is Dehumanizing
Elite runner Caster Semenya has been under scrutiny for her gender for years. A controversial new regulation may force her to alter her hormones just to continue to do what she loves.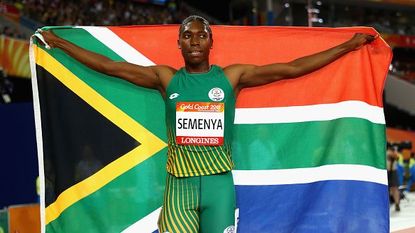 (Image credit: Michael Steele / Staff)
Today in "WTF, this is gender discriminatory" news, certain elite female track athletes may be forced to medicate—or forfeit competition.
The International Association of Athletics Federations, or the I.A.A.F., (the governing body of professional track and field) has announced that starting in November, female athletes with hyperandrogenism (i.e. those who naturally have higher testosterone levels than the "average" female) will be forced to take medication to reduce their hormones levels, or compete against men in certain Olympic events. If they refuse, they may be barred from large-scale competitions.
The regulation is ostensibly meant to level the playing field, as the testosterone in their bodies increases speed and strength. But it's actually a blatant attack on two-time Olympic 800-meter champion Caster Semenya, a South African runner who has undergone intense scrutiny about her gender since entering the international track scene in 2009.
Semenya was born in Ga-Masehlong, South Africa, a poor district where aspiring track athletes like her run barefoot and have little funding to pursue their competitive dreams. Once discovered, she claimed wins at major track competitions with her blazing 800-meter run (a half-mile, her specialty).
Her results were impressive—and, questioned. Following a victory at the World Championships in 2009, the I.A.A.F. forced Semenya to take a sex verification test. According to the I.A.A.F's general secretary at the time, Pierre Weisse: "She is a woman, but maybe not 100 percent."
While those results were never officially published, some of findings were leaked, causing rumors to swirl that Semenya was a person with "disorders of sex development" (DSD), a.k.a. intersex. Since, Semenya has been denied entry to certain track meets, had her medals threatened, and has even endured her competitors asking her to expose herself in the bathroom prior to racing to prove that she had the "right" body parts, as reported by the New Yorker.
The controversy rages: Supporters of Semenya claim that it is an infringement on her human rights to be tested and treated unfairly; detractors say that she has an unfair advantage over other female athletes and should be banned from running in female competitions.
A 2014 study found that female athletes with heightened testosterone may be at an advantage of between 1.8 percent to 4.5 percent in certain competitions—but the science at this point is not conclusive. Even if it were, all elite athletes benefit from natural advantages—that is what makes them the best. I am 5 feet tall—sorry, but I will never make it in professional basketball. Michael Phelps' massive wingspan is 3-inches longer than his height, an abnormality that helped him nab 28 Olympic medals (which, for the record, no one is contesting).
The new regulation creates a slippery slope for the future of professional athletics (there have even been internet rumors of a "intersex" only competition) and yet again demoralizes a great athlete. It's 2018, folks. Everyone can stay out of Caster Semenya's vagina and start appreciating her for the talent—and human—that she is.
Megan DiTrolio is the editor of features and special projects at Marie Claire, where she oversees all career coverage and writes and edits stories on women's issues, politics, cultural trends, and more. In addition to editing feature stories, she programs Marie Claire's annual Power Trip conference and Marie Claire's Getting Down To Business Instagram Live franchise.