This New Website Is Doing WORK for the Women of New York City
You're gonna want to bookmark Women.nyc ASAP.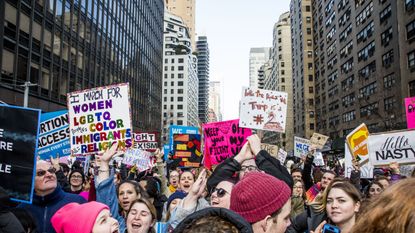 (Image credit: Brit Worgan/ Getty)
New York is arguably the best city in the United States for women—sorry @everywhere else, but the numbers don't lie: Under Mayor De Blasio, the city enacted six weeks of fully paid paternal leave, increased minimum wage to $15 an hour, and made a major push for gender equality in the administration (52 percent of senior leadership positions are held by women).
Though impressive, the city—and, um, the world—still has a long way to go. The five boroughs of NYC are home to 360,000 female entrepreneurs (and more female CEOs than any other city in the U.S.), yet men own 1.5 times the number of businesses and generate 4.5 times the amount of revenue. And while the gender wage gap is the smallest in the country (89 cents to the dollar as compared to 80 cents per dollar nation-wide), it still exists (and is way larger for women of color). To add insult to injury, women are more often stonewalled when promotion and bonus season rolls around.
I'm not satisfied with anything less than equality. And luckily for me, New York City First Lady Chirlane McCray and Alicia Glen, deputy mayor of economic development and housing, feel the same.
"We've been thinking about how we can specifically intervene to help women," says Deputy Mayor Glen, which is why today they launched Women.nyc, a one-stop-shop website that will provide women with access to a variety of resources to help them succeed in the workplace and beyond. The website is the first of its kind, filtering through preexisting city infrastructure and programs that aid women and curating them all in one place for easy access. As Glen says: "Programs aren't any good if no one knows where to find them."
The resources offered span the large continuum of problems that women face in 2018—like helping lower income women obtain affordable housing, and providing the tools to businesswomen fighting legal battles for equal pay. It also serves as a platform to help tastemakers, changemakers, and locals connect, inspire, and brainstorm how to run the world.

Though the website currently only serves the women of New York, First Lady McCray is optimistic that once the fire starts burning, it will be impossible to put out, and that other cities will soon follow suit.
"As goes New York, so goes the nation," she says.
RELATED STORIES
Marie Claire email subscribers get intel on fashion and beauty trends, hot-off-the-press celebrity news, and more. Sign up here.
Megan DiTrolio is the editor of features and special projects at Marie Claire, where she oversees all career coverage and writes and edits stories on women's issues, politics, cultural trends, and more. In addition to editing feature stories, she programs Marie Claire's annual Power Trip conference and Marie Claire's Getting Down To Business Instagram Live franchise.