If the Trump Administration Truly Wanted to Reduce Abortion, This Is What They Would Do
The domestic gag rule won't work—in fact, it may increase the rates of unintended pregnancy, teen pregnancy, and abortion. This is what the president should do instead.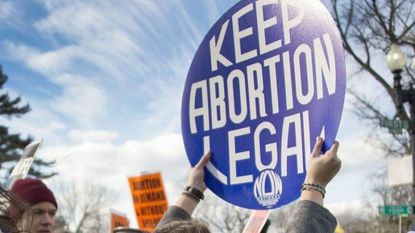 (Image credit: Getty Images)
Marie Claire Newsletter
Celebrity news, beauty, fashion advice, and fascinating features, delivered straight to your inbox!
Thank you for signing up to Marie Claire. You will receive a verification email shortly.
There was a problem. Please refresh the page and try again.
It's no secret that the Trump Administration really hates abortion. On his first full day in office, President Donald Trump signed the global gag rule, forbidding health organizations worldwide from providing (or even discussing) the procedure with patients. The rule has already had disastrous effects, shuttering health clinics worldwide and forcing NGOs to stop outreach on vitally important services like HIV screening and treatment, vaccinations, postnatal care, and cancer screenings.
Despite such alarming reports, the administration is expected to announce today the rollout of a domestic gag rule, which would bar Planned Parenthood and other clinics that receive money from Title X (the federal grant program that provides a host of reproductive healthcare services, including affordable birth control, to low income women), from providing abortions or even referring patients to providers at other facilities for the procedure.
Not only is the new rule unnecessary—federal law already prevents clinics from using federal funds to pay for abortion—it will assuredly undo all the good work the government and nonprofits have done to reduce the rates of unintended pregnancy, teen pregnancy, and yes, abortion—all of which are at historic lows. The rule is especially puzzling given that if the Trump Administration truly wanted to further reduce the rate of abortion, it would do exactly the opposite of what the domestic gag proposes.
Rather than cutting Title X funds from clinics who dare to continue to provide basic health care, er, abortion and medically accurate information to their patients, the administration should increase funding for Title X, ensuring that cash-strapped clinics can provide affordable birth control to even more patients every year. Doing so would help accomplish the administration's goal of reducing abortion because nearly half of all unplanned pregnancies are terminated each year and one of the very best ways to prevent unintended pregnancy is to ensure women have access to contraception, especially the most effective forms like IUDs and implants.
Currently, family planning services funded by Title X and Medicaid prevent 2.2 million unintended pregnancies each year, and without such services, the rate of unplanned pregnancies would be 35 percent higher among all women and 42 percent higher among teens, according to a 2010 report from the Guttmacher Institute.
We already know the rule doesn't work. In 2011, researchers at Stanford released a report showing between 1984 when President Ronald Reagan first imposed the global gag rule (also called the Mexico City policy) and when President Bill Clinton rescinded it in 1993, women in the most impacted countries were nearly three times more likely to have an abortion when the policy was in place than they were after it was lifted. Rather than encourage fewer women to choose abortion, the study proved that "the Mexico City Policy is associated with increases in abortion rates," the Stanford researchers wrote. "In particular, if women consider abortion as a way to prevent unwanted births, then policies curtailing the activities of organizations that provide modern contraceptives may inadvertently lead to an increase in the abortion rate." Further, a 2003 report from the Global Gag Rule Impact Project found that when the policy was in effect between 1984 and 1992, "there was no evidence that the policy reduced the incidence of abortion."
So clearly the domestic gag rule is not actually about reducing abortion—it's about forcing clinics out of business, specifically Planned Parenthood, which serves 41 percent of all Title X patients nationwide and which the GOP has long opposed and repeatedly tried to defund. But make no mistake: Even shutting down clinics won't prevent women from having abortions. It will just make the procedure unsafe. And that blood will be on the "pro-life" Trump Administration's hands.
RELATED STORIES
Celebrity news, beauty, fashion advice, and fascinating features, delivered straight to your inbox!
Kayla Webley Adler is the Deputy Editor of ELLE magazine. She edits cover stories, profiles, and narrative features on politics, culture, crime, and social trends. Previously, she worked as the Features Director at Marie Claire magazine and as a Staff Writer at TIME magazine.