Fracking: The Environmental Crisis in Our Backyard
Eliza Griswold's new book asks the tough questions about fracking.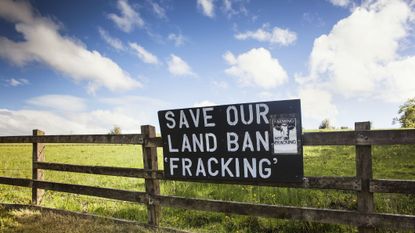 (Image credit: Michelle McCarron)
Marie Claire Newsletter
Celebrity news, beauty, fashion advice, and fascinating features, delivered straight to your inbox!
Thank you for signing up to Marie Claire. You will receive a verification email shortly.
There was a problem. Please refresh the page and try again.
When I pack my beach bag, I usually throw in a steamy Nicholas Sparks novel or a Gillian Flynn thriller. Rarely do I find a page tuner that makes me think (not about who dun it, but actually think)—enter Amity and Prosperity: One Family and the Fracturing of America.

The book tells the true story of Stacey Haney from Amity, PA, a small farming town at the edge of the Appalachia, whose entire life is turned upside down after the fracking boom invades. Soon after drilling begins just 800-meters from Stacey's farm, her animals get sick and die, and her children become mysteriously ill, which she claims is a result of the now-tainted water. When Stacey's pleas to the fracking company fall on deaf ears, she enlists the help of neighbors and a pair of husband-and-wife lawyers to take the fracking company to court, escalating into a thrilling legal battle that pits small town against cooperate behemoths.
Author Eliza Griswold, prizewinning journalist, met Stacey for the first time when Stacey shared her story at a public meeting. So began a 7-year reporting stint to uncover exactly what it's like for a family to live near a fracking site.
In case you need a quick refresher: "Fracking is a technological innovation that has allowed oil and gas drillers to access pockets of gas and oil trapped in ancient rock that is one or two miles into the earth," Eliza explains in an interview with Marie Claire. "It is what makes it possible for America to even contemplate becoming energy independent."
Fracking has significantly increased the U.S.'s access to energy and reduced our CO2 emissions to levels not seen in 20 years. But while decreasing the amount of carbon in the atmosphere is good for the planet, fracking's other environmental costs—and costs to Americans who live near the sites—can be detrimental. During the fracking process, harmful chemicals, like toxic methane, can seep out of the earth and into the surrounding land and water. Like the Haneys, those in fracking communities can become seriously ill due to the pollution.
It begs the question: Is it worth it? "What this book is intended to explain is how resource extraction has set rural America against urban America," says Griswold.
Throughout her plight, Stacey became an unwitting environmental activist, a term that is rarely heard in more rural communities.
"I think [Stacey] still wouldn't see herself as an activist," Griswold says. "Many of the people who live in this area are incredibly skeptical of anything that has a liberal, political ideology to it. Certainly, the word activist does."
No matter what you call it, the fight against fracking has never felt more important. With America's lust for energy (the U.S. accounts for 18 percent of the world's energy consumption), the impacts on frontline families remains uncertain. Though the future of fracking depends on legislature (the Trump administration deems certain environmental rules as "unnecessary" and is working to repeal anti-fracking laws), the voices of activists, and the market for renewable resources, it forces us to ask ourselves a more personal question: Would you turn off your lights to save the Haney family?
As for Stacey and her family, all they can do at this point is move and try to live their lives again.
"For the individuals, there is nothing to do but keep going," Griswold says. "They're never going to be compensated for what happened to them, adequately. The legal term of settlement is to be made whole. And they will never be made whole. No amount of money could make them whole. They will carry this. This is the defining event of their lives."
RELATED STORIES
Celebrity news, beauty, fashion advice, and fascinating features, delivered straight to your inbox!
Megan DiTrolio is the editor of features and special projects at Marie Claire, where she oversees all career coverage and writes and edits stories on women's issues, politics, cultural trends, and more. In addition to editing feature stories, she programs Marie Claire's annual Power Trip conference and Marie Claire's Getting Down To Business Instagram Live franchise.