Representative Sean Patrick Maloney Says a House Panel Wouldn't Fund Tampons For His Office
"This is ridiculous."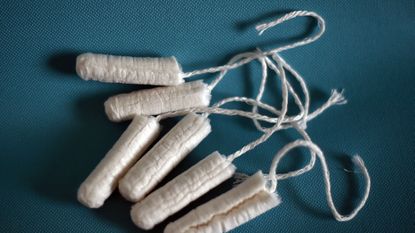 (Image credit: Getty Images)
As if the news of this week hasn't felt enough like another dystopian lurch toward Gilead, check out U.S. Representative Sean Patrick Maloney's Thursday tweet. In it, he states that the Committee on House Administration refused to cover $37 worth of menstrual products Maloney had purchased for restrooms used by staffers and visitors. "That's ridiculous," he fumed on Twitter.
The committee that Maloney refers to manages a fund called the Members' Representational Allowance, which allows reimbursement for an array of necessities that include tissues, hand sanitizer, and lotion. Among the other items that make the list: embellished letter openers, brass bookends, gavel sets with engravable plates, and wooden "executive tissue holders."

Rep. Maloney took to Twitter to call out this discriminatory practice and submitted a scathing letter demanding its reversal. To quote his press release:
In response, the committee denied this: "We wish Rep. Maloney's Office would have contacted the committee for guidance before falsely claiming they: one, contacted the committee at all for assistance; and two, received guidance from the committee rejecting their purchase," it said in a statement Thursday.
If true, this is yet another way that women's bodies are routinely disregarded and devalued as a matter of policy. Welcome to the fight for menstrual equity! You're in good company, with a slew of lawmakers from both sides of the aisle who share the belief that, in order to have a fully equitable and participatory society, our laws must guarantee menstrual hygiene protocols and products that are safe and available for all who need them.
In 2016, the New York City Council passed the nation's first slate of laws requiring freely accessible tampons and pads in its correction facilities, shelters, and public schools. Similar reforms are gaining traction in the states: This year Connecticut, Kentucky, Louisiana, Maryland, and Virginia passed laws to ensure provision of products in local jails and state prisons. California, Illinois, and New York did the same for public schools.

Meanwhile, the push to eliminate sales tax on menstrual products (a.k.a. the "tampon tax") has captured headlines and captivated Democratic and Republican lawmakers alike—including Governor Cuomo, who scrapped the tax in New York back in 2016, and Governor Rick Scott of Florida, whose state followed this year.

Members of Congress have also taken a stand. In 2016, Representative Grace Meng (D-NY) introduced the Menstrual Equity for All Act (H.R. 972),which includes common-sense reforms such as creating a tax credit for low-income individuals who regularly use tampons and pads, allowing people to use their Flexible Spending Accounts to buy menstrual products, and requiring large employers to provide these products to their employees at no cost. After the Dignity for Incarcerated Women Act was introduced in July 2017 by Senators Cory Booker, Kamala Harris, and Elizabeth Warren, the Department of Justice issued a guidance that tampons and pads be freely provided in all federal correctional facilities. And the House recently passed the FIRST STEP Act, federal prison reform legislation that prominently includes a menstrual access provision.

Menstrual equity can no longer take a back seat in our national discourse. Not too long ago, lawmakers were embarrassed to even say the word "menstruation" in public. Kudos to Rep. Maloney for speaking out on behalf of his staff and constituents—and for joining the growing list of public officials who refuse to put women's dignity and well-being on the sidelines.
RELATED STORY
Marie Claire email subscribers get intel on fashion and beauty trends, hot-off-the-press celebrity news, and more. Sign up here.