Female Leaders, All From Families of Immigrants, Share Their Stories
We spoke with authors, artists, activists, and athletes, including Chimamanda Ngozi Adichie, America Ferrera, Diane Guerrero and Chloe Kim.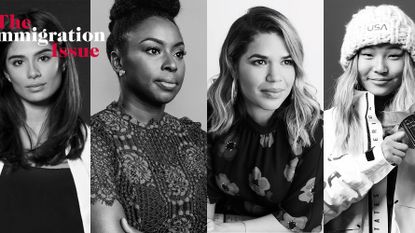 (Image credit: Design by Morgan McMullen)
Marie Claire Newsletter
Celebrity news, beauty, fashion advice, and fascinating features, delivered straight to your inbox!
Thank you for signing up to Marie Claire. You will receive a verification email shortly.
There was a problem. Please refresh the page and try again.
For Marie Claire's special immigration report, we're celebrating the talents and contributions of women with roots in foreign lands.

Chimamanda Ngozi Adichie
OCCUPATION: Writer.
BEST KNOWN FOR: Purple Hibiscus (2003); Half of a Yellow Sun (2006); Americanah (2013), which won the National Book Critics Circle Award for Fiction; and We Should All Be Feminists (2014), based on her 2012 TEDx speech of the same name that was sampled by Beyoncé on "Flawless."
BIRTHPLACE: Enugu, Nigeria.
CURRENT RESIDENCES: Baltimore and Lagos.
HER ROOTS: One of six children, Adichie grew up in Nsukka, Nigeria, in a house once occupied by Chinua Achebe, author of Things Fall Apart. Her father worked at the University of Nigeria as a professor of statistics and later as its deputy vice chancellor, her mother was an administrator, and Adichie herself later studied medicine there. But all she wanted was to read and write stories. "I came to the U.S. to flee the study of medicine," she says. "My sister, a physician with dual Nigerian-American citizenship—she was born in the U.S. when my father was getting his Ph.D. at Berkeley—had moved to the U.S. So I had family in the U.S.," the writer says. "I decided to take the SAT. I got a scholarship and came to the U.S. to study communication and political science."
HER IDENTITY: "My primary identity shifts based on the context. I am Igbo, Nigerian, African, pan-African, black, feminist," says Adichie, 40, who has permanent-resident status in the U.S. "I am also a dreamer, a question asker, a stroyteller, a student of life, a believer in the dignity of every human being."
TO ME, AMERICA MEANS: "A place where once-shiny things have tarnished and are in dire need of being made shiny again."
HER WORDS: In Americanah (which Lupita Nyong'o will be making as a TV miniseries), Adichie relates wise words about connecting with communities different than one's own: "If you don't understand, ask questions. If you're uncomfortable about asking questions, say you are uncomfortable about asking questions and then ask anyway. It's easy to tell when a question is coming from a good place. Then listen some more."
SOMETHING MOST PEOPLE DON'T KNOW ABOUT NIGERIA: "It is the most populated nation in Africa."

ON BEING ASKED, WHERE ARE YOU FROM?: "It depends on the subtext and context. Sometimes it comes from genuine curiosity, which is welcome, and I am happy to talk about where I am from. Other times it is code for 'You do not belong.' And in such cases, my response is 'The moon.'"
Diane Guerrero
Occupation: Actress and author of In the Country We Love.
BEST KNOWN FOR: Orange Is the New Black (Netflix), Jane the Virgin (The CW), Superior Donuts (CBS). Wrote about the deportations of her parents and brother in a 2014 L.A. Times op-ed.
FAMILY ORIGIN: Colombia.
BIRTHPLACE: Passaic, New Jersey.
CURRENT RESIDENCE: L.A.
WHAT HAS AFFECTED YOU MOST ABOUT THE U.S. BORDER CRISIS? "Anyone who experiences a traumatic separation from a loved one knows that it takes time to adjust to the emptiness in your life. I can't help but think it's even worse for children who realize that anonymous federal agents have taken their mother or father, or both, like what happened when I was a teenager. When I heard the audio recordings of young children crying out for a parent or aunt, to the point of not being able to catch their breath, I was overcome with a rush of painful memories. Then when I saw the videos of children wrapped in those foil-like blankets behind fencing that looked like cages, my heart broke. I thought to myself, How can our nation be so cruel? It made me want to try even harder to get people to vote in November so that the true compassionate voice of America is heard."
America Ferrera
OCCUPATION: Actress and activist.
BEST KNOWN FOR: Superstore (NBC) and Ugly Betty (ABC) on TV and in the films Real Women Have Curves (2002) and The Sisterhood of the Traveling Pants (2005).

FAMILY ORIGIN: Honduras.
BIRTHPLACE/CURRENT RESIDENCE: L.A.
AS A COUNTRY, WE NEED TO CHANGE HOW WE SEE AND REPRESENT IMMIGRANTS IN THE U.S. WHAT HAS BEEN YOUR EXPERIENCE IN YOUR INDUSTRY? "I have been supremely lucky to get the opportunities to play some wonderful, authentic, and deep characters, but if I look around at the vast image being painted about the American experience, I see that there are so many of us missing from the picture. Our experiences, our humor, our dramas, our hopes, our dreams, and our families are almost nonexistent in the stories that surround us. I hear from all kinds of people that they gain confidence and self-esteem when they see themselves in the culture—portrayals that say, in resounding ways, 'You are here, you are seen, your experience matters.' I believe that culture shapes identity and defines possibility, that it teaches who we are, what to believe, and how to dream. We should all be able to look at the world around us and see a reflection of our true lived experiences. Until then, the American story will never be complete."
From American Like Me by America Ferrera, to be published by Gallery Books on September 25, 2018.

Chloe Kim
OCCUPATION: Snowboarder.
BEST KNOWN FOR: Winning gold in women's halfpipe at the 2018 Pyeongchang Winter Olympics, earning her the nickname "the Halfpipe Queen."
FAMILY ORIGIN: South Korea.
BIRTHPLACE: Long Beach, California.
CURRENT RESIDENCE: Las Vegas.
HER ROOTS: When he first came to Los Angeles from South Korea in the '80s, Kim's dad had $800 and worked as a dishwasher and cashier before going to school to become an engineer. He met Kim's mom, also from South Korea, in Switzerland, where they both worked for travel agencies, before eventually moving to the U.S. in the '90s. Kim started snowboarding at the age of 4 "because my dad wanted to go and he brought me with," she says. They started with trips to the Mountain High ski resort in southern California, and before long the young prodigy was racking up medals at the X Games. At 13, she qualified for the 2014 Sochi Olympics but couldn't compete—she was too young—so she watched the Winter Games from her couch eating ice cream.
GOLDEN GIRL: After Kim's victory (which made the then-17-year-old the youngest female medalist in Olympic snowboarding history), her dad pointed to himself and mouthed the words "American Dream." Oh, and Momofuku restaurateur David Chang made her a churro ice cream sandwich.
REPRESENTING: "There is nothing more inspirational to me than knowing how hard my parents worked to provide me with the life I have," says Kim, now 18. "I still have family back in Korea, and my parents visit them a couple times a year." But 2018 stands out as the year she felt she represented two countries at the Games. "I wanted to make everyone, especially my parents, proud. It was really cool to have my grandma, aunts, and cousins all there watching me compete for the first time!"
A version of this article originally appeared in the September 2018 issue of Marie Claire.
Celebrity news, beauty, fashion advice, and fascinating features, delivered straight to your inbox!