The Kids With Logic at the VMAs Had a Powerful Story to Match the Song
The entire performance was a resistance anthem.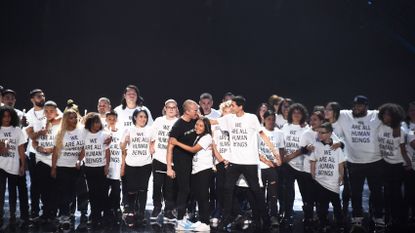 (Image credit: Michael Loccisano)
When Logic took the stage at the 2018 Video Music Awards, he wasn't alone—he was joined by dozens of children, who stood in front of a graphic representing U.S. Border Patrol while the singer performed "One Day." Every child onstage wore a T-shirt emblazoned with "We Are All Human Beings." So, who were the kids onstage with Logic? (opens in new tab) They were children directly affected by the country's most draconian immigration policies.
Following the performance, the official Video Music Awards Twitter account tweeted (opens in new tab): "All of the people on the stage with @Logic301 were impacted by immigration issues. #WeAreAllHumanBeings #VMAs."
Meanwhile, immigration activist Gregory A. Cendana wrote: "Want to know who was on stage w/@Logic301 at tonight's #VMAs? Families from @UnitedWeDream @MakeTheRoadNY @Domestic Workers -- follow them to find out more." Cendana named three of the nation's leading immigration organizations, who presumably worked with Logic and the VMAs to make the song's message more poignant.
Logic himself wore a T-shirt reading "F*ck the wall," a reference to President Trump's proposed border wall between the U.S. and Mexico. The entire performance could be read as a resistance anthem to President Trump and his administration, considering Trump's White House is actively enabling the issues that kids like the ones onstage are facing.
The lyrics to Logic's song, too, could be interpreted in light of the White House's stance on immigration:
"And maybe one day I'll be wiser /'Cause maybe one day I'll be further from here/ Put all of my faith in tomorrow/ Dark days keep me up all night/ Only thing I know, it's gonna be alright."
Per the Domestic Workers' Alliance, some of the people onstage included: Angelica, a 17-year-old DACA recipient who is a leader with New Labor in New Jersey, and lives with the constant fear of being separated from her family; Jessica, 14, the daughter of immigrants, who lives in New York City and crossed the border from Mexico a decade ago with her mom; Jaritizi, who is 15 and whose family is mixed-status; and Michelle, who is a 25-year-old DACA recipient with two children, and fears being torn from her family.
In a press release from the Domestic Workers' Alliance, Jefferson Arpi, a 15 year-old youth leader with United We Dream whose father has been detained for 9 month months, said: "Logic's music video showed that even though our families face a lot of pain, we are strong, we are fighters, and we are human."
RELATED STORY