"It Shouldn't Be a Crime In This World to Speak Your Mind"
Jamal Khashoggi's editor Karen Attiah on the days since her columnist was apparently brutally murdered.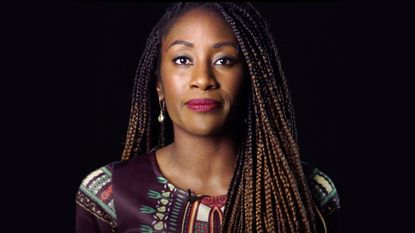 (Image credit: Courtesy)
On Tuesday, October 2, Washington Post global opinions editor Karen Attiah's Whatsapp started "blowing up" with messages from mutual friends asking if she'd heard the news. "Jamal's missing, Jamal's missing," they said, pointing Attiah to an article in an Arabic publication that said Jamal Khashoggi, one of her columnists, had entered the Saudi Consulate in Istanbul that morning and had not been seen or heard from since. "My gut feeling, just knowing the things Jamal had told me about how the royal family had been putting pressure on him, putting pressure on his family, to get him to stop writing... I started to fear the worst," says Attiah, 32. "It's certainly the worst moment of my professional life. The idea that we're forever connected in this way is unreal."
Attiah first reached out to Khashoggi, a veteran Saudi journalist, about a year ago after some 30 clerics were detained in an apparent crackdown on dissent by Mohammed Bin Salman, the Crown Prince of Saudi Arabia (colloquially known as MBS), as he worked to consolidate power. "Jamal was quoted everywhere about the crackdowns and what they mean, but I didn't see him writing anything of his own," Attiah recalls. She thought, Clearly this guy knows a lot because everybody's going to him for quotes, so let's get a piece from him.
What Attiah says she didn't know at the time is that the column she asked Khashoggi to write would be his first piece in the six months since the Saudi government barred him from writing, appearing on television, or tweeting his opinions after he was critical of then-U.S. President-elect Donald Trump. For decades Khashoggi had enjoyed a very close relationship with the royal family, serving as an advisor and unofficial spokesman, but he had grown increasingly progressive, and his criticism of Trump, with whom the royal family hoped to have a close relationship, appears to have been a bridge too far.
Khashoggi fled Saudi Arabia in 2017 for the U.S, settling in Virginia, shortly before many of his friends and fellow intellectuals were arrested. He had lived in the U.S. previously—he earned a bachelor's degree in business administration from Indiana State University in 1982, and served as the press aide to the Saudi Ambassador in Washington D.C. in 2006—and had applied for permanent residency. In his first column for The Post, he revealed he was in "self-exile," fearing arrest if he returned home, and said he felt he had no choice but to raise his voice, writing, "to do otherwise would betray those who languish in prison. I can speak when so many cannot." The article was an instant hit. "Essentially, that piece he did for us, it was like his 'coming out' piece," Attiah says. "Once we hit 'publish,' within minutes, we saw our traffic spike and I think we were all like, Whoa, alright, this is a big deal."
Attiah and Khashoggi met in person for the first time a few weeks later. After they had lunch, she gave him a tour of the newsroom. "We talked editor to editor about working with reporters, the editing process, and fact-checking, and his eyes lit up just being here," Attiah says. Over the course of the following year, Khashoggi would author columns comparing MBS to Russia's Vladimir Putin, on what the Crown Prince could learn from Queen Elizabeth II and Black Panther, and one urging MBS to end the war and humanitarian crisis in Yemen—the final column he and Attiah worked on together, published on September 11, 2018. "He loved his country and didn't want to be a dissident," Attiah says. "His critiques were quite respectful. He was never wanting to bring down the House of Saud; he wasn't calling for a revolution. He was pushing a little bit for more democratic reforms, but he also understood that things could move slowly."
Khashoggi also wrote about the conflicting emotions of seeing his country finally allow women to drive, while simultaneously imprisoning many of the female activists, like Loujain al-Hathloul, who had worked to make the milestone possible. Referring to Al-Hathloul by name in his columns was part of a larger effort by Khashoggi to make sure Saudi women were not erased, that they were heard, Attiah says. "I know for sure that they've been told to shut up," Khashoggi told Attiah of female activists in the country.
He helped Attiah find female Saudi writers to contribute to The Post, and generously translated their articles, including those by Women2Drive founder Manal al-Sharif. He also helped with The Post's coverage of #MosqueMeToo, translating Mona Elthawy's piece about being assaulted during hajj. "He wanted a Saudi Arabia where there were more freedoms for women," Attiah says. He was "really sad" he couldn't be in the country to witness women driving for the first time, telling Attiah "it feels like not being invited to a party that you worked so hard to plan."
The day after Khashoggi went missing, Attiah wrote a column about his disappearance that included a personal message to him: "Jamal, if you have a chance to read this, please know that we at The Post are actively seeking to ensure your safety and freedom. I won't be able to rest easy until you appear safe and sound." On October 4, the paper published a blank space where Khashoggi's column should have been, a move that "sent shockwaves throughout the world, as a powerful visual statement of our missing friend," Attiah says.
Powerful: @washingtonpost have printed a blank space where Jamal Khashoggi's column should be, after his disappearance. We need answers now. #JamalKhashoggiDisappeared @UNESCO @pressfreedom pic.twitter.com/S5M86uzTDxOctober 5, 2018
See more
Five days later, details began to emerge via leaks from Turkish officials who claimed Saudi Arabia had sent a hit squad to assassinate Khashoggi and dismember him with a bone saw. Through it all, Attiah kept speaking out on Khashoggi's behalf. "It's not easy to express your pain over and over again and maybe it's not the healthiest thing for me to feel so personally attached to him, but I want people to see there's a human toll to this crime," she says. "A lot of what I've been doing is telling people what he said, what he wrote, and who he was, because, for a lot of Americans, this is the first time they'll hear about him. I know sometimes we hear about things happening far away and it's hard to connect with it. I thought if people saw me and my colleagues speaking about him personally, they would be reminded that this is a Post journalist who lived in Virginia, and that he could be possibly apparently murdered in this way is grotesque and unacceptable on a human level."
It's not lost on Attiah that Khashoggi's writing for The Washington Post is likely what made him a target. "He told me the royal family were like, 'Oh, you can write for whoever you want, but why does it have to The Post?'" she says. But that was exactly what attracted Khashoggi to the newspaper. "He knew Mohammed Bin Salman reads The Post and he would say in his messages to me, 'Oh I hope MBS sees this and takes this advice,'" she says.
Khashoggi didn't talk much about the threats he faced, Attiah says, but he "absolutely understood the risks." She heard about people who wanted him to stop writing and of trolls who called him a traitor, but he never told her about any death threats. Still, sometimes before publishing his work, Attiah would ask, "Are you sure?" He always said yes. "He was like, 'I want to speak my mind—it shouldn't be a crime in this world to speak your mind,'" Attiah says. "He could have chosen another avenue, he could have stayed silent, he could have said, 'I'll work to build my own blog or channel' or gone somewhere else, but he chose The Washington Post and he agreed to work with me."
In Attiah, Khashoggi found an editor with compassion for those without a home. Her Nigerian-born mother fled the country as a refugee at age 14, escaping a civil war that killed some one million Nigerians in the 1960s. She settled in Ghana, where she met Attiah's father during college; the couple eventually resettled in Dallas, Texas, where Attiah was born. "Maybe that's why I feel drawn to stateless people," she says. "There's something that strikes me when somebody doesn't have a home or doesn't feel safe, perhaps because my mother had to leave Nigeria because they weren't safe." She has worked to make The Post's global opinion section, which features prominent voices writing about their native countries, a place for people like her mother. "We want our section to be a home for writers who have been chased out of their own political spaces because of conditions in their countries," she says. "I talked about this with Jamal a lot—maybe I thought that The Post, in some way, could keep him safe."
Forty-five minutes into our conversation the news broke that Saudi Arabia is preparing a report that will acknowledge Khashoggi's death was the result of an interrogation gone wrong. Attiah said, "Sorry, I'm just hearing some urgent, urgent things right now. Can I call you back?"
Minutes after our call ended, Attiah tweeted: "My breath has been taken away again. #khashoggi." I emailed, offering to push our next call to the following day to give her some time to grieve, and was surprised when she replied shortly, offering to call me in 20 minutes—her commitment to getting the word out about Khashoggi seemingly unending.
Saudi Arabia has not yet released the report. Amid outcry from bipartisan members of Congress, business leaders, and human rights groups, President Trump initially said there would be "severe punishment" if the Saudis are found responsible. But in recent days he has walked back that statement, saying he doesn't want to impact billions of dollars in arms sales to the kingdom. After Secretary of State Mike Pompeo met with the Crown Prince in Riyadh, the capital, earlier this week, Trump criticized the condemnation of Saudi Arabia, saying in an interview with the Associated Press, "here we go again with you're guilty until proven innocent."
We may never know the full truth of what happened to Khashoggi, but if there's any certainty to be had in this heinous and mysterious international crime, it's that Attiah will not stop until she has answers. "I'm not someone who just gives up," she says. "This is something I can't let go of or ever forget." She's already thinking of how she might honor Khashoggi. One idea she has: learning Arabic. "It has hurt me very personally to have a friend—somebody who's so kind and gentle and quiet—be brutally murdered," Attiah says. "I still can't believe that I have to wrap my head around having a writer silenced this way." She takes comfort in knowing that, while his murderers may have taken his life, they can never kill his words.
Celebrity news, beauty, fashion advice, and fascinating features, delivered straight to your inbox!
Kayla Webley Adler is the Deputy Editor of ELLE magazine. She edits cover stories, profiles, and narrative features on politics, culture, crime, and social trends. Previously, she worked as the Features Director at Marie Claire magazine and as a Staff Writer at TIME magazine.