A U.S. Congressman and His Aides Were Shot Outside Washington, D.C. This Morning
Steve Scalise is the House Majority Whip.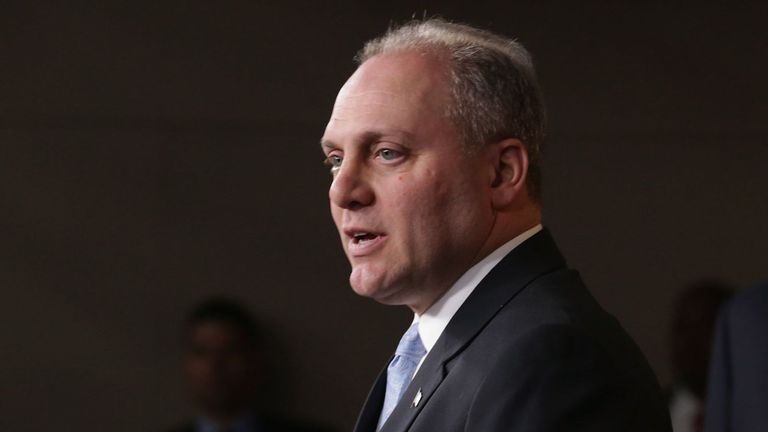 (Image credit: Getty)
House Majority Whip Steve Scalise and at least one aide were shot Wednesday morning at a practice for the GOP congressional baseball team in Alexandria, Virginia, Fox News reports. The shots were first reported at 7:30 a.m. near a YMCA, according to police on Twitter. Scalise was shot in the hip and one aide was shot in the chest. Two Capitol Hill police agents, part of the congressmen's security detail, were also shot, according to CNN. Police said the suspect is in custody.
Rep. Mo Brooks joined CNN shortly after the incident to give a harrowing account, describing how he was waiting to bat near home plate when the shooter appeared around the dugout on the third base line and started shooting with a rifle. Brooks hid behind a plastic batting cage, then ran to the first base dugout where he applied a tourniquet to another aide who was shot in the leg. At some point, Brooks said, the congressmen's security detail returned fire at the suspect. A staffer used a belt, according to Fox News, to apply another tourniquet to stop Scalise's bleeding. Rep. Jeff Duncan told HuffPost's Matt Duncan that he "left just before the shooting, but may have possibly spoken to the shooter."
Scalise, 51, has represented Louisiana's 1st Congressional District, which includes a portion of New Orleans, since 2008. He is the number three in Republican congressional leadership behind Speaker Paul Ryan and Majority Leader Kevin McCarthy.
This is the first shooting incident involving a member of Congress since the Tucson shooting in 2011, when Rep. Gabrielle Giffords and 18 others were shot in a supermarket parking lot. Six people died, but Giffords, who suffered extensive head injuries, survived.
This post will be updated.
Follow Marie Claire on Facebook for the latest celeb news, beauty tips, fascinating reads, livestream video, and more.