Our Country Needs to Stop Acting Like Women Have Only Played Supporting Roles in Its History
Here's how my Capitol Hill colleagues and I are planning to change that.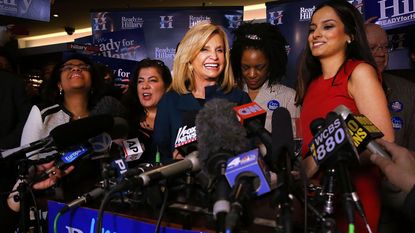 (Image credit: Getty Images)
Each year, hundreds of thousands of students travel to Washington, D.C. to learn more about how our country works and, hopefully, get inspired by it all. They tour the extraordinary museums and walk the halls of the Capitol, taking in the exhibits that showcase the courageous accomplishments of extraordinary individuals who have helped to shape our history.
But unfortunately, there are many significant pieces of our history missing. In National Statuary Hall for instance—where each of the 50 states displays two statues of notable citizens—only nine out of 100 statues are women.
And so it is with the monuments, statues, and plaques throughout the Capitol and across the nation. Historical exhibits of remarkable women and their contributions are still all too rare.
Even when the visiting students return to their classrooms, their history textbooks don't adequately recount the incredible contributions that women have made to this country in every sector of society. That's just wrong—it means we're only telling a portion of the real American story.
That's why I've been fighting to create a women's history museum on the National Mall.
Establishing a museum dedicated to half the population is long overdue. Fortunately, women are persistent. It took nearly 150 years after the country's founding for American women to win the right to vote. Almost a century later, we are still fighting for equal rights, equal pay, and equal recognition. We won't quit until equal really means equal.
To help close the history gap, I have introduced a bill with my Republican colleague Representative Ed Royce of California, the Smithsonian Women's History Museum Act, which would provide for the celebration and study of female contributions that have influenced the direction of the United States. The bill was given the number H.R. 19 in honor of the 19th Amendment to the Constitution that enshrined women's right to vote.
It is never easy to pass a bill in Congress, and it's harder now than ever to reach any kind of agreement. So I'm very proud that my bill now has the support of the majority of the House of Representatives—Republicans and Democrats alike. Just last week, Senators Susan Collins (R-ME) and Dianne Feinstein (D-CA) introduced a companion bill, S.1498, in the Senate. The momentum is building, and it's just the beginning.
H.R. 19 is based on the work of the bipartisan American Museum of Women's History Congressional Commission that was created through a bill I sponsored that passed in 2014. After 18 months of studying the issue, the Commissioners submitted a unanimous recommendation to Congress that Americans want, need, and deserve a museum dedicated to women's history. Our bill reflects the Commission's recommendations that a women's museum should be part of the Smithsonian, located on the National Mall, and constructed with privately raised funds. So far, my colleagues in Congress have followed the same bipartisan spirit exhibited by the Commission. I am hopeful that with cooperation like this, we can advance the bill all the way to President Trump's desk for him to sign into law.
This effort is important for all Americans—not just for women. It is important not just today, but also for generations to come. If we don't preserve the stories of the countless remarkable women who have shaped our nation, they are in danger of being lost, and we would all be the poorer for that. Failing to tell their stories would limit the number of role models we introduce to our children to inspire them. It would create the impression that women and girls only play supporting parts in American history and in society, even though nothing could be further from the truth. Women have been front and center of every major American moment, and our telling of history should proudly reflect that.
With a new Smithsonian museum located in the center of the nation's capital, we can right a long-standing injustice and finally tell our country's full story in all its glory. If we want to empower future generations of young women and men, the achievements of both men and women must be properly recognized. Our history is not complete without herstory too.
Follow Marie Claire on Facebook for the latest news, long reads, video, and more.
Marie Claire email subscribers get intel on fashion and beauty trends, hot-off-the-press celebrity news, and more. Sign up here.
Julie Vadnal is a freelance writer and founder of the weekly newsletter Jules. (You should definitely subscribe.) Her work has appeared in New York, Cosmopolitan, Domino, Real Simple, and Architectural Digest. She lives in Brooklyn.