Joe Biden's First Wife, Neilia, and Daughter Naomi Passed Away In a 1972 Accident
Joe Biden's ability to empathize has been described as a "superpower." Biden himself lost not only his son Beau, but his first wife Neilia and daughter Naomi.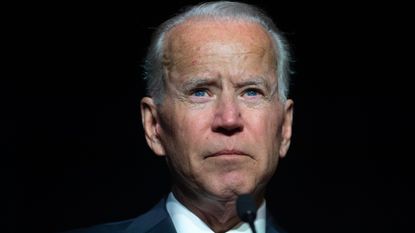 (Image credit: Getty Images)
Marie Claire Newsletter
Celebrity news, beauty, fashion advice, and fascinating features, delivered straight to your inbox!
Thank you for signing up to Marie Claire. You will receive a verification email shortly.
There was a problem. Please refresh the page and try again.
In Jill Biden's autobiography Where The Light Enters, Jill describes meeting Joe Biden's then-wife Neilia in the winter of 1972. "She had an easy, natural beauty," wrote Jill, adding that Neilia, then 30, had a "warm, genuine smile." Jill went on to describe learning one month later that Neilia and the couple's daughter, Naomi, had passed away suddenly in a car crash. "It was profoundly unfair," Jill wrote. "To take a mother from her children; to take a daughter from her father. Joe Biden had had everything, and in a horrible second, it was gone."
Years later, Joe spoke about the tragedy in a 2015 Yale commencement speech. He described how, in 1972, he had just been elected a senator to Delaware and was waiting to take office. "While I was in Washington hiring staff, I got a phone call," he said. "My wife and three children were Christmas shopping. A tractor-trailer broadsided them and killed my wife and killed my daughter."
Just weeks before he was sworn in, Joe was working at a borrowed office in Washington when he heard the news. In his 2008 memoir Promises to Keep, Joe wrote that he could feel something was wrong immediately. His sister, Valerie Biden Owens, was on the phone with their brother Jimmy when she turned white. After watching his sister get off the phone and suggest they take a plane back to Wilmington, Delaware because of a "slight accident," he could only respond with, "She's dead, isn't she?"
Neilia was 30 years old, and Naomi, known as "Amy," had just turned one. (Joe's granddaughter Naomi, now 26, is named in her honor.) Their two sons, Hunter and Beau, who were four and three years old, respectively, were in critical condition, leaving Joe forced to hold his Senate swearing-in at his sons' hospital bedside.
"The first memory I have is of lying in a hospital bed next to my brother," said Hunter while delivering Beau's eulogy in 2015 who passed away from brain cancer. "I was almost three years old. I remember my brother who was one year and one day older than me, holding my hand, staring into my eyes, saying, 'I love you, I love you, I love you' over and over and over again."
In his Yale commencement speech, Joe explained: "Many people have gone through things like that. But because I had the incredible good fortune of an extended family, grounded in love and loyalty, imbued with a sense of obligation imparted to each of us, I not only got help," he said. "By focusing on my sons, I found my redemption."

During his speech, Joe spoke movingly about the closeness he felt with his sons after the accident, noting: "The incredible bond I have with my children is the gift I'm not sure I would have had, had I not been through what I went through."
Joe had met Neilia by chance. During a spring break trip in 1964, he and a couple of his friends drove down to Fort Lauderdale, Florida, for a couple of days. When boredom struck early on, they decided to book a round trip to Nassau, Bahamas for a change of scenery. When there, he and a couple of buddies snuck into an expensive hotel by wrapping a hotel towel around their waists and walking past the security guards. It was then he saw Syracuse student Neilia lying by the pool, recalled friends to The New York Times. "I've got the blonde," said Joe to his friends.
He and Neilia hit it off and were married in 1966. "Once I had Neilia with me, it became more of a plan than a daydream," Joe wrote in his memoir Promises to Keep. "Now I could see the picture whole."
The years that followed the tragic passing of Neilia and Naomi were, of course, very difficult for Joe as he tried to try to balance the responsibilities of raising his sons on his own with the new pressures that came with being a member of the United States Senate. After the accident, Valerie moved in with her brother and his two sons in Wilmington and lived with them for four years. "They had lost their mom and their sister, so they cannot lose their father, and that's what made him get out of bed in the morning," said Valerie to The New Yorker in 2014. With his sister's help, Joe found himself getting out of bed, getting ready to take the ninety-minute commute each way on Amtrak to Washington to fulfill his duty as Delaware's senator.
It had been Neilia who helped him get that seat. According to The News Journal, she was the "brains" of his campaign and one of his closest advisors.

At a 2012 event for U.S. military service members, Joe spoke of his grief, saying, "For the first time in my life, I understood how someone could consciously decide to commit suicide. Not because they were deranged, not because they were nuts, because they'd been to the top of the mountain and they just knew in their heart they'd never get there again, that it was...never going to be that way ever again." He continued, "Keep thinking what your husband or wife would want you to do. Keep thinking what it is, and keep remembering those kids of yours, or him or her the rest of their life, blood of my blood, bone of my bone, because, folks, it can and will get better."
Years later, Joe's meet-cute with Jill Jacobs in 1975 led to love, bringing him the strength that he so desperately needed after his massive personal loss. "She gave me back my life," Joe said of Jill in his 2007 memoir Promises to Keep. "She made me start to think my family might be whole again."
"My mom came along—I have two moms now—[she] came along in 1977 and rebuilt our family, and helped my dad rebuild our family," Beau recalled in 2021.
Jill, knowing how deeply Hunter and Beau were affected by the tragic passing of their mother and sister, turned down Joe's first five marriage proposals. "Because by that time, of course, I had fallen in love with the boys, and I really felt that this marriage had to work," she told Vogue in 2016. "Because they had lost their mom, and I couldn't have them lose another mother. So I had to be 100 percent sure." When she was finally sure, the couple tied the knot in 1977, and in 1981, they welcomed their daughter Ashley into the world.
In 2015, Beau Biden—who had followed in the footsteps of his beloved father by becoming attorney general of Delaware—passed away from brain cancer. He was 46 at the time. "Beau Biden was, quite simply, the finest man any of us have ever known," Joe said in a statement at the time. Then-president Obama gave the eulogy at Beau's funeral, saying: "He was a good man. He did in 46 years what most of us couldn't do in 146."
Once again, Joe wrestled to find the good that could come of tragedy. He didn't end up running for president in 2016—he wrote in his book Promise Me, Dad that he was simply too overwhelmed by grief—but he did run in 2020, picking Kamala Harris to be his vice president in part because Beau trusted her and considered a good friend.
The former vice president was open about his experiences with grief on the campaign trail, frequently mentioning Beau and speaking intimately with bereaved voters. In January of 2020, Politico's Michael Kruse described empathy as Joe's "superpower," writing: "There is no person in American politics today whose life has been so shaped by loss and grief. The long arc of Biden's career is all but bracketed by tragedy."
Since Beau's death, Joe has became even more passionate about cancer research, heading up the Cancer Moonshot program of the Obama administration. While running for president, Joe told supporters, "I promise you, if I'm elected president, you're going to see the single most important thing that changes America—we're gonna cure cancer."
Joe has also become a fierce advocate for mental health, making it a priority as vice president. "Imagine what it would mean if people felt as comfortable saying they were going for counseling as they were going for a flu shot?" he marveled in 2013.
In an interview with MSNBC earlier this year, Joe said that "hundreds of people... throw their arms over me" as they tell him about the hard losses of their parents, children, and spouses, and "all they want to know is that they can make it."
He continued, "The way you make it is you find purpose and you realize they're inside you. They're part of you. It's impossible to separate."
Celebrity news, beauty, fashion advice, and fascinating features, delivered straight to your inbox!