Latinas Make 54 Cents For Every Dollar a White Man Makes
It's 2019, people!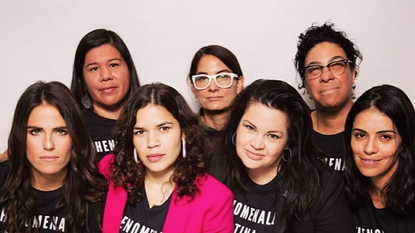 (Image credit: America Ferrera Instagram)
Marie Claire Newsletter
Celebrity news, beauty, fashion advice, and fascinating features, delivered straight to your inbox!
Thank you for signing up to Marie Claire. You will receive a verification email shortly.
There was a problem. Please refresh the page and try again.
On November 1, 2018 my Instagram feed was flooded with women talking about the Latina pay gap and Latina Equal Pay Day. Having started my career in Latin media I was surprised to see everyone wearing these Phenomenally Latina shirts and not know what it was. It was maybe a little FOMO, but mostly I wanted to know more about the gap, which I learned meant that for every dollar a white man made, Latinas only made 54 cents. I also wanted to know how I could get involved. I did some research and learned that Eva Longoria, America Ferrera, Gina Rodriguez, Jessica Alba, and many other well-known Latinas had teamed up with the Phenomenal Woman Action Campaign to support spreading awareness about the gap through their Phenomenally Latina collection.
Latina Equal Pay Day takes place on November 20 this year—the date marks how many extra weeks and months a Latina would have to work to make the same amount of money a white male made in 2018. Let that sink in. We almost made it to 2020, which is heinous.
The day was founded in 2018 by Mónica Ramírez, President of Justice for Migrant Women. "Latinas and our work are grossly undervalued," Ramírez told MarieClaire.com today over email. "Across every education level, industry and sector, Latinas are not being paid the full value for our work. There is a direct correlation with how Latinas are treated in society, as well as at work, and the way that we are portrayed by the media and entertainment. If messaging is constantly geared toward the masses that we are underprepared, uneducated and unskilled, then that is the messaging that employers are also receiving about us, which, in part, results in discrimination against us."
This year, the Phenomenally x Latina Power campaign has teamed up with Jen Zeano Designs. JZD's Founder + CEO, Jen Serrano, is a Mexico-born immigrant who currently runs JZD, alongside her wife, out of Brownsville, Texas. Brownsville has a 93 percent Latinx community consistently named one of the poorest in America and Jen is on a mission to honor her parents' sacrifices and struggles in coming to the U.S. Through her designs she hopes to empower Latinxs and promote equality for all, and trust me, her clothes are so dope you'll want them all!
So what does 54 cents to every dollar actually mean for Latinas? It's almost half of what a white man makes. For. The. SAME. WORK! This unfortunately isn't just a problem for Latinas, it's a problem for all people that identify as female. For comparison, according to the American Association of University Women or AAUW, an Asian woman makes 90 cents to a white man's dollar, a white woman 79 cents, Black women 62 cents, 61 cents for Native Hawaiians or other Pacific Islander women, and 57 cents for Native American Indian women. Obviously as a human and a woman these numbers upset me, but as a Latina they are devastating. It's not as if we need a reminder of how hard Latinxs in general work in this country, what concerns me is the amount of progress the community will never see as a result of the gender pay gap.
According to a 2015 report by the Center for American Progress 42 percent of mothers were the main breadwinners for their family, bringing in more than half of their home income. This is the highest percentage of female-breadwinners to date. Of that 42 percent, 15.8 percent of them were Latina. Imagine being the main breadwinner for your family and working hard every day and you're making almost half of what you should be making just because of your gender identity? Now add in all the single mothers, 53 percent of Latinas who gave birth in 2013 were unmarried, and the women who help take care of an elderly parent or parents. If they can't even pay their bills because of this disadvantage, how could they ever help their children progress? How the hell are we supposed to keep moving pa'lante if we're constantly struggling to survive? I don't know the answers to these questions, but I know we need to ask them, even if the rest of the world only pays attention on #LatinaEqualPayDay.

And then I thought about what needs to change. I reflected on my own career and the pay I've made. It is important to have Latinxs in positions of power and manager roles. Keep the conversation going, share your wage, support causes like #PhenomenallyLatina, and know that we see you working hard. I see you. Latinxs are a powerful, resourceful community and as we know, si se puede, but it's time we fight for those roles we deserve, it's time we speak up about how unfair wages are, and it's time we earn the same our white male counterparts do. Punto.
Share your support for #LatinaEqualPayDay on November 20, 2019 and get your own Phenomenal gear below.
Be Phenomenal
Celebrity news, beauty, fashion advice, and fascinating features, delivered straight to your inbox!
Krystyna was the former Social Media Editor of Marie Claire where she oversaw all things social media and connected with MarieClaire.com readers. She came to Marie Claire from Racked.com, where she was the Community Manager. Before that, Krystyna was at Latina Mag and Cosmo for Latinas. She graduated with a Marketing major from Fordham University.