Did AOC's Election Pave the Way for More Insurgent Women in Politics?
A new cast of insurgent candidates are running to prove the election of women like Rep. Alexandria Ocasio-Cortez aren't flukes, but glimpses into a hopeful future.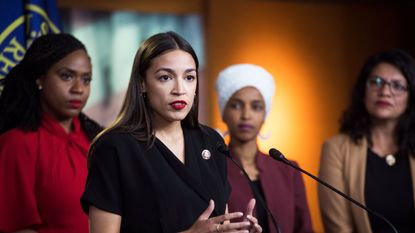 (Image credit: Tom Williams)
A few months after Mckayla Wilkes announced her candidacy for Congress, she was approached by a state delegate at a community event in Maryland's 5th district, where she is seeking a seat. Maybe she wants to be supportive, Wilkes thought, before quickly realizing that was not the case. Instead, the delegate was upset that Wilkes dared mount a campaign against House Majority Leader Steny Hoyer, the second most powerful Democrat in the House of Representatives. "She told me that with Steny Hoyer, we have seniority," says Wilkes. "Without seniority, we have nothing."
Wilkes is a 29-year-old black project analyst and part-time college student running on a progressive platform that advocates for the Green New Deal, Medicare for All, and criminal justice reform. She rejects corporate donations, instead relying on small-dollar donors and grassroots support. Hoyer, by contrast, is an 80-year-old white man who has been in Congress for 40 years who has urged Democrats to stick to a centrist, moderate message.
Before 2018, Wilkes's bid would not likely have been taken seriously—even Wilkes herself didn't think she was a viable candidate. In part, that's because she was put in juvenile detention as a teen due to truancy, and in 2014, she spent time in jail for driving with a suspended license. But it's also because she thought all politicians were "older, have all the credentials, are politically connected, and have been working in politics their entire life" and she would never measure up. "I thought that I had to get a college degree and I had to become a lawyer, and I had to become politically connected in order to run for office," Wilkes says.
And then 2018 happened. Candidates like Rep. Alexandria Ocasio-Cortez (D-NY), Rep. Ayanna Pressley (D-MA), Rep. Ilhan Omar (D-MN), and Rep. Rashida Tlaib (D-MI) made other women believe they, too, stood a chance at victory. "These were regular people who weren't politically entrenched," Wilkes says. "That really inspired me to just jump in the water instead of just tipping my toe in."
Dubbed by the media as "the AOC effect," Wilkes is among the growing group of progressive women and people of color emboldened to take on moderates, even within their own party, after witnessing Ocasio-Cortez, a 28-year-old democratic socialist and bartender, unseat Joseph Crowley—then the fourth most powerful House Democrat—in what became the biggest political upset of 2018.
In South Texas, 26-year-old immigration attorney Jessica Cisneros has mounted a bid against seven-term incumbent Henry Cuellar, one of the most conservative Democrats in the House, who has an A-rating from the National Rifle Association, opposes abortion rights, and has voted to fund President Donald Trump's U.S.-Mexico border wall. Cisneros has raised nearly half a million dollars for her campaign and has the backing of EMILY's List and endorsements from heavyweights like Senator Elizabeth Warren, Pressley, and Ocasio-Cortez. Still, she admits, "If it weren't for what AOC and Pressley did last cycle, I wouldn't be talking to you right now. I think that them taking on entrenched incumbents and winning despite the odds really inspired a nation because all of a sudden it put everybody in this mindset that change was possible."
There are others, too. In Ohio, Morgan Harper, who supports the Green New Deal, refuses corporate money, and is pushing for systemic reparations, is running against three-term incumbent democrat Rep. Joyce Beatty. In Illinois, Marie Newman is mounting a second challenge against Rep. Dan Lipinski, a 14-year democratic incumbent who is anti-abortion, and in Missouri, nurse and pastor Cori Bush is again running against 18-year incumbent democrat William Lacy Clay, whose father held the same seat before him.
Research has shown that when women run, they are elected at rates comparable to men. However, the same is not necessarily true for women challenging incumbents. While there may be a "public perception" that women who run against candidates in their own party win, thanks to Ocasio-Cortez, that's not proven to be true, says Kelly Dittmar, an assistant professor of political science at Rutgers University-Camden and scholar at the Center for American Women and Politics. For instance, of the 19 women who ran against Democratic incumbents for House seats in the 2018 midterm elections, only two won: Ocasio-Cortez and Pressley.
While more progressive women may be inspired to take on incumbents now than before 2018, they are still likely to run up against a unique set of challenges, even from within their own party. In March, the Democratic Congressional Campaign Committee (DCCC), the party's powerful fundraising arm, announced that it would not work with any private political vendors who work with Democratic primary challengers.
However, in a Congress that is 78 percent white and roughly 25 percent female, Monica Klein, a political strategist who works to get progressive women elected to office in New York, argues that protecting the status quo effectively limits the ability for diverse candidates to mount challenges. "When you protect incumbents, you're inherently protecting white, male, wealthy people at the expense of young people, women of color, queer people," Klein says. "You're not bringing in new energy." Wilkes, who has been endorsed by Brand New Congress, a PAC that supports progressive, insurgent candidates, and initially convinced Ocasio-Cortez to run told BuzzFeed that she's had difficulty finding consultants to work with because of the DCCC's policy.
In a statement to Marie Claire, DCCC spokesperson Cole Leiter defended the policy and said, "The DCCC is proud of its historic work, flipping 43 formerly Republican seats and electing the most diverse caucus in American history...The DCCC is already well into our work to fortify this newly won House majority and expand the battlefield further into districts that haven't had the opportunity to elect a Democrat in decades."
Some Democratic Party leaders have also been less than enthusiastic about the new, activist energy coming into Congress. While there is no doubt that Ocasio-Cortez, Pressley, Tlaib, Omar, and their small but vocal contingent of progressives are pulling the Democratic party to the left, House Speaker Nancy Pelosi has dismissed their influence, saying in an interview with The New York Times, "They're four people, and that's how many votes they got." When former Missouri Sen. Claire McCaskill, a moderate Democrat, lost her seat to a Republican in 2018, she resisted Ocasio-Cortez's call to move the party to the left, telling CNN, "I hope she also realizes that the parts of the country that are rejecting the Democratic Party, like a whole lot of white working class voters, need to hear about how their work is going to be respected, and the dignity of their jobs, and how we can really stick to issues that we can actually accomplish something on."
The view of the establishment is indeed better supported by data. According to the Center for American Women and Politics, in the 2018 general election, 15 out of 94 women Democratic challengers won, suggesting slightly higher success when women sought to flip red-to-blue over their own party. "It wasn't that some huge numbers of women challenged incumbents in their own party and scared the party into supporting them next time," Dittmar says of the 2018 elections. "The party is probably looking for where they can make the greatest gain in terms of seats in Congress, or among the women who challenged Republicans—and those women represent arguably a more moderate place in the party."
There's a certain appeal to the logic. "At the end of the day, the party for the most part, is also going to be looking at the benefit of an incumbent running in a general election," she explains. "Simply due to the resources and name recognition that they have. It's a matter of the party trying to choose what they perceive as a safe bet...I'm not making a judgment call on whether that's right or wrong, but certainly that's the challenge" for any insurgent candidate.
But there is also an element of a self-fulfilling prophecy to this strategy: Challengers are less likely to win against incumbents without access to powerful fundraising networks and resources. One progressive candidate who lost the general election in a red district says: "If I had the support from the local party and the DCCC, there's a good chance I could have won."
This election cycle, attitudes are starting to shift, if slowly. "The average working person in America isn't just Joe in the Midwest" who turned from Obama to Trump, explains Alexandra Rojas, executive director of Justice Democrats, which has endorsed Newman, Bush, Harper, Cisneros, and backed Ocasio-Cortez and Pressley in 2016. "It's also the 30-year-old single Latina woman with three kids—and that's who Alexandria Ocasio-Cortez and Ayanna Pressley represent."
Cori Bush, whose 2018 challenge to incumbent William Lacy Clay in Missouri was documented alongside Ocasio-Cortez's campaign in Netflix documentary Knock Down the House, has launched another bid for Congress for the same seat. "So many people treated 'progressive' like it was a curse word," Bush says. This time around, when door knocking, meeting people in church or at other organizations, she says she has received more support. "Some people have actually said, 'I've seen that you [progressives] can actually make a difference," she tells MC. Bush says she hears people say now that, "We see the effects of what you all can bring, we have to switch out the old guard for the new guard and bring fresh ideas."
Women like Bush and Wilkes are fighting against the cynical conventional wisdom of the party to show that the elections of women like Ocasio-Cortez aren't flukes, but glimpses into a more hopeful future. "I'm always asked the question, why didn't you start smaller, why didn't you start with local office, why are you going for federal office?" Wilkes says. "It's like, why not? People of the working class have already been waiting. This district has been waiting for 40 years. I'm not waiting for my turn."
Marie Claire email subscribers get intel on fashion and beauty trends, hot-off-the-press celebrity news, and more. Sign up here.
Prachi Gupta is an award-winning journalist based in New York. Her first book, about Rep. Alexandria Ocasio-Cortez, is available via Workman Publishing.