Rep. Ayanna Pressley Wants Justice for Every Sexual Assault Survivor
The congresswoman speaks truth to power in Jessica Valenti and Jaclyn Friedman's upcoming anthology, Believe Me.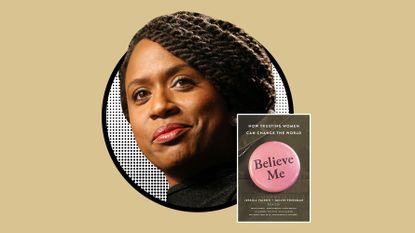 (Image credit: Design by Morgan McMullen)
Ayanna Pressley is an advocate, a policy maker, an activist, a survivor, and the first woman of color to be elected to Congress from the Commonwealth of Massachusetts. Here, in an exclusive excerpt from Jessica Valenti and Jaclyn Friedman's upcoming anthology, Believe Me: How Trusting Women Can Change the World (out January 28), Pressley shares her own experience as a sexual assault survivor and how to ensure justice for all.
At times when we find ourselves on the precipice of a political or cultural breakthrough, folks are often inclined to claim a lucky break, a strike of lightning, or a once-in-a-generation moment. I will never give short shrift to the power of the people, but let us be clear about our history: It was not as if Rosa sat on a bus, Martin gave a speech, and we were granted civil rights. Behind every breakthrough, every movement that caught fire and captivated the nation, there are hours of quiet sweat equity invested in the struggle for justice.
And so as we work toward a more just nation, it is critical that we fortify ourselves with a vivid image of what that future looks like. A day to come where we walk among our brothers and sisters in community, in a nation that lives its values out loud. A world that not only believes survivors and centers their voices in the struggle for justice but also holds consent, bodily autonomy, and liberation as the standard.
I have said to survivors at organizing meetings, in personal conversations, and on the floor of the U.S. House of Representatives that what I want for every survivor is justice. I vehemently believe that. Justice is a critical step in our healing as individuals and as a survivor tribe. We know that the statistics are startling: Less than 1 percent of perpetrators are brought to justice in a court of law. But when I speak of justice, the future I dream of is not actually defined by the confines of a courtroom or even trauma-informed judges on the bench (though, yes, that would be a victory). The justice I seek is bolder. I want a world where survivors are believed and validated and supported. I also want a world where within a generation the number of those impacted by sexual violence plummets. I reject any narrative that says we as a society have to tolerate this behavior. When we look at what informed policy has done to stave off deaths caused by drunk driving or gun violence (in developed countries aside from the United States), I am emboldened. I dream of a world where consent is taught at the youngest age, where we invest in breaking down the intersectional barriers of systemic oppression and abject poverty that too often leave folks rendered voiceless, and a world where we provide the economic opportunity and mobility that enables strong, healthy relationships, and communities that can protect us in moments of vulnerability. Our stories, the inflection points of the survivor community organizing, and our collective power matter.

As a survivor, I struggled for years to tell my own story, and I know how it feels to be a survivor in a country where believing and supporting survivors has become a partisan issue, where survivors are made to feel marginalized and ostracized. I tell my story both because it is part of my own ongoing healing and because I know that sharing my story can provide others with agency too. Since I began sharing my story publicly, I have been humbled and moved by how many survivors approach me and disclose—folks from every station in life and every background. At a walk for the Boston Area Rape Crisis Center a few years ago, a woman told me that hearing my story encouraged her to tell her daughter and her husband about the assault she had experienced decades ago. Experiencing assault can make us feel voiceless and marginalized in deep and dark ways that I still struggle to put words to. But I know in my own healing, reclaiming my agency over my story has been an important part of moving forward. Survivors should be able to disclose when, how, and to whom they want to. A colleague confided in me how liberated he felt when a friend reminded him that he is in control of whom he discloses to. There is no shame and no fault for him to hold, and it should be his choice when he's called upon to share his story. Assault steals our agency, so reclaiming our agency as we heal is critical. It does not get easier to disclose. The phrasing comes to me in a way that feels familiar now, but the words cut all the same.
During my 2018 congressional campaign, many times well-intended journalists would engage me in a line of questioning that amounted to relitigating the details of my childhood sexual abuse and campus sexual assault. In those moments I would aim for composure and grace, reminding myself that the public life I have chosen brings with it intrusive questions all the time. Those interviews would be triggering and at times very frustrating for me and members of my senior staff who were also survivors. They would feel outraged at the line of questioning, and I would feel deeply vulnerable. In those moments, I would try to remind myself that this is why we need survivors in positions of power and influence everywhere. We know that we carry our lived experiences into every space we occupy.
Creating real change requires continued movement and coalition building. It requires that more elected leaders listen to their constituents and keep themselves in close proximity to the pain, and it demands systemic change—to ensure that our institutions of power more accurately reflect the diversity and lived experience of those in our communities.
Simply put, we belong everywhere. Our truths deserve to be whispered in corridors of power and shouted from rooftops. We belong at every table where decisions are made about our lives, our livelihood, and our justice. Our lives, our stories, and our struggles matter.
RELATED STORIES
As I write this, I am a few weeks into my first term proudly representing the Massachusetts Seventh in Congress. Just this past week, I stood on the floor of the U.S. House of Representatives and spoke in support of a bill that aims to bring us a step closer to a vision of justice for survivors of sex trafficking. As I waited for my turn to speak, and my colleagues rose to deliver their remarks, I thought back on a day months before when I'd sat at a long table with young women supported by the My Life My Choice program. Their backpacks piled in the corner, hair in braids and ponytails, an occasional nervous flash of braces, we passed around bottles of juice and a box of muffins as commentary about Prince Harry and Meghan Markle gave way to stories of their experiences being trafficked. It was one of those weeks on a campaign where everything from weather to poll numbers was headed in the wrong direction. At that table, none of that mattered. I broke down in tears as I told the girls my story. I held a tremendous sense of responsibility in that moment to not only share my story to offer shared liberation but also to fight for them as hard as I could. At the close of that meeting I told the girls how, shortly before my mother passed, she left me a journal of quotes and stories. The last tab in the journal read "for inspiration." I jotted on the whiteboard behind me SHIRLEY CHISHOLM. BARBARA JORDAN. MAYA ANGELOU. AUDRE LORDE. "Get to know them," I said. "They inspired me just like you do."
Days after my remarks on the House floor, my chief of staff would tell me, "I just realized you were the only survivor who spoke on the floor about this bill. Or maybe just the only person to disclose."
When we liberate ourselves, we liberate others.
Our movement builds when we elect survivors. Each time our government takes a step toward representing and valuing the diverse lived experiences of the American people, our policy making becomes sharper, crisper, and more responsive. When those with relevant firsthand experiences ask pointed questions, the conversation changes. It does not mean that we aren't still healing. It does not mean that we do not hold simultaneously fears, hopes, and a deep sense of responsibility. But every survivor that sits upon the dais, leads proceedings in a committee hearing, or calls for a federal investigation acts not on her own behalf but on behalf of thousands who are united through a shared experience. Real and lasting change takes hold as we claim our seats at the tables of power. And we're just getting started.
Excerpted from Believe Me: How Trusting Women Can Change the World edited by Jessica Valenti and Jaclyn Friedman. Copyright © 2020. Available from Seal Press, an imprint of Hachette Book Group, Inc.
Rachel Epstein is a writer, editor, and content strategist based in New York City. Most recently, she was the Managing Editor at Coveteur, where she oversaw the site's day-to-day editorial operations. Previously, she was an editor at Marie Claire, where she wrote and edited culture, politics, and lifestyle stories ranging from op-eds to profiles to ambitious packages. She also launched and managed the site's virtual book club, #ReadWithMC. Offline, she's likely watching a Heat game or finding a new coffee shop.