How Planned Parenthood Is Providing Critical Reproductive Care During Coronavirus
From access to abortion to telemedicine to coronavirus' impact on birth control access, two top Planned Parenthood officials—the doctor leading the response and a VP of public policy—share what COVID-19 means for the organization.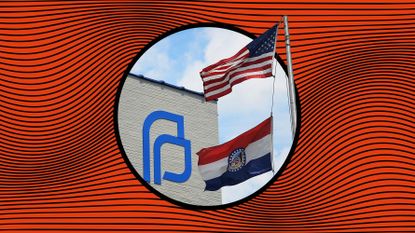 (Image credit: Morgan McMullen/Getty Images)
Marie Claire Newsletter
Celebrity news, beauty, fashion advice, and fascinating features, delivered straight to your inbox!
Thank you for signing up to Marie Claire. You will receive a verification email shortly.
There was a problem. Please refresh the page and try again.
During this unprecedented moment in history, the conversation around our public health care system is more crucial (and politically charged) than ever. COVID-19 is impacting the way we work, eat, communicate, and, for many, it's disrupting how we receive necessary medical care. The consequences of the virus are wide-reaching, but vulnerable communities—women, people of color, immigrants, the elderly or sick, and those of a lower socioeconomic status—are at a much higher risk.
For more than 100 years, Planned Parenthood has been a mainstay in providing care for these groups and its commitment remains steadfast in the wake of the present-day global pandemic. Marie Claire spoke with Jacqueline Ayers, vice president of government relations & public policy at the Planned Parenthood Action Fund, to learn more about the current collision of politics and healthcare. Via email, we also checked-in with Dr. Krishna Upadhya, M.D., M.P.H., senior medical advisor at Planned Parenthood Federation of America, who leads the group's efforts related to the virus, to find out the health impacts of COVID-19 on reproductive care and what Planned Parenthood is doing to keep patients safe.
Marie Claire: How is Planned Parenthood responding to COVID-19?
Krishna Upadhya: Just like all healthcare providers, we are taking all things into consideration to keep our patients, staff, and communities safe at this time—including the availability of personal protective equipment (PPE), the additional safety protocols needed to minimize the spread of the virus, the capacity of other local healthcare providers, and the need to conserve resources. It's important to keep in mind that the impact of COVID-19 is evolving and varies based on location, which is why we're encouraging all patients to reach out to their local Planned Parenthood health center to get the most up-to-date and accurate information about services.
MC: Have you seen an influx of people coming to clinics who are panicked or sick with no other options?
Jacqueline Ayers: We continue to see a lot of different responses. We have focused on monitoring the COVID-19 outbreak and making sure patients get what they need. We're seeing that patients are continuing to come to Planned Parenthood. Even in a pandemic, access to reproductive healthcare is critical.
KU: Planned Parenthood health centers across the country are encouraging patients who think they may have COVID-19 symptoms (such as fever, cough, or shortness of breath) to call their provider before visiting a health center to help determine where to go for care—and when—in order to protect their health and the health and safety of other patients and health center staff.
MC: At this time, do any Planned Parenthood clinics have access to COVID-19 tests?
KU: Planned Parenthood health centers' access to COVID-19 tests depends on the services they typically provide and the availability of tests in their communities. The limited access to tests across the country, as well as [shortages of] protective supplies such as masks and gloves, has impacted our health centers' ability to conduct COVID-19 screenings.
At nearly 600 health centers across the country, we're working in real-time to adapt to our patients' needs. Some Planned Parenthood affiliates offer sexual and reproductive healthcare services, such as birth control, STI testing, and gender-affirming hormone therapy, to patients remotely through telehealth. We're working as quickly as possible to expand our telehealth services so that more patients will be able to access critical healthcare services via technology.
MC: Texas and Ohio [and, since this interview was conducted, Mississippi] have included abortions among nonessential surgical procedures that must be delayed in order to conserve resources. Do you think this is valid?
JA: We have to look at the broad picture. The public health infrastructure in this country has been undermined by the current administration and hostile state governments, both of which have continued to attack public healthcare, whether it's by sabotaging the Affordable Care Act [ACA], not expanding Medicaid, or restricting abortion access.
In this moment, we should remember that abortion is healthcare. Abortion is essential. It's a time-sensitive medical service. Planned Parenthood facilities across the country are doing our part. We're thinking about how we can conserve resources, but also make sure patients don't go without care. In Ohio, our clinics are following all state and federal guidelines in order to provide care.
Editor's note: Planned Parenthood, which deems abortions essential, is still providing surgical abortions in Ohio while adhering to the Department of Health's order. Additionally, Planned Parenthood, other abortion providers, and advocates filed suit in Texas to protect access to abortion in the state. For additional info, click here.
MC: Dr. Upadhya mentioned telehealth services. Telemedicine abortion [taking medication abortion pills over a video appointment with a provider] is banned in 18 states. Is that something you see as a potential solution?
JA: What I will say is: These are really unprecedented times. Many of the 600 health centers that Planned Parenthood affiliates with across this country are working around the clock, in real time, to make sure they can meet their patients' needs. That's going to vary state to state. We know that they are continuing to provide sexual and reproductive healthcare services, following all state and federal guidelines, and they're thinking about innovative solutions. Expanding telehealth services for sexual reproductive healthcare is something that we are continuing to look to.
This is a moment and opportunity to think about how, overall, we need to strengthen our healthcare infrastructure. Any pushback from state governors is moving us in the wrong direction at a time when people are relying on us to make sure they have more access to care, not less.
MC: Activists have accused state leaders of using the COVID-19 crisis to advance their personal political agendas. Do you find this to be true?
JA: I think here have been deliberate attacks on healthcare. We have seen that on a federal and state level. Particularly this administration has left healthcare leadership roles unfilled. We've seen inadequate response from this administration. It has a history of sabotaging the ACA and refusing to expand Medicaid. The subtotal of what we see when we add all of these actions together is that vulnerable communities, particularly folks who rely on Planned Parenthood, have more barriers to getting care in this moment. This is definitely not the time to devise attacks; we have to think about the ways that we can expand and strengthen the entire healthcare safety net.
MC: On March 18, Trump signed The Families First Coronavirus Response Act (FFCRA), which gives some Americans, but not all, paid sick leave. What would you say is the weakest point in that emergency plan?
JA: The Planned Parenthood Action Fund did support FFCRA as a first step. Think about paid sick leave—everybody should have access to that. We want folks to be able to prioritize taking care of themselves, but not to be at risk of losing income. We need everybody who feels sick to get financial security, stay home, and follow expert guidance.
MC: How can we better protect vulnerable groups that rely on Planned Parenthood during this time?
JA: [This crisis] underscores why we have to strengthen the entire public health safety net. The infrastructure has to be stronger because our vulnerable communities, like immigrants and communities of color, are going to continue to go to the providers they trust. Unfortunately, the Trump administration has worked to try to undermine [this], whether it's sabotaging the ACA or blocking patients in their access to Planned Parenthood.
They also have put forth the very cruel "public charge" rule. It's designed to keep immigrant families from getting access to basic healthcare and other services, like screenings for routine illnesses or [the ability] to get a birth control prescription. If you make certain communities fearful to access healthcare, we're not going to be able to slow the curve of COVID-19. [Editors note: The Department of U.S. Citizenship and Immigration Services is encouraging immigrants to get tested for COVID-19, though many still may be afraid to do so.] Things like the public charge rule are really weakening our ability as a country to respond to this crisis.
MC: How do budget cuts and policies like Title X gag rule (which prohibits healthcare providers from talking to patients about abortion), make it harder for organizations like Planned Parenthood to get basic medical supplies, including face masks?
JA: This is something we will continue to hear across the country from our affiliates. We want to make sure we are continuing to provide care, but it's important to remember Planned Parenthood health centers are just like every other health center. We need medical supplies. We need to make sure the workers feel safe and comfortable coming to work. We need to make sure that people get the care that they need. Any past policies that have targeted Planned Parenthood further weaken that response. We know that there are going to be time-sensitive services that people need in this moment, whether it be abortion services, STI testing and treatment, or birth control access, so we are continuing to help patients get the care they need. We need every healthcare provider to be strong, so we can't have opposition from the administration and others who are using this moment to try to cut Planned Parenthood out of the response plan.
MC: Are there any findings regarding how COVID-19 affects sexual and reproductive health?
KU: Right now, the data (including [the virus'] impact on pregnancy), is extremely limited. What we do know is that pregnant people are often among the most vulnerable when it comes to infectious diseases. That's why we encourage all people to take the necessary precautions to reduce their chances of contracting COVID-19.
MC: On a macro level, how might this pandemic impact access to birth control?
JA: Our partners at the Guttmacher Institute put out a good piece on this topic. We probably don't know the full picture yet, but the virus is certainly going to impact the birth control supply chain and access. As we continue to monitor and think about the short- and long-term impacts, what's going to continue to become apparent is just how much this administration's dismantling of the public health infrastructure and inadequate response to healthcare has set us up [to be underprepared].
[This month] marks the tenth anniversary of the ACA. Any administration that has tried to weaken the Affordable Care Act [is leading us in the wrong direction]. We at Planned Parenthood Action Fund want to continue to emphasize that we need leadership that is really focused on strengthening our overall healthcare system.
KU: We know that people's sexual and reproductive healthcare can't wait—even during a pandemic. People across the country are practicing social distancing and staying in their homes (though many are having sex), which is why access to sexual and reproductive health services—including birth control, emergency contraception, and abortion—continues to be critically important.
Planned Parenthood is moving to quickly expand our telehealth services, including leveraging a private and secure video conferencing platform that connects patients with Planned Parenthood's trusted providers so that more patients will be able to get birth control and the other health care services they need. We also know that for some patients, their preferred method of birth control requires an in-person visit, which is why Planned Parenthood is working hard to keep all options available to those in need.
Interviews were conducted separately but combined and condensed for length and clarity.
---
For more stories like this, including celebrity news, beauty and fashion advice, savvy political commentary, and fascinating features, sign up for the Marie Claire newsletter.
Related Articles
Celebrity news, beauty, fashion advice, and fascinating features, delivered straight to your inbox!
Megan DiTrolio is the editor of features and special projects at Marie Claire, where she oversees all career coverage and writes and edits stories on women's issues, politics, cultural trends, and more. In addition to editing feature stories, she programs Marie Claire's annual Power Trip conference and Marie Claire's Getting Down To Business Instagram Live franchise.