Attorney General Letitia James Takes on the World
Whether you're the N.R.A. or Dunkin' Donuts or a Trump, break the law in the great state of New York and she—and the office she represents—will come at you.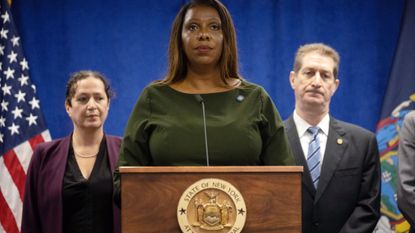 (Image credit: Getty)
Letitia "Tish" James has many firsts on her CV. When she was elected New York Attorney General in 2019, she became the first woman of color to hold statewide office and the first woman elected to that position in the Empire State. In 2013, as public advocate for the City of New York, she was the first woman of color to hold citywide office. As AG, she is busy on many fronts—she filed charges in August against the NRA for alleged financial misdeeds. In September, her office's motion compelled Eric Trump to testify in an investigation of the Trump Organization's finances. That same month, James reached a settlement with Dunkin' Brands, Inc. for failing to protect cyber-attacked consumers. James spoke to us about the rule of law, prosecuting powerful people, and #defundthepolice.

Marie Claire: Did you always want to go into public service?
Letitia James: I read a book called Simple Justice: The History of Brown v. Board of Education and Black America's Struggle for Equality by Richard Kluger. And I knew that I wanted to walk the halls where Thurgood Marshall and others walked when they were focusing on the Civil Rights Movement. Howard University [where I studied law] is the laboratory for the Civil Rights Movement, and I wanted to learn more about all of those who were involved in dismantling government-sponsored segregation in this country.
And as a teenager, my brother was falsely accused [of a crime] and my mom took me to criminal court in Brooklyn. I remember all the individuals who were in the pews in the courtroom were people who look like me. Everyone else in a position of power from the judge to the lawyers to the court officers [did not]. And I can recall an officer being very disrespectful to my mom and to others who simply asked [about their] loved ones. They were told, basically, to sit down and shut up. I vowed at that moment that I would never allow another mother, grandmother, father, or grandfather to be disrespected in that manner.

MC: You mentioned Thurgood Marshall and the civil rights pantheon. Who else was a role model for you?
LJ: [Representative] Barbara Jordan [(D, Texas)]. She was a member of the House Judiciary Committee and spoke at the impeachment hearings of Richard Nixon. I'll always recall when she gave a speech to the effect that she's not going to sit idly by and allow the constitution to be subverted. And that certainly applies today.
MC: You'd think we'd have the constitution a little bit more understood by now.
LJ: Well, you can't understand it if you don't read it.
MC: You probably meet a lot of young people. How are you feeling about their sense of social responsibility?
LJ: I'm uplifted by young people because all the change that has happened all throughout history was not something that was initiated by politicians, but by young people. So from the Civil Rights Movement to the Suffrage Movement, to thinking about all of those calling for democracy in foreign lands and the whole Barack Obama experiment—when I didn't even know his name, it was young people who educated me about Barack Obama. In fact, I endorsed Hillary Clinton [in 2008]. And I can recall the kids coming to my house and trying to convince me that I was on the wrong side of history. And then they marched. And then the night that he won, [in] my neighborhood in Brooklyn, the streets were filled with kids and young people celebrating the historic election.
MC: A young relative of mine who is a person of color posted on their Instagram: "There are no good cops." What do you think of that sort of vehement [reaction], where it seems very…
LJ: ...Us versus them? So, trust obviously has been broken. There's no question about it. And what we need to do at this point in time is heal the breach. And we need some fundamental reform. What we need to do is reevaluate the role of police in society. And so, no, I don't believe that all cops are bad. My sister is a detective. I've got a number of friends who are detectives. We've got a wonderful Brooklyn North [the PD in my neighborhood]. We've got some really great officers. They go from public housing to public housing, giving out gifts. They have a sleigh. The chief dresses up as Santa Claus. Thanksgiving, they give out turkeys. The police in Brooklyn North, they provide clothes to the homeless. They play basketball with the kids.
So, no, they're definitely not all bad. Just as we cannot generalize about any group of individuals, it's really critically important that we improve upon the police department and that we reevaluate their role. And what I mean by that is: The police take on a number of functions and jobs. And they're just not in a position to take on a number of the social problems that we are dealing with in society. And it's really unfair for the police to be responsible for addressing the problem of mental illness...what we need are mental health professionals and social workers. It's unfair for the police to [have to] respond to homelessness.
And unfortunately, in a lot of the cases, it results in tragedies. And so I just believe that what we need to do is democratize our police. Civilians need to have some sort of say with regards to policing. We need more collaboration and more conversation and more interaction and more understanding of the role of police and who they are actually policing. And we need a police force that is diverse and that reflects the communities that they are patrolling.
That [defund] hashtag, I don't know who came up with it, but it slipped up. It's more about reprioritizing the role of police. And that's really what we should be focusing on.
MC: It seems like on every front you're fighting a battle on some level, whether it's pharmaceutical companies, schools, Dunkin Donuts, or the NRA. How do you juggle so many issues on so many fronts?
LJ: I've got a great team—an amazing, professional team who are focused on the rule of law, justice, and equity. We've had to deal with the retrenchment of the federal government. We've had to deal with a number of pandemics, [including] the pandemic of COVID-19, and ensuring that all communities, particularly vulnerable and marginalized communities, have access to rapid testing and treatment and tracking. They were left behind. And so that was really all about advocacy.
And then we've got affirmative litigation where we're focusing on police departments and ensuring that they are focused on reforms. We've been focused on the opioid litigation that we're involved in and engaging in discussions with manufacturers and distributors and hopefully we can reach some sort of global settlement. We've focused on a wide range of issues from women's rights and reproductive rights to voter suppression. We've gotten to where we have to deal with the pandemic of environmental degradation and fighting back against this [Trump] administration that unfortunately does not believe in clean air, clean water, and protecting of the land that we all should enjoy. So it keeps me up and I am dedicated to it. I am enjoying it, but all the credit really should go to my team.
MC: What would you say to people who say that you have a biased political agenda against the Republicans or against Trump and his family?
LJ: I would say my office follows the facts and applies the law and we come to a conclusion. I'm not biased. I represent the state—all individuals, all citizens in the state of New York, whether you're Republican and or Democrat. That is my duty and that is the mission. And that is the sworn oath that I took. Often cases just fall in my lap and I follow the social media. And so in regards to the NRA, it was the testimony of one individual that was on the front page of every newspaper, which basically recounted conduct within the organization that was in violation of the not-for-profit law. I have a responsibility and a duty to investigate that. In regards to the Trump organization, again, it was Michael Cohen who testified before Congress and who indicated that, in fact, the Trump organization was engaging in financial improprieties.
I have a responsibility and a duty to investigate that, particularly if individuals are engaging in false claims or individuals are violating the tax code. Complaints come to me and I cannot ignore them. I've got to investigate them. And if they happen to be big names... no one is above the law.
MC: Do you feel that a woman's right to choose is in danger now with regards to the Supreme Court?
LJ: Yeah. So, may she rest in power and peace: The honorable and the Notorious RBG is a "she-ro" of mine, particularly in the area of women's rights and voting rights. In Shelby [County v. Holder], she wrote that biting dissent. She basically was someone who stood up on behalf of women. And so I am concerned about Roe v. Wade, but I refuse to accept that it's a fait accompli. I do know that with the Affordable Care Act, the general public rose up and they petitioned their government and the government backed down from basically dismantling and/or repealing the Affordable Care Act. And we need to do the same thing now.
MC: What do you think it means for women to see Kamala Harris where she is?
LJ: She is a former D.A., former attorney general, a United States Senator, and now the first African-American slash Asian vice president[-elect]—certainly she's breaking glass ceilings, as she has done before. And, as a proud graduate of Howard University, and as the second African American [state] attorney general after Kamala, we have a lot in common. Given her abilities to question individuals and her keen sense of speaking truth to power, she is well-suited to be our vice president. And I think what it says to young girls and young boys [is] that we can do it all and that there are no limitations. The only limitations are the limits that we place on ourselves.
MC: Do you see yourself running for even higher office at some point?
LJ: I am happy being the attorney general of the great state of New York. I wake up every single day with this fire in my belly: What can I do to improve the life of someone else? And this awesome office has enormous power. And I do not take it for granted that the role that I play and every decision that I make should be deliberate and should be done with as much advice and counsel and deliberation as possible. I'm honored to serve in this role. And I can't think beyond that.
MC: Why is gender discrimination something important to you? Is there any specific personal aspect to that?
LJ: I believe in equal pay for equal work and, as the former public advocate of the City of New York who passed the bill in New York City that led to a law across New York state that would ban salary history, I'm really proud of that. And the reason why it's so important to me [is] because I don't view it as a woman's issue. It's an economic development issue, it's a GDP issue. And so when you limit the ability of women to make as much as they're worth, then that affects the viability of families. And so there's the concept of the feminization of poverty; [it] is a real concept and a significant number of families who are headed by females are struggling and are impacted by this policy of paying women less than what a man is making for doing the same job.
So, I look at it clearly through the lens of trying to improve the outcome, the output, of the countless number of women who are struggling right now.
MC: What do you do for fun—if you ever do? Is there ever any time for fun?
LJ: My girlfriends—we talk, we laugh. Most of them are elected officials. Even though they tell me it's a security risk, I walk, anyway. And I just continue to stay close to my community and close to the ground and remember my humble beginnings and just know that I'm here to serve.
Celebrity news, beauty, fashion advice, and fascinating features, delivered straight to your inbox!
Maria Ricapito is a writer who lives in the Hudson Valley.