Paid Leave for All Is Necessary for Our Country to Recover
Amanda Brown Lierman and Dawn Huckelbridge argue that passing a comprehensive paid leave plan is imperative to supporting women in the workplace—and America's economic future.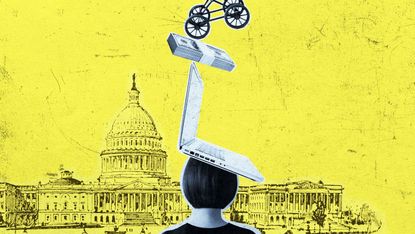 (Image credit: Design by Hanna Varady / Getty Images)
Marie Claire Newsletter
Celebrity news, beauty, fashion advice, and fascinating features, delivered straight to your inbox!
Thank you for signing up to Marie Claire. You will receive a verification email shortly.
There was a problem. Please refresh the page and try again.
As leaders of national organizations that mobilize women, workers, and their families and as mothers ourselves, we know that American families stand at a tipping point. Our country cannot recover, and we cannot move forward, without paid leave for all.
When schools shut down, we watched our kids struggle to make progress at home and in virtual classrooms. We tried to help them learn, then worked late into the night after putting them to bed. We worried about our grandparents and older relatives in nursing homes, making impossible decisions to try to keep them safe. We talked to our coworkers, repeating to each other: "This isn't sustainable." And we thought about the women doing and risking so much more: the ones without the luxury of working from home; the ones leaving their families or putting their lives on the line to care for our family members; the heroes who have carried us through this pandemic.
Well, on behalf of the tens of millions of workers and voters our organizations (Paid Leave for All and Supermajority) represent, we say that this needs to end. Paid leave isn't only a "women's issue" or something that would be "nice to have"—it's an economic imperative in our plan to build back better.
Long before the pandemic hit, women disproportionately shouldered the burdens of caregiving. They watched after our elderly relatives, taught our kids, and worked in our hospitals. They did more with less, again and again. And now, the only reason our country has remained intact through this crisis has been thanks to the work of women, people of color, and essential workers—and at the intersection of all three, the women of color on the front lines. These women held us all together, while also organizing, volunteering, and voting. They literally saved our lives and our economy.
And yet, what have they gotten in return?
Embarrassingly, the U.S. is one of only two countries with no form of national paid leave. We invest less in childcare than almost all other developed countries. Of the 195 countries in the world, 179 countries have paid sick leave, but not us. And eight in 10 working people in America don't have paid family leave through their work.
We've both been lucky—we've been able to get some kind of paid leave when we had our babies. But this only gave us a greater appreciation and empathy for women forced to return to work just a few days after giving birth. For women healing from major surgeries, postpartum depression, and complications, the system offers no protection. Many go back to work still in stitches, still bleeding. And years later, when their parents get older, these same women often use every sick day they've saved up just to help with their care.
Now, in a pandemic, think about what that means. Many of the workers you have seen every day—treating you in a hospital, delivering your groceries, or filling your prescriptions—did not and still do not have the guarantee of a single day of paid leave if they become ill or need to care for a newborn baby, a child, or a family member.
That's meant that women are no longer just doing double shifts; many are doing triple shifts, juggling paid work, unpaid care work, supervising remote school, and taking on additional responsibilities. Sixty-six percent of women have reported being primarily responsible for helping children with remote learning during the workday.
Our profound failure to support them has forced women out of the workforce in droves. And when 5.3 million women's jobs disappeared over the last year, that didn't just hurt women—it impacted men, families, entire communities, and the economy. Families collectively lose $22.5 billion each year because of a lack of paid leave, and that was before the pandemic.
This unprecedented crisis has created the urgency we need and a once-in-a-generation opportunity for Congress to finally pass comprehensive paid leave for all legislation, like that introduced Wednesday by President Biden as part of the "American Families Plan."
Voters agree. Last year, Paid Leave for All surveyed voters in 11 states with competitive senatorial elections and in 42 congressional districts likely to be tight races and found that 85 percent and 86 percent, respectively, supported paid leave. Two-thirds of small business owners also want a national paid leave plan. Research done recently with TIME'S UP and Caring Across Generations showed that more than 90 percent of voters support paid sick, family, and medical leave in a comprehensive plan to help families.
Paid leave and caregiving policies are also good for the economy. They have the potential to help the economy grow at least 5 percent by bringing women's labor force participation rates up to levels seen in other countries. McKinsey researchers recently found that taking action before the end of the pandemic to enact policies that advance gender equality could add $2.4 trillion to our GDP.
We cannot pass on this opportunity to protect our workforce and fortify our economy.
Because, no, paid leave is not a "women's issue."
Paid leave is an economic issue. Paid leave is a jobs and infrastructure issue. Paid leave is a racial justice issue. Paid leave is a small business issue and a military families issue. Paid leave is a rural issue and an urban issue. Paid leave is, at its core, an issue that affects everyone, everywhere. We can and must pass paid leave for all.
---
Amanda Brown Lierman is the executive director at Supermajority, an organization aimed at training and organizing women across age, race, and background to push for women's equity. Before her time with Supermajority, Brown Lierman was the Democratic National Committee's political and organizing director and is a former national political director for Rock the Vote.
Dawn Huckelbridge is the director of Paid Leave for All, a campaign of 25 organizations to win paid family and medical leave for all working people. She has held leadership positions at Supermajority, American Bridge, Planned Parenthood, People For the American Way, and the Barbara Lee Family Foundation.
Related Story
Related Story
Celebrity news, beauty, fashion advice, and fascinating features, delivered straight to your inbox!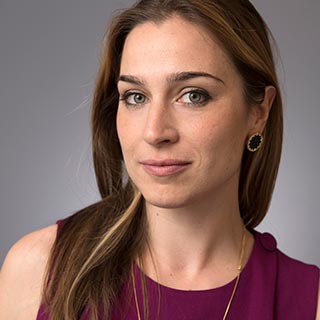 Director of Paid Leave for All
Dawn Huckelbridge is the director of Paid Leave for All and Paid Leave for All Action, a mom, and a passionate supporter of paid leave.