All the Celebrities Who Voted in the 2018 Midterm Elections Already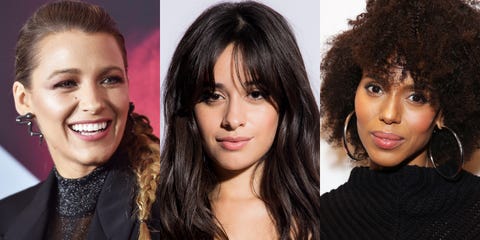 On Tuesday, November 6, 2018, people all around the United States are taking to the polls to make sure that their voices are heard. Even before the election, we had people like Travis Scott and Oprah Winfrey going door-to-door to campaign for their preferred candidates, and even the notoriously apolitical Taylor Swift came out in support of multiple candidates this year. Early voting has already taken place, and now many celebrities are making sure they're not just talk, they're putting their words into actions, too. From Justin Timberlake to Blake Lively, here's everyone who's gotten out the vote in the 2018 midterm election so far.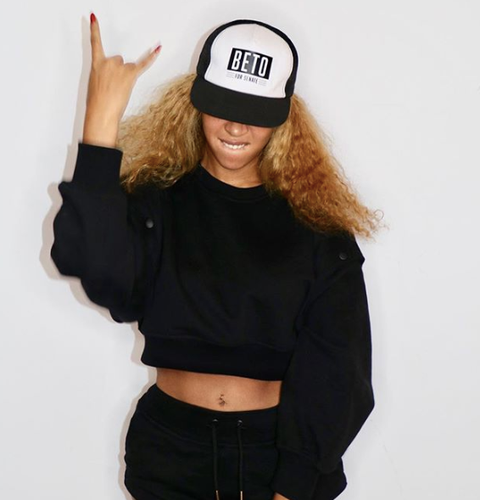 Beyoncé
Beyoncé posted a photo to Instagram that showed the superstar wearing a Beto O'Rourke baseball cap, suggesting that she voted for the Texas up-and-comer.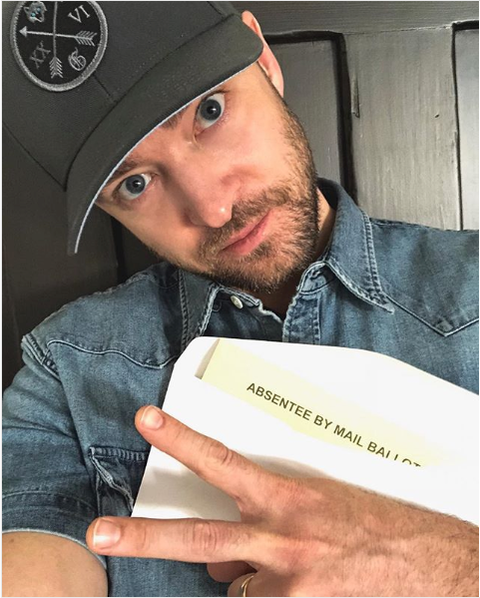 Justin Timberlake
Timberlake wrote on Instagram, "It's #TheLastWeekend to get out there and get involved! My absentee ballot's in... make sure you GO VOTE on Tuesday!! Remember: NO voting booth selfies 😂."
Just remember, you can only take a picture of you voting before or after, not during.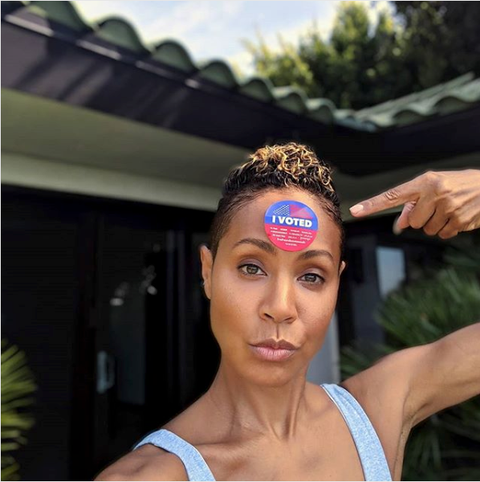 Jada Pinkett Smith
Pinkett Smith kept it cool and consise with her Instagram caption: "VOTEVOTEVOTEVOTEVOTEVOTEVOTE!!! I did💛."
Get out and vote, people! Hopefully your skin will wind up looking as good as Jada's does here.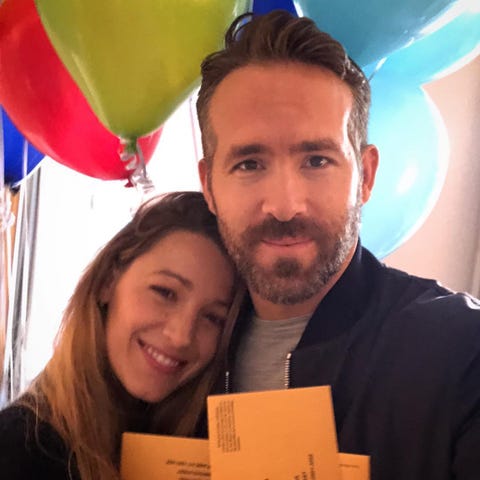 Blake Lively and Ryan Reynolds
Lively took to Instagram to not only commemorate sending in an absentee ballot, but also Ryan Reynolds' 42nd birthday on October 23. Her caption read, "Happy Birthday to 2018's Sexiest Voter Alive," and tagged "#justvoted 📬🎉#absenteeballot party!"
Yaasss, absentee ballot! It doesn't matter how you vote, as long as you vote.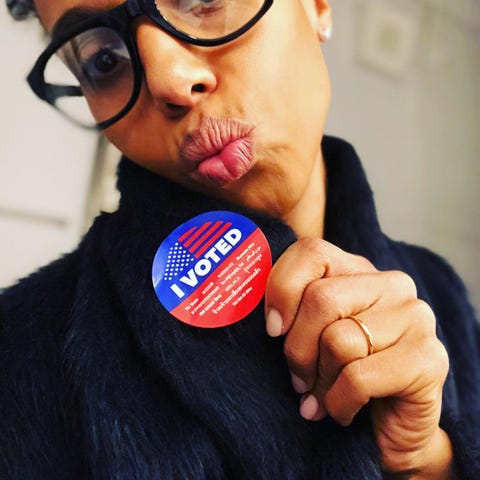 Kerry Washington
The Marie Claire November cover girl took to Instagram with a little kissy-love for her voting rights. Her caption read "I did it! Felt soooooo good. #Vote #whenweallvote #WeMatter."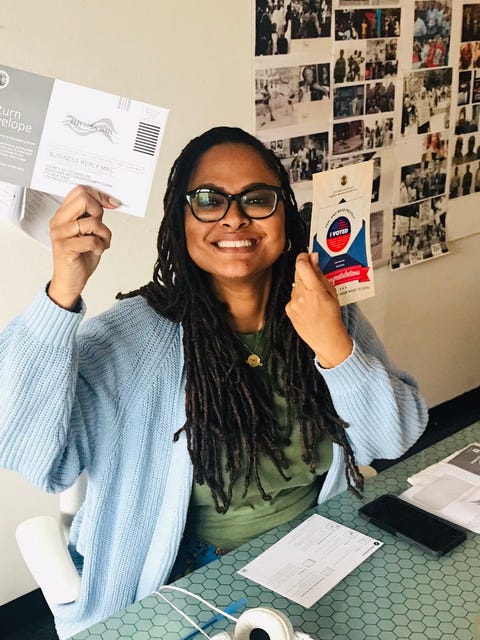 Ava DuVernay
DuVernay took to Twitter with some helpful information: "Voted early and out of state for the first time. Make it happen any way you can. Have voting questions?

English: 866-OUR-VOTE
Spanish: 888-VE-Y-VOTA
Arabic: 844-YALLA-US
Asian + Pacific Languages: 888-API-VOTE
American Sign Language: 301-818-VOTE

Onward!"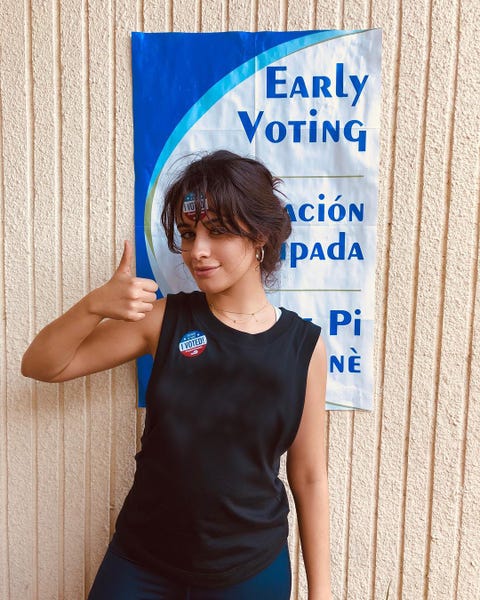 Camila Cabello
Let's allow Camila's caption to speak for itself:
"I JUST VOTED IN MY STATE OF FLORIDA!!!!!!!! ELECTION DAY IS NOVEMBER 6 AND EARLY VOTING GOES TO NOVEMBER 4. GO TO VOTE.ORG TO FIND YOUR NEAREST POLLING PLACE, THIS WEBSITE'S INFORMATION IS SO CLEAR AND EASY TO UNDERSTAND. I AM SORRY FOR THE CAPITALS, I JUST FEEL REALLY EXCITED THAT I JUST VOTED BECAUSE I FEEL LIKE IM TAKING MY FRUSTRATION AT THE INJUSTICES THAT HAPPEN IN OUR COUNTRY AND TURNING IT INTO ACTION!!! EVERY SINGLE ONE OF US CAN TURN THOSE FEELINGS INTO ACTION WHEN WE SHOW UP TO VOTE. ONE VOTE CAN MAKE A DIFFERENCE. WE CAN CONTRIBUTE AND HELP WRITE THE STORY OF OUR COUNTRY JUST BY TAKING A FEW MINUTES OUT OF OUR DAY TO VOTE!!! ALSO ITS MY GRANDMAS FIRST TIME VOTING IN THE UNITED STATES AND SHE DID HER RESEARCH AND PREPARED HERSELF AND WE ARE ALL FEELING SO GOOD !!! LETS. GOOOO. LETS VOTE! ➡️➡️➡️➡️➡️➡️➡️VOTE.ORG."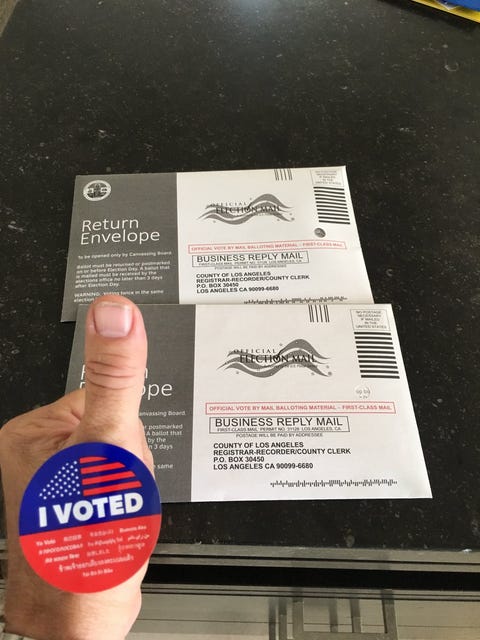 Tom Hanks
Hanks took to Twitter to boast about the early voting both he and his wife, Rita Wilson, did: "Our ballots are going in TODAY! What about yours? Be American! Vote your conscience!"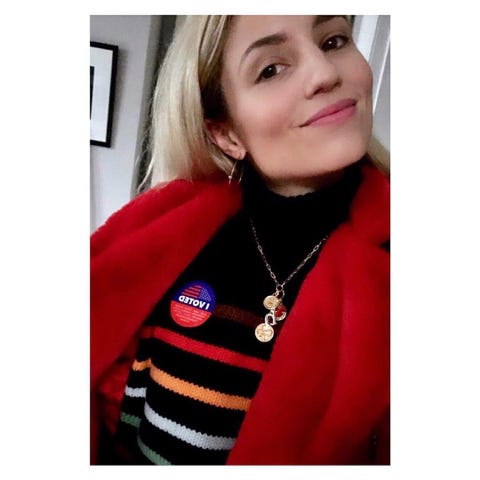 Dianna Agron
The Glee and Ralph Breaks the Internet star amended a speech from the film V For Vendetta for her Instagram caption: "November is coming, it's practically here. Remember, remember... "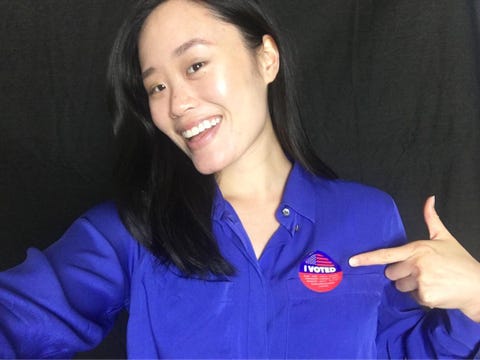 Michele Selene Ang
Not only did Ang celebrate her early vote, but she also repped her #VotingQuad and challenged a few of her 13 Reasons Why castmates Ross Butler and RJ Brown as well as Nobel Peace Prize nominee Amanda Nguyen to help her get out the vote.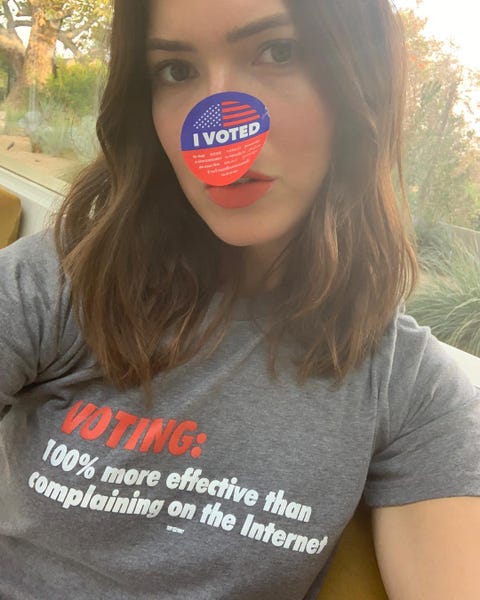 Mandy Moore
The This is Us star not only shared her voting sticker, but also her voting shirt. Because she's right, voting is 100% more effective than whining about stuff on the internet. The sticker's great, the shirt's even better.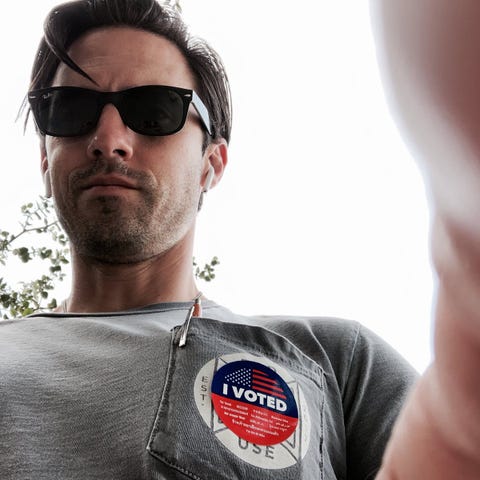 Milo Ventimiglia
Just like his This is Us co-star, Ventimiglia showed off his "I Voted" sticker when he took to Twitter to boast about his accomplishments on November 4.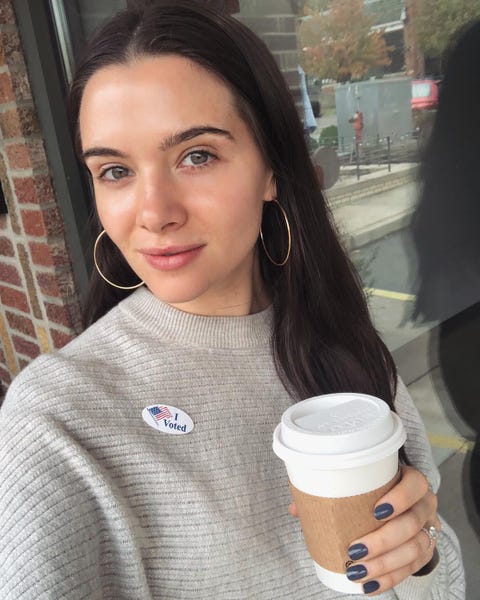 Katie Stevens
Stevens celebrated doing morning errands and also fulfilling her civic duty: "It's a good day! Got a coffee and I voted!!! make sure you get out there to early vote/ vote on November 6th!! Your voice matters!! #IVoted #vote"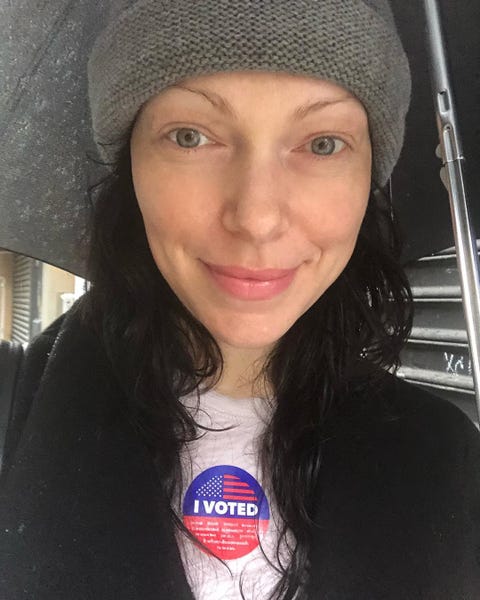 Laura Prepon
The Orange is the New Black star's caption was simple and straightforward for her Instagram snap: "The midterm elections are tomorrow. Make your voice heard! #justvoted #absenteeballot #InfluenceTheElection"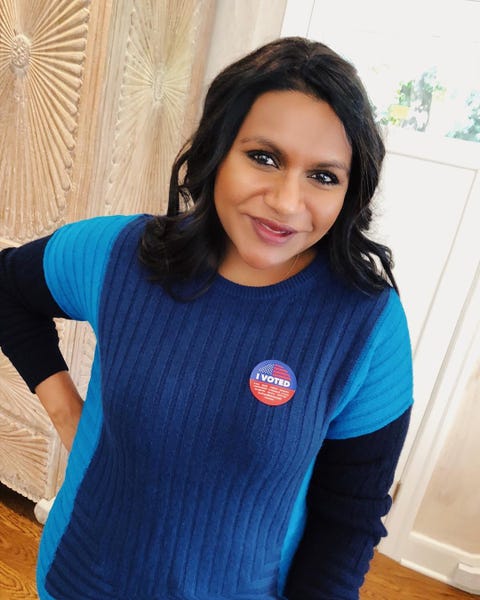 Mindy Kaling
Kaling knows her Constitutional knowledge and rights: "Thank you 14th & 19th Amendment for letting me vote today! Comment or tag yourself if you feel the same!"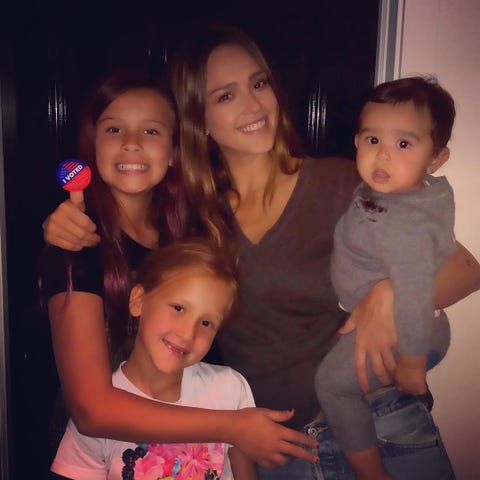 Jessica Alba
Alba proposed a question in her Instagram caption explaining why she voted: "I #VOTE for my kids and the world I want to raise them in that values equality, common sense, fairness and kindness. Why do you Vote? #midterms#whenweallvote #iamavoter"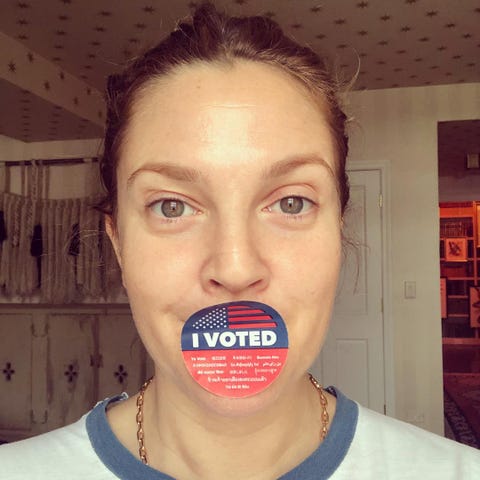 Drew Barrymore
Sometimes silence says enough. Barrymore left this image caption-less, but she's clearly saying one thing: "GO VOTE. I DID." Maybe listen to her this time?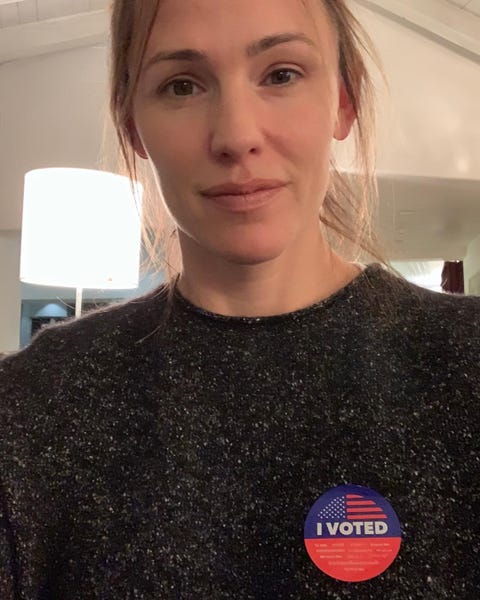 Jennifer Garner
Garner was super straight forward in her assessment of what to do: "Every #vote counts."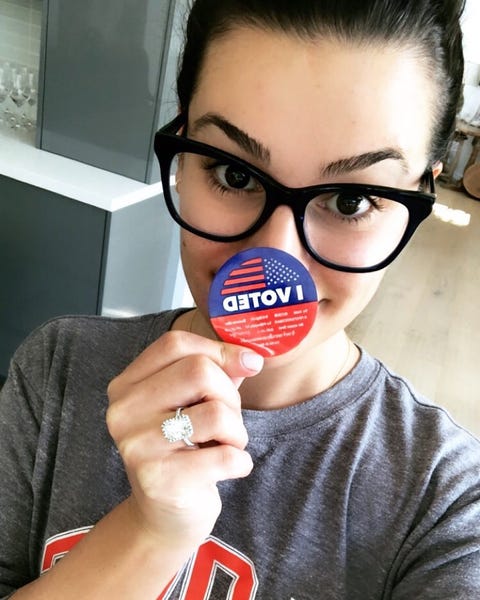 Lea Michele
Michele kept it real and honest in her Instagram caption, and even offered some help: "Waking up every day to the news of another tragedy is enough. It's hard and you can feel so out of control like there's nothing we can do. But we can.. we can VOTE. Vote for CHANGE. Tomorrow is the big day. Make your plans to vote NOW!!!!! ❤️✨💙 go to my story and click on the "I Voted" sticker to find voting locations near you!!!!"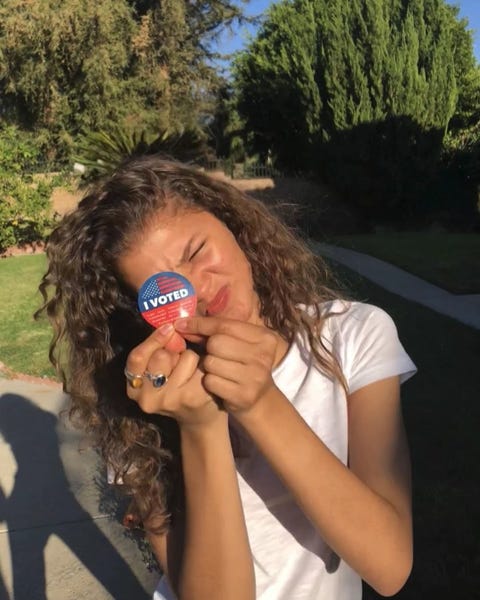 Zendaya
Zendaya posted a Boomerang with the caption "I voted, you?" Because the answer should be an enthusiastic "yes!"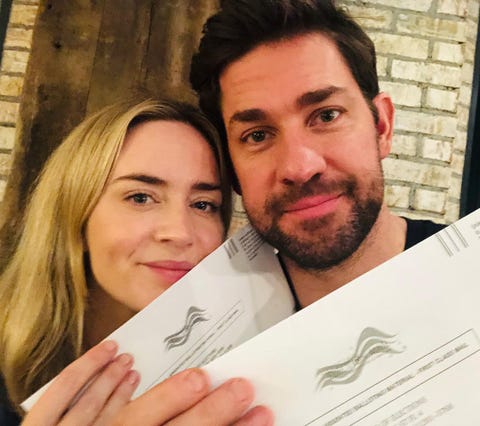 Emily Blunt & John Krasinski
The couple that votes together, stays together. Blunt and Krasinski share their absentee ballots in an image for Instagram. If this is what "doing it for the 'gram" means, I'm all on board.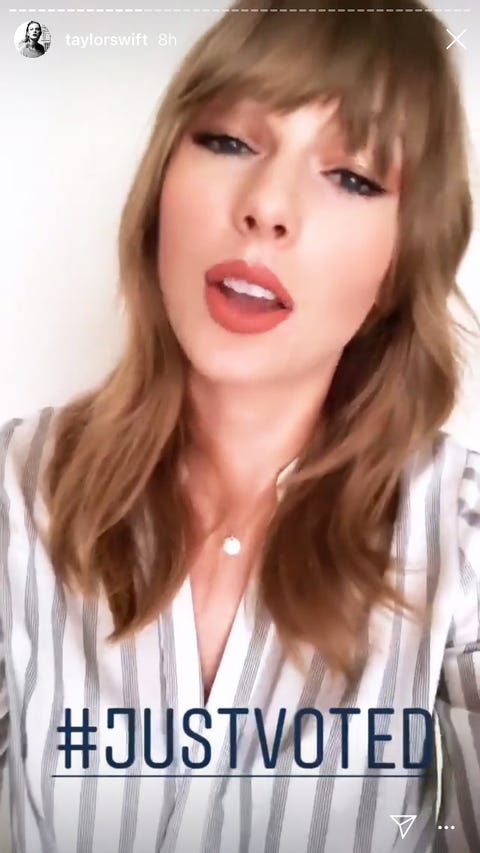 Taylor Swift
You see the hashtag — it's Swift's rallying cry ever since her rousing endorsement of two Democratic nominees in her home state in Tennessee. She's been posting from the #JustVoted hashtag on her Instagram Story all day.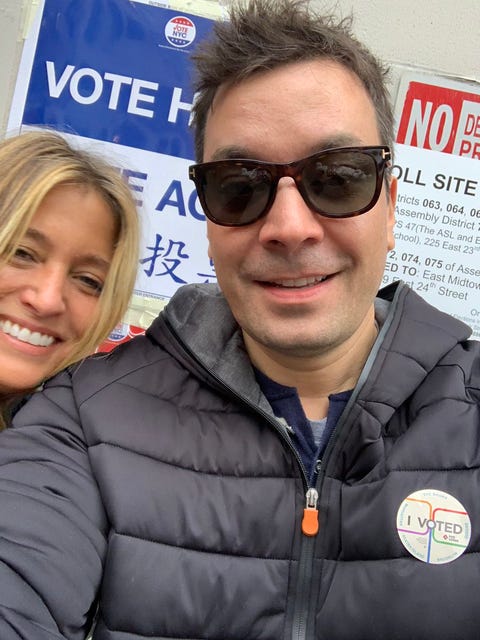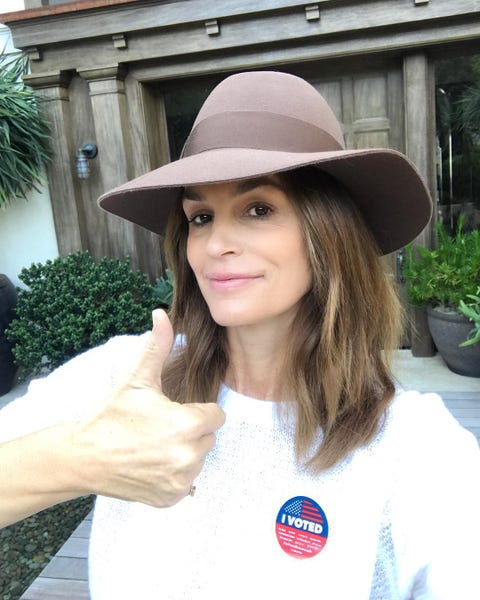 Cindy Crawford
It's all thumbs-up for voting with Cindy Crawford! She took to Instagram to tell us about what she did on November 6: Vote!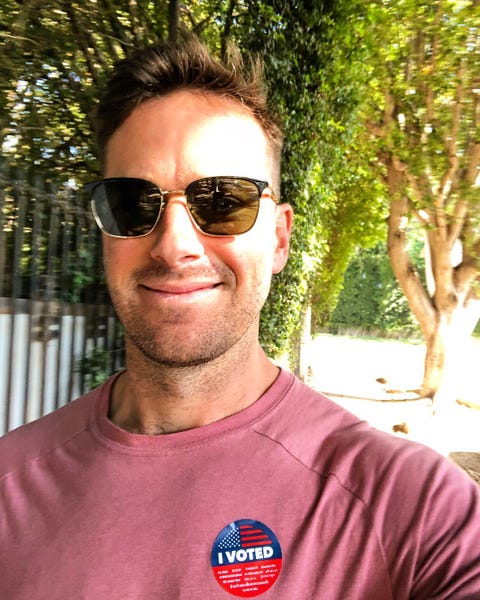 Armie Hammer
"Just over here trying to save the world..." Hammer captioned his image. He's not quite a superhero yet, but he gets that a vote is literally pushing a button to save the world.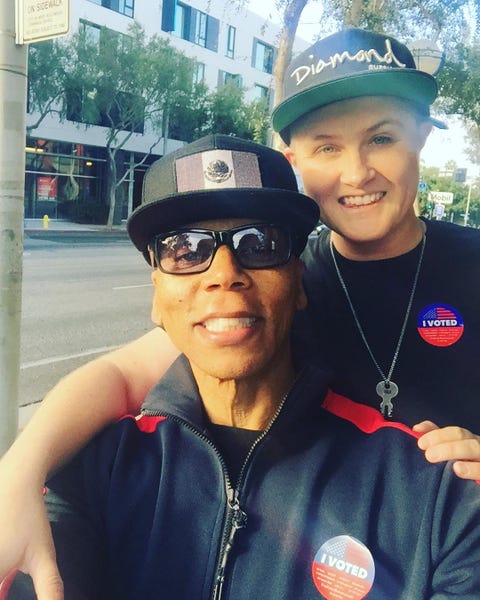 RuPaul
"Yes! We Voted! Where You At?" Answer Mama Ru's question! The answer is, of course, "Voting."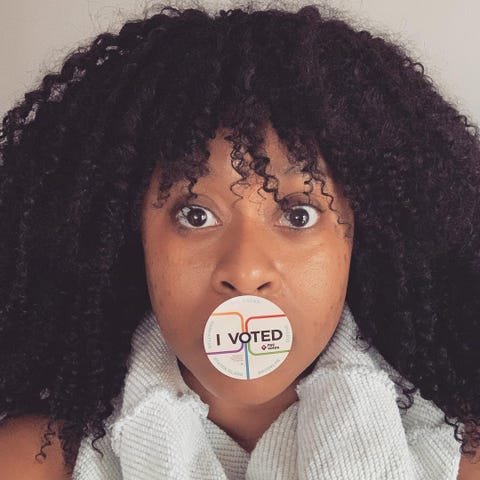 Phoebe Robinson
Robinson paired her Instagram post with an emotional call to action: "Extremely honored to #Vote today. Real talk, I never really cared all too much about the midterms. Never paid attention to them nor talked about them much. Well, 2016 changed that for me with the quickness. I started educating myself and realizing how much I was taking for granted. That's sucky to admit, but life is all about doing better when you know better. And what I know better is that being tuned in and challenging myself to #AllyUp is the only way I can be a part of the solution instead of the problem. Literally everyone - women, people of color, LGBTQIA+, immigrants, etc. - is under attack and having their basic human rights threatened and if I don't do my part, then how in the hell cam I hold anyone else to a high standard or expect anything to change positively? I truly understand the importance of being up to speed with politics, not just every four years, but year round, if possible. So today I vote to make my voice heard. Today I vote because so many have died for my right to take political action. Today I vote because I refuse to hand this country over to a bunch of racists, sexists, and thieves. And today I vote because I know that no matter how things turn out tomorrow, saving America will be the biggest project of our lifetime and I plan on showing up. Every. Single. Day. Please vote, my sweet babies. And if you live in District 6 in Ohio, vote for my brother Phil Robinson. #YQY'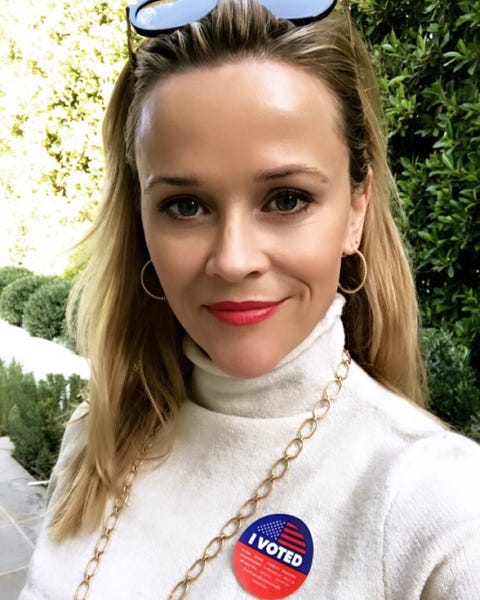 Reese Witherspoon
The Big Little Lies star has just one question for you: "I Voted! 🇺🇸 ✅ How about you?!" Go out and vote! Elle Woods commands it!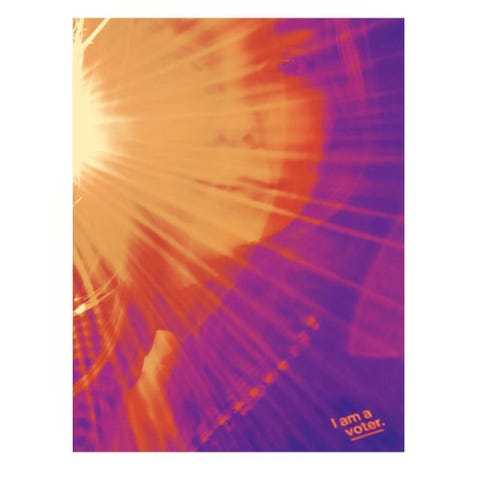 Sophia Bush
Bush captioned her Instagram image with advice for what to do at the polls if there's trouble, and ended with quotes from poet Cleo Wade: "the destiny of this country is not determined by our thoughts and prayers, but our actions and deeds. VoteBecause "Faith without works is dead." Vote Because The arc of the universe is long and WE must bend it toward justice. Vote Because The opposite of justice is not injustice, it is inaction, indifference and apathy. Vote Because "if there is no struggle there is no progress." VoteBecause there can be no harvest of blessings without tilling the soil, planting the seeds and doing the work."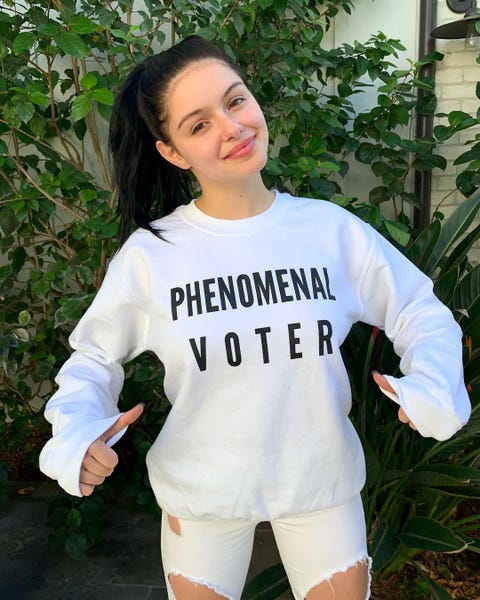 Ariel Winter
Winter paired with the Phenomenal Woman Campaign for this year's election, promising to repost her favorite #PhenomenalVoter selfies of fans in their "I Voted" stickers.
This content is created and maintained by a third party, and imported onto this page to help users provide their email addresses. You may be able to find more information about this and similar content at piano.io