44 Pro-Gun Control Lawmakers Who Support Common-Sense Gun Reform in 2019
It's time to hold our newly elected leaders accountable. Here, MarieClaire.com rounded up a running list of governors, senators, and congresspeople who believe in common-sense gun reform to support now.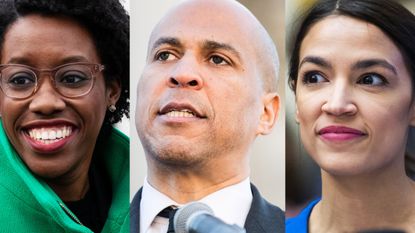 (Image credit: Getty Images / Design by Bridget Burns )
At first glance, the midterm elections (opens in new tab) back in November seemed a bit defeating—major gun-control advocates like Andrew Gillum, Stacey Abrams, and Beto O'Rourke lost their gubernatorial races, and Republicans kept control of the U.S. Senate. But change happens in inches, not feet, and our country has still taken a major political step—specifically in the fight for common-sense gun laws (opens in new tab).
The Democrats won the majority in the U.S. House of Representatives (that now includes more than 100 women (opens in new tab)), which means there will be a strong push for gun control legislation allowing Americans to freely go to a bar, a concert, a movie theater, a classroom, a place of worship, a yoga studio, etc., without the fear of being shot. Electing these gun control advocates—many who have experienced gun violence firsthand—was the first step. Now it's time to push them to introduce new legislation on both the state and federal level.
Ahead, a quick and easy guide to legislators who believe in common-sense gun reform, and how to support them.
Editor's note: This post includes a sampling of pro-gun control lawmakers throughout the country currently in an elected position and will continue to be updated.