Ivy League Student Carries A Mattress Around To Speak Out Against Sexual Assault
Carry the weight—literally and figuratively.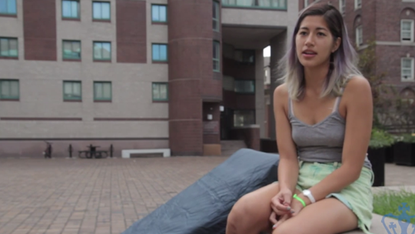 (Image credit: Archive)
As part of the growing list of students speaking out about inaction and ambivalence on the school's part after a victim reports a rape or sexual assault, Columbia University senior, Emma Sulkowicz, is taking a unique path to raise awareness about sexual violence injustices on campus. Sulkowicz, a visual arts major, is melding her experiences with rape with her passion for art by staging a performance piece around campus. Simply titled, "Mattress Performance" or "Carry The Weight", involves Sulkowicz carrying her mattress around campus—until her accused rapist is expelled.
Two summers ago, Sulkowicz was allegedly raped in her dorm room—and since then, she's felt she had to "carry around the weight" of what happened to her. As part of her performance, Sulkowicz cannot ask for help in carrying around this heavy burden—although she may receive assistance if someone offers. Sulkowicz's statement—which doubles as her senior thesis project—is all about showing the huge burden that sits on the shoulders of victims of sexual assault. "I could have taken my pillow, but I want people to see how it weighs down a person to be ignored by the school administration and harassed by police," she told The Guardian.
This isn't the first time that Sulkowicz has stood up to fight the school's sexual assault policies. She's previously filed a police report against her university, and was part of a movement that petitioned the school to rewrite its sexual assault policy. Whether her latest, most creative, pushback is effective is yet to be seen.
UPDATE: In a touching display of solidarity, some of Sulkowicz's Columbia peers have joined in her crusade to "carry the weight" by helping her transport her mattress across campus yesterday. This assistance wasn't a spontaenous decision, but rather the product of planning by those who wanted to help Sulkowicz in her demonstration. Those behind the effort of 'Carrying The Weight Together', as the movement is dubbed, said that "show the administration that we stand united in demanding better policies designed to end sexual violence and rape culture on campus." As we all know, there's strength in numbers, and as the movement grows, the harder it will be for universities around the world to ignore.
Related:

Even More Schools Are Now Under Investigation For Their Sexual Violence Policies





The Fight Against Sexual Violence on College Campuses: End Rape on Campus






The Fight Against Sexual Violence on College Campuses: One Student






Big Shame on Campus


I'm an Associate Editor at the Business of Fashion, where I edit and write stories about the fashion and beauty industries. Previously, I was the brand editor at Adweek, where I was the lead editor for Adweek's brand and retail coverage. Before my switch to business journalism, I was a writer/reporter at PEOPLE.com, where I wrote news posts, galleries and articles for PEOPLE magazine's website. My work has been published on TheAtlantic.com, ELLE.com, MarieClaire.com, PEOPLE.com, GoodHousekeeping.com and in Every Day with Rachael Ray. It has been syndicated by Cosmopolitan.com, TIME.com, TravelandLeisure.com and GoodHousekeeping.com, among other publications. Previously, I've worked at VOGUE.com, ELLE.com, and MarieClaire.com.