Winner's Circle
Meet the winners of our Changing The World contest!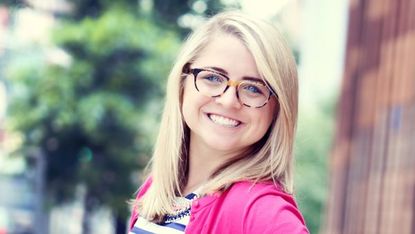 (Image credit: Archives)
Last May, we began our search for readers changing the world. After narrowing it down to three fantastic finalists, we put the power in your hands. Over 11,000 readers voted, resulting in a tie (opens in new tab) between Alexa Pham of Chai Lai Orchid, Thailand's eco-resort that provides job training to women at-risk of sex trafficking, and Emily Raleigh of the Smart Girls Group, a professional network designed to empower the next generation of glass ceiling smashers. They spoke exclusively to Marie Claire about their passions, projects, and what's next.
Emily Raleigh

Founder, The Smart Girls' Group
"I was always the ringleader growing up," recalls Emily Raleigh, 20, "I never thought of entrepreneurship. I actually applied to colleges as a chemistry major, and my dream was to be an orthodontist." But a Christmas gift she made for her sister in 2011 propelled Raleigh on the social business fast-track.
"When I was a senior and my sister was a freshmen, I wrote her a book: A field guide to succeeding in our Long Beach Island, New Jersey high school," she says. "It had a lot to do with being an individual and being proud of being ambitious." When the book was complete, she realized she was onto something big. So she recruited nine other young women—her sister, four cousins, and a handful of blogger friends—to create Smart Girls' Guide, a twenty-page digital magazine covering school and career, from speaking up in class to what to wear to an interview.
The first issue's readers weren't just enthusiastic, they also wanted to get involved. "We went from having a nine-person team to a 100-person team in about three months," Raleigh remembers. "We were reaching a wider community than I ever expected. All of a sudden, I was on lunch period at school trying to figure out how to make this a scalable business." As their base (or "sisterhood," as Raleigh calls it) grew, the Smart Girls team listened to reader feedback and transformed from a digital magazine to a professional network.
Today, SGG has over 1,000 contributors from 46 countries and all 50 U.S. states. It aims to empower and inspire the next generation of women leaders through online classes, an online community where girls from 31 countries advise and support each other, the magazine, and, most recently, conferences. (Their first, held in New York City on July 9-10, drew big name speakers like the Malala Fund CEO Shiza Shadid and Comcast CCO D'arcy Rudnay). At high schools and colleges across the U.S., U.K., and Canada, 40 campus chapters set personal goals and aimed to work on service projects, like raising money for She's The First, an international non-profit that sponsors girls' education in developing countries so they may become the first in their families to graduate.
Joining the network is free and there are no membership dues ("We don't believe in paying for empowerment," Raleigh says). In their online shop, 10% of the proceeds go to She's The First to sponsor a girl's education in Nepal.
In the morning, Raleigh attends classes at Fordham University's Bronx campus, where she is a junior majoring in business and visual arts. She then darts down the street to the Fordham Foundry, a small business incubator for local entrepreneurs, and clocks into her SGG role.
Immediate goals include adding more conferences and creating a scholarship fund to help smart girls in need. When she graduates in 2016, Raleigh plans to turn her high school passion into a full-time job. Sounds pretty smart to us.
Alexa Pham

Founder, Chai Lai Orchid Eco-Resort
"Before I started Chai Lai Orchid, I was a typical New Yorker. I worked multiple jobs, I had a shoe collection—with some really amazing shoes—running water, and electricity," says Alexa Pham, 31, founder of the Chai Lai Orchid, a Thai eco resort that offers hospitality training to local girls.
On Thanksgiving Day 2011, that all changed. During a trip to Chiang Mai, Thailand, Pham met a young woman named Ning, the eldest daughter of a poor refugee family from Burma. "Her mother was selling her to a man from Europe who was four times Ning's age. The total sum was $2,000, a motorbike, and a gold necklace. That was the price of her life."
Pham intervened to stop the transaction, but the battle didn't end there. Her first thought was to get Ning into a shelter for trafficking victims. But since she was a refugee and didn't have papers to be in Thailand legally, no one would take her. On top of that, she lacked both an education and trade; Ning needed to support her family financially, so enrolling in a nonprofit's unpaid job training program was not an option.
Pham saw a crisis, and envisioned a solution outside of what most organizations were offering. "In theory, jobs like beading, felt making, hairdressing and sewing are great because they tend to be traditionally held by women and can be done in the home," she says. "But they don't necessarily lead to financial independence or a sustainable career. There is simply not a huge demand for these skills other than the one artificially created by the nonprofit, which creates more dependency. And while the many artisans enjoy their craft, these jobs may be as appealing to her daughter as working in the rice paddies." Many young women Pham met dreamed of a city life—they wanted to be entrepreneurs and participate in the bustling tourism industry. And thus, Chai Lai Orchid resort was born.
"At the Chai Lai Orchid we provide job training, income, and a safe home to ethnic minority women and refugees from Burma/Myanmar because they are the most at risk of trafficking and exploitation," Pham explains. "We execute grassroots community development programs. We also give women knowledge: for example, we have a library with books in their native languages on human rights, social activism, and women's issues." It's a sustainable employment opportunity, helping families break the cycle of inter-generational poverty.
"The girls we serve are essentially our Board of Directors," Pham explains. "Last week we installed water filters. The girls were beaming with pride, because they accomplished that. It was their idea and they earned the money through Chai Lai. They are not 'victims' of trafficking of poverty. They are empowered agents of change."
Next steps for Pham include expanding the program to work with more girls and launching a mobile learning center and clinic in remote villages. How will they get there? "Readers can support us by going on vacation and visiting the Chai Lai Orchid," Pham says. From your own computer, you can purchase items from their shop at daughersrising.org.
She also hopes readers create change in their own communities. "My grandmother, Marge, taught me the value of integrity," she says. "Setting goals to change the world is not as important as how we do it. As Mother Teresa said, 'Not all of us can do great things but we can do small things with great love.' Make it your practice to do the small things with great love and integrity everyday, because that's where positive change begins."
Related Links:

How Emily Raleigh Is Changing the World Video (opens in new tab)


How Alexa Pham Is Changing the World Video (opens in new tab)