Mitt Romney vs. Women
Women's issues are at the forefront this election cycle. Is Mitt the most anti-woman presidential candidate we've seen in a while?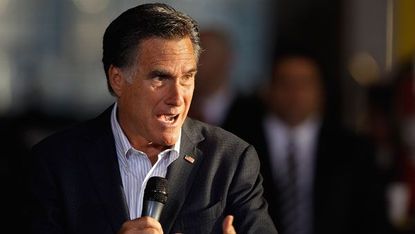 (Image credit: Getty Images)
Never in my adult life have I seen women's issues at the forefront of national politics in the way they are now...and not in a positive way. Each news cycle seems to bring another round of terrifying statements and policy votes that could undermine rights and ideas that I've become so accustomed to. It's true that I've taken them for granted but that is no longer a viable option. As women we must take notice of what is going on and speak up—loudly and with our ballots—when we disagree.
Now that Rick Santorum has suspended his campaign, Mitt Romney is the presumptive nomineee for the Republican party. And speaking candidly, that doesn't seem like a good thing for us ladies. This week a Washington Post/ABC news pollshowed that President Obama has a double digit point advantage (53 to 34) over Romney on the addressing of women's issues. Perhaps that's because of statements like this one from Romney's campaign director Lanhee Chen, who when asked whether Romney supported the Lily Ledbetter Act (a law which makes it easier for women to sue employers who pay them less than men), answered, "We'll get back to you on that." Not exactly the kind of thing a lot of women want to hear from a candidate of either party. And while he hasn't commented specifically on Wisconsin governor Scott Walker's April 6th repeal of his state's Equal Pay Law, he has been a big supporter of the governor in the past. It will be interesting to see how that plays out.
Even back in 1994, Romney was coming under attack on women's issues—and was running as a pro-choice Republican. The Huffington Post points to a 1994 Boston Globe piece which said of Romney's group at Bain Capital "there are no minorities among the 95 vice presidents of Bain & Co. Only 10 percent are women." His response: "It's a profession that has yet to attract many women and minorities." I'm sure you could find many women working in the field in the '90s who would beg to differ.
And then there's the Planned Parenthood issue. Romney said in his "My Pro-Life Pledge" for the National Review, "I support the Hyde Amendment, which broadly bars the use of federal funds for abortions. And as president, I will support efforts to prohibit federal funding for any organization like Planned Parenthood, which primarily performs abortions or offers abortion-related services." He supports the reversal of Roe v. Wade and believes it came as a result of a "small group of activist judges legislating from the bench." Again, women who disagree need to make sure our voices are heard.
I tend to agree with Obama's deputy campaign manager Stephanie Cutter who said to the New York Times: "Women are the majority of the electorate, and they believe that Mitt Romney doesn't understand them and doesn't even care to try. He's absolutely right that women care about the economy, but that begs the question: Why did he skew his policies against them, and why did he spend so much time playing to the right wing by committing to get rid of Planned Parenthood and giving employers the right to deny women contraceptive coverage?"
A good question indeed. What I do believe is that never has it been more important for women to pay attention on the local, state and national levels. Otherwise we might just let certain rights and freedoms slip away. And I don't even like imagining what that future looks like.
Celebrity news, beauty, fashion advice, and fascinating features, delivered straight to your inbox!