From Food Stamps to Combatting Sex Trafficking
Erin Giles' compelling story about her movement to end sex trafficking.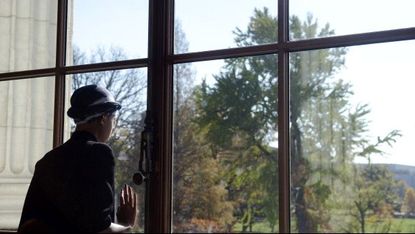 (Image credit: Kris Connor/Getty Images)
The U.S. State Department estimates that 27 million men, women and children are the victim of human trafficking worldwide. It's all too easy to see horrifying statistics like that and look away, to think that someone else, somewhere else will step up and take action to help prevent what is seemingly an intractable social problem. That's especially true of the young and broke—leave the lifesaving to the billionaire philanthropists, right?
Which is why Erin Giles' story is so compelling. Last year, the now 31-year-old Aiken, South Carolina resident was so strapped for cash that she was on food stamps. But she saw a documentary on the sex trade and realized she had to act. "My heart broke open to the reality of sex trafficking," she says.
She started an organization called End Sex Trafficking Day (opens in new tab), which marks its namesake day each Oct. 26. Last year, Giles raised $10,000 to fund a book of 60 essays dedicated to raising awareness for the cause. (The book's proceeds benefited the non-profit Not For Sale Campaign.) This year, she's back with a new and more ambitious goal. Her organization is hoping to raise $25,000 to help fund five non-profit organizations that are dedicated to ending sex trafficking. She launched a IndieGoGo (opens in new tab) campaign on Sept. 17 that will run until Oct. 25. So far, the campaign has raised more than $9,200.
The funds will help the group that made Nefarious (opens in new tab), the global sex trade documentary that inspired Giles, take it on the road for six months. Other groups set to receive a portion of the funds include The Sold Project (opens in new tab), which works to prevent child prostitution in Thailand by awarding scholarships to children at risk, Courtney's House (opens in new tab), whose street outreach program looks for missing boys and girls on the streets between 2am and 7am and provides longterm counseling for victims, New Friends New Life (opens in new tab), which provides internships and job training to victims of trafficking, and the Not For Sale Campaign (opens in new tab), which plans to sponsor five Romanian survivors of sex trafficking for one year with the money it receives from the campaign.
Giles is a great reminder that even if you don't have a lot, you have much more than many. And the $4 you spend on a latte in the morning, could instead go to creating change. "While many of us have the freedom to go to college, build a business on our laptop, or even plan our next vacation, men, women and children are being raped five to 10 times a night, including in our own hometowns," she says in the IndieGoGo campaign video. "The good news is, there is hope. Although alone I can't do much to stand up for the 27 million enslaved, together we can unite to make enormous impact." And, she notes, if you really can't spare any change, sharing her campaign on social media or via email is free of charge.
To donate, visit http://www.indiegogo.com/projects/end-sex-trafficking (opens in new tab), or to learn more about End Sex Trafficking Day, visit: http://www.endsextraffickingday.com (opens in new tab)/.
Kayla Webley Adler is the Deputy Editor of ELLE magazine. She edits cover stories, profiles, and narrative features on politics, culture, crime, and social trends. Previously, she worked as the Features Director at Marie Claire magazine and as a Staff Writer at TIME magazine.