These Will Be the Biggest Feminist Issues of 2015
Consider it a preview of your newsfeed.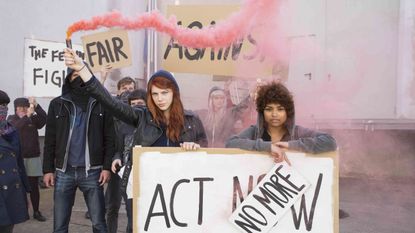 (Image credit: Archives)
Late in 2014, Time published its annual list of words to ban in the coming year. Nestled somewhere between "bae" and "kale" was one that has since been retracted: "feminist," which the magazine now claims was meant as a lighthearted joke (though we were not amused).
"Feminist" isn't going anywhere as a word or a movement—and in fact, feminist issues will continue to take center stage in 2015. Which is of course both a blessing and a curse: A blessing in that we can finally start making some progress; a curse in that we still have to effing make the effing progress at all.
As for the biggest issues, we've got a couple predictions:
1. Violence against women. Frankly, 2014 was a scary year, from Ray Rice knocking out his now-wife in an elevator to Elliot Rodger's retribution rampage in Isla Vista to the serial rapist on the loose posing as a private car driver in Boston...the list goes on and on. And not that there's ever a silver lining when it comes to violence, but the high-profile nature of many of last year's incidents have catapulted the topic back into daily conversation, inspiring awareness through campaigns like NO MORE and the development of protective tools like Callisto. By bringing discussions about violence into the light, we're edging—slowly but surely—toward better ways to protect women.
2. Family-leave policies. The United States still has some of the worst maternity leave policies in the world. Literally. And not only do backwards maternity leave policies hinder women in their professional growth and career options, but they also conflate the birth of a child with financial crisis—and put the responsibility (and earning power) in the hands of a partner (assuming there is one). The other side of the coin? Despite the fact that paternity leave is proven to promote gender equality at home and at work, to encourage women's involvement in the workplace, and to create more parent-friendly offices, it's still not quite catching on in America. We expect it'll keep coming up until we get it right.
3. Women in office. Hillary and Elizabeth Warren aren't the only cowgirls in this rodeo: Women across the country—from Lucy Flores to Wendy Davis to Jackie Speier—are kicking butt, taking names, and pushing back on policies that take rights and choices away from women while forging new laws that encourage equality and fairness. November 2016 isn't that long off, but apart from the presidential bid, we're going to be looking at all women to steer the legislative conversation toward progress.
4. The birth control debate. The Hobby Lobby ruling may be behind us, but all the things that came out of that Pandora's box—and the muddied waters of "My Body, My Choice" that preceded it—are still front and center. While Obama's women health care services are alive and well (as of now, anyway) and will celebrate their third birthday this August, women continue to lose ground in the legislature: In the last four years, states have enacted 231 abortion restrictions. This battle is far from over.
5. Closing the pay gap. We can't even with this one, but something has to give. Yes, it's disappointing to still be having this conversation. Yes, men still make more money than women for the same work. If we learned anything from the Sony hacks, it's that J.Law should have made just as much for American Hustle as Bradley Cooper did, and the same goes for women everywhere.
6. Cracking down on the sex trade. We typically think of sex trafficking as something that happens anywhere but here: It's not. The truth is that more than 100,000 children were sold into slavery in this country last year. The risk factors for being a victim of the sex trade are a history of sexual assault and abuse, poverty, homelessness, lack of education, and drug problems—not to mention being a girl between the ages of 12-14.
7. Moving more women into tech. In amazing news, there are way more women than Marissa Mayer and Sheryl Sandberg making headlines in the tech world these days, not to mention awesome organizations like Girls Who Code educating a whole new generation of young women about jobs in STEM fields. That said…the seesaw is still heavily weighted to one side—and one of the reasons is that women are still not getting the message of support for their participation in the former boys' clubs of technology careers.
8. Bridging the trans gap. "Woman" doesn't mean quite what it used to—and we think that's a good thing. Orange Is the New Black star Laverne Cox got both a best guest actress Emmy nom and a Time magazine cover this year, while trans models walked catwalks around the world. We're becoming more inclusive, and more accepting...but that doesn't meant the world has quite settled on the new rules for womanhood, evidenced by the growing controversy around trans students at Wellesley College.
10. Recognizing real bodies. One of the best things we saw this week? Joan Didion joined a growing roster of awesomely older women repping top tier fashion brands as the new face of Céline (followed shortly thereafter by Joni Mitchell for Saint Laurent). What we hope that means is that the definition of beauty is expanding to include women of all ages, shapes, sizes, and scars, and that it'll include massive shifts in the way we cast and portray women in culture and media. We're looking forward to the day when cultural commentary doesn't have a stake in women's bodies—and hopeful that maybe, just maybe, it'll arrive in the next 11 months.
You should also check out:
Russia Just Banned Transgender People from Driving
Celebrity news, beauty, fashion advice, and fascinating features, delivered straight to your inbox!
Elizabeth Kiefer is a features editor at Cosmopolitan, where she focuses on enterprise stories, narrative reporting, and cultural coverage for the magazine's print and digital platforms.