Lessons in Love: The Millionaire Hunters
In the new Russia, a country obsessed with wealth and status, snagging a superrich man is big business — and so are the outrageous classes that claim to give women a leg up.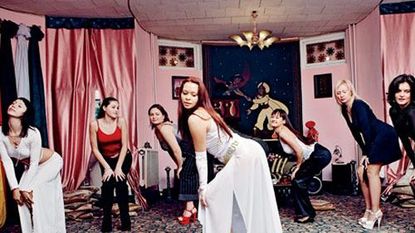 (Image credit: Natali Arefieva)
You have to admire a nation of women who wear stilettos in the snow and make it look easy. It's minus 10 degrees in Moscow, and the frozen sidewalks are teeming with glamorous female shoppers. Clad in fur and sparkly accessories, they navigate the ice in perilously high heels. The trick, it seems, is not to totter gingerly, but to stride ahead fast and never look down.
After mastering this art, you'd think that negotiating love and marriage would be a cinch for modern Russian women. Not so, says Yulia Varra, 38, a Muscovite "love instructor" who runs classes in sex and seduction. In the new capitalist Russia, a country consumed with money and status, snagging a desirable man is a tough business. "Women want a husband who owns a private plane, a yacht, and an oil well. It's not impossible, but they need superfantastic skills to succeed," says Varra, who has a riot of curly blonde hair and wears tight black jeans tucked into silver boots — high-heeled, of course.
Despite the weather, it's positively steamy inside the Moscow basement where Varra holds various courses for women, including "How to Marry in Three Months" and "Oral Sex for Experts." Her seduction school is one of many new businesses designed to help women get ahead in Russia's post-communist marriage market. The economy has boomed, creating a superrich ruling oligarchy and a huge class of cash-loaded entrepreneurs. And, in what is no doubt partly a backlash against the Soviet era — when women toiled in state industries alongside men — many young women today would prefer to marry a millionaire than work to become one themselves.
Varra says she encourages students to look beyond a man's wallet to find other good qualities — to avoid being trapped in a "loveless golden cage" — but outside the new rich elite, decent prospects remain sparse. Russian women outnumber men by more than 10 million, and many men suffer from joblessness, chronic alcoholism, and early death (male life expectancy here is 59).
Holding on to a good man long-term is an equally high-stakes matter. Divorce in Russia is easy; a powerful man can divorce his wife "in an hour," according to one local insider. Under the country's anachronistic divorce laws, husbands are generally not obliged to give their wives a penny, and they are often awarded custody of the children. "Relationships are like roulette for modern Russian women," says the insider. "They have a lot to win and everything to lose, so they can never afford to get complacent."
On a Saturday night at Varra's school, against a backdrop of garish reds and pinks, five students are gyrating their hips and tossing their hair to the manic beat of Russian disco (think early Madonna crossed with Cossack music). And this is just the warm-up. Tonight's class is "How to Be Your Man's Number-One Lover." Lessons include trying out erotic massage on a live male model, practicing fellatio with the aid of bananas and lollipops, and learning how to praise a man's sexual prowess "convincingly."
"Russian men relate to women mainly through sex," Varra tells the students, who range in age from 21 to 60, and who wait as long as a year and a half to attend the popular classes. "So if a man is happy in bed, you're halfway there." But only halfway, she cautions, because even the most sexually acrobatic woman won't succeed unless she knows how to manipulate a man's brain as well. "You must show him you have self-respect, that you are a precious jewel he must cherish," says Varra, who is a trained psychologist with three divorces under her flashy silver belt. "Otherwise he will get bored and drink vodka." She winks. (Interestingly, Varra herself is not looking for another husband; she is focused instead on her booming business.)
Varra's basic approach is to teach women how to gain power over men by using classic feminine and sexual wiles. To the Western feminist mind, it might seem a bit retrograde, yet Varra insists that Russian women are the ultimate post-feminists. "We know all about equality and independence — we've been there," she tells me. During the Soviet era, which ended in 1991, millions of men died in wars and labor camps. Women often ran their households alone, while also working in factories. The problem is that Russian men, says Varra, remain deeply patriarchal and still expect women to be subservient. "Rather than try to change men, which will take another 200 years," she says, "we might as well get whatever we can out of them now."
Perched on a sofa in the correct femme-fatale posture of "chest out, stomach in, ass out," Maria Markova, 24, nods in agreement. Markova, a typical svelte Russian beauty with long blonde hair, has already graduated from the 12-week "How to Marry in Three Months" course, which costs $1800. She found it so enlightening that she joined the "Lover" class, too.
"I've never had a problem getting men because I'm so beautiful," she says, swinging her long legs over the side of the sofa. "But they treated me like a plaything, and I didn't know how to stop it." Markova, a sauna attendant, has learned how to target the men she likes using direct eye contact and conversational ploys, so she is in charge from the start. What she wants, she says, is a "real man who will take care of me." Some diamonds and designer frocks wouldn't hurt, either. "Yes, of course he must be wealthy," she says, looking incredulous that the question was even asked.
Is money really so important? It's not hard to see how style- and status-conscious the country has become. In Moscow, once the grim heart of socialist austerity, ads for Swiss watches, German cars, and Italian leather are draped over the facades of historic buildings, and some city restaurants demand a minimum order of $300 per table. Even the former Soviet president Mikhail S. Gorbachev has embraced luxury, appearing in a recent promotion for Louis Vuitton luggage.
Markova isn't married yet, although thanks to Varra's lessons, she says she is dating a wealthy businessman who she believes will "propose any day."
Foxy grandmother Ella Videnina, 60, is also a graduate of the marriage class. She succeeded in getting hitched at the end of it — to her fifth husband. "My past husbands always relied on me. I wanted to reverse that," says the slim Videnina, a government office worker. When she joined the class, she was dating a new man who seemed promisingly generous. "The best thing I learned was never to refuse him anything in bed. It worked." Not only did he marry her, she says, he also began lavishing her with expensive gifts: "He gave me a new car and a plasma TV for my birthday."
Married women are also flocking to Varra for help in holding onto the husbands they already have. "After nine years of marriage, my husband stopped noticing me," says Olga Rosnina, 37, a statuesque redheaded real-estate agent. Rosnina joined Varra's "How to Bring Back Your Honeymoon" course, which involved "advanced" sex tips, as well as advice on how to spice up daily life. "Before, I only wore jeans and flats, so I bought miniskirts, high heels, and lipstick," says Rosnina. Combined with her new bedroom skills, the effect on her husband was instant. "He's much warmer and less uptight," she says. "And he gives me whatever I ask for."
For women who can't get into Varra's overbooked courses, there are plenty of other options. One of the latest trends is "VUM-building," which sounds like a doomed Soviet industrial project but is apparently a surefire way to get your man addicted to you. VUM stands for "Vaginally Used Muscles," and a number of schools are offering courses in strengthening and toning the muscles using special equipment — a kind of gym for the vagina.
"Our exercise program can dramatically improve a woman's sexual performance," says Olga Nikitina, 40, the founder of the School for VUM-Building in central Moscow. "She can transform herself from a slow Russian car like a Lada into a Ferrari." To disguise the fact that the equipment really does look like it belongs in a car-mechanic's workshop — it's all pressure gauges and rubber hoses — the school's two rooms are painted pink and blue; stuffed animals model phallic devices.
"Once a woman reaches optimal fitness, she can shoot a fountain of water up out of her vagina in the bath," boasts Nikitina, a ponytailed blonde in a leopard-print top. The core device is a small silicone balloon that is inserted in the vagina and inflated with a pneumatic pump. "You squeeze against the balloon and measure the pressure on the attached gauges," says Nikitina. Fine-tuning can be achieved by learning to shoot out pebbles onto a metal target.
Homemaker Eliso Torgvaidze, 41, credits the program with saving her rocky marriage. "I'm sure my husband would have left me if I hadn't done VUM-building," she says. "Sex is 90 percent of a relationship for a man."
If the latter is true in Russia, it certainly helps explain why sex schools are so popular. Moscow even has a geisha school that teaches seduction arts from the Far East, such as erotic dance. There's also a "bitch school," where women can learn cunning tactics for beating out female competitors.
To give the gift of a head start, some women are even sending their daughters to the schools. Inga Kozina, 34, attended a course at Moscow's Geisha School, and now is sending her 15-year-old daughter, Mariam. "She's a pretty girl," says Kozina, "but there's a lot of competition these days."
Still, isn't 15 just a little bit young? "Not at all," says Mariam, decked out in the mandatory stiletto boots. "Thanks to my mom, I'm very confident with boys already. I'll always get what I want."
YOU DON'T HAVE TO GO TO MOSCOW FOR CLASSES IN LANDING A MAN.
Get the job done at home with the help of these Websites:
At therulesbook.com, you can take a 12-week online class on old-fashioned courtship techniques. Cost: $600.
Professionaldater.com

conducts six-week personalized coaching programs that help people improve self-image and seduction skills. Cost: $2100 to $2500.
At whymenmarrybitches.com, you can request a personal phone consultation. Cost: $80 for 90 minutes.
—Maura Kelly
Celebrity news, beauty, fashion advice, and fascinating features, delivered straight to your inbox!