The Brothel Busters
These men are helping to stop sex trafficking.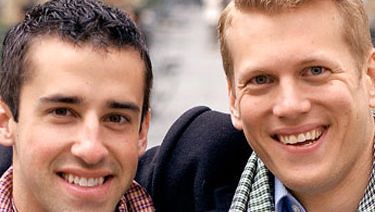 (Image credit: Archives)
Some guys play Xbox and fantasy football in their spare time; Jared Greenberg and Nicholas Lumpp save young women from sexual slavery in Southeast Asia. The 25-year-old Air Force Academy graduates are the founders of the Somaly Mam Foundation, a new nonprofit group named after a woman who escaped the brothels of Cambodia and now rescues enslaved girls. (Her remarkable memoir, The Road of Lost Innocence, hits bookstores this month.) We asked Greenberg, who works as a consultant by day, and Lumpp, who runs a personal-finance Website, about their heroic side job.
MC: What sparked your interest in this?
GREENBERG: I was studying in Russia during college, and I read an article about a local meat market where women were for sale — not for an hour or a night, but for the rest of their lives; they were being sold as slaves. I thought, Someday I'll do something about that. Later, I had dinner with Nic and we decided: Why not do something now? So, we set a goal of raising $1 million. We're more than halfway there; the money goes to helping rescued women and girls gain job skills.
MC: How did you hear of Somaly Mam?
GREENBERG: We came across her in our research and were amazed by how she'd gone from victim to leader. We e-mailed her — then got on a plane to Cambodia.
MC: How did the girls in Somaly's shelter react to you on your visit?
GREENBERG: Because we were there with Somaly, they really welcomed us. In fact, Somaly wanted them to meet us so they could see that there are men who don't want to rape them.
MC: Describe what Somaly's girls had been through.
LUMPP: The brothel owners have brutal ways of making these girls submit. One girl had been kept in a cage for two years and beaten; Somaly warned us to be careful around her because now she hits men she meets. But eventually she warmed up to us.
MC: How old were the girls you met?
LUMPP: As young as 5, as old as 20.
MC: How had they become sex slaves?
LUMPP: Some parents get tricked; they think they're sending their kids off to get a legitimate job. Others are so poor, they'll flat-out sell their kids.
MC: Do people ask you why men would want to get involved with this cause?
GREENBERG: All the time. But this is not a "women's issue." It's about human rights — slavery and freedom. I know where I stand when it comes to slavery.
MC: How did you start the foundation?
GREENBERG: We networked with supporters of this cause: Susan Sarandon, Daryl Hannah, Petra Nemcova, and the company LexisNexis, to name a few.
MC: What can Marie Claire readers do?
GREENBERG: They can go to our site, somaly.org, and donate $2 a month. If every reader did that, we'd raise millions overnight.
Celebrity news, beauty, fashion advice, and fascinating features, delivered straight to your inbox!
Abigail Pesta is an award-winning investigative journalist who writes for major publications around the world. She is the author of The Girls: An All-American Town, a Predatory Doctor, and the Untold Story of the Gymnasts Who Brought Him Down.