7 Terrifying Changes Women Can Expect to Face Under President Trump
Ladies, hold on to your hats fundamental rights. This will be a doozy.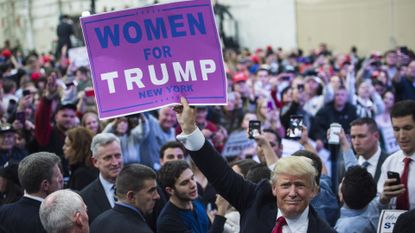 (Image credit: Marie Claire)
Marie Claire Newsletter
Celebrity news, beauty, fashion advice, and fascinating features, delivered straight to your inbox!
Thank you for signing up to Marie Claire. You will receive a verification email shortly.
There was a problem. Please refresh the page and try again.
Well—it happened. Donald Trump is our next president. Now that the votes have been tallied, the concession speech delivered, and the tears have been cried (#truth), it's time to think about what a Trump presidency will look like for us nasty women. Here are all the changes Donald Trump's administration could enact that may affect women's rights.
1. Roe v. Wade Could Be Overturned
Yes, abortion is somehow *still* on the table for men politicians to discuss. Back in September, Trump sent a letter to pro-life leaders in America to join his Pro-Life Coalition, where he outlined a number of steps he would take to "advance the rights of unborn children and their mothers when elected president." A key component of Trump's plan is to overturn Roe v. Wade, which has protected abortion rights since 1973.
Trump's plan includes nominating pro-life justices to the Supreme Court, starting with a nominee to replace Antonin Scalia, who died in February. According to The Washington Post, Trump's nominee will be a staunch conservative and "will be like Scalia in seeking to overturn Roe." And that's just the beginning—Trump may be able to appoint other Supreme Court justices during his presidency. The Washington Postreports that the average age at which Supreme Court justices retire is 78.7. There are three justices who are past, or nearly past, that point: Ruth Bader Ginsburg, who is 83, Anthony Kennedy, who is 80, and Stephen Breyer, who turned 78 in August. The more conservatives on the court, the more likely it is that Roe v. Wade could be overturned.
Let's not forget our next vice president, Mike Pence. Pence's record is firmly pro-life, and heonce said on the record, "I long for the day that Roe v. Wade is sent to the ash heap of history." A passionate plea from a human without ovaries.
2. Even if Roe v. Wade Remains, Abortion Laws Will Change—for the Worse
In the same letter to pro-life leaders, Trump said that he will be "signing into law the Pain-Capable Unborn Child Protection Act, which would end painful late-term abortions nationwide." The bill, which bans most abortions after 20 weeks, was passed by the House in 2015 and later blocked in the Senate. Trump is dedicated to signing that bill and will face no opposition with a Republican-controlled Senate and House.
In addition, Trump has said he will make the Hyde Amendment permanent when he becomes president. The Hyde Amendment, which was first passed by Congress in 1976, withholds certain federal funds from being used for abortions. It's not currently a permanent law, but it's extended annually in spending bills and Trump's plan is to make it permanent, USA Today reports. None of comes at a *huge* surprise given that Trump once said women deserve "some form of punishment" for receiving abortions.
3. Planned Parenthood Might Be Straight Up Defunded
Trump said he will defund Planned Parenthood as long as they continue to perform abortions. "Millions and millions of women—cervical cancer, breast cancer—are helped by Planned Parenthood," Trump said in February according to Mic. "I would defund it because of the abortion factor."
In reality, abortions make up a *tiny* percentage of what Planned Parenthood actually does. Just three percent of Planned Parenthood's services are abortion related, meaning of the nearly 10.6 million services provided from 2013-2014, abortions accounted for only about 328,000 of those services, according to NPR. So the roughly 2.6 million women who are served by Planned Parenthood would lose their access to the basic, preventive health care option because of that three percent, according to The Washington Post.
Defunding Planned Parenthood would have severe consequences for women across the country: 99 percent of American women rely on birth control at some point during their lives. Without Planned Parenthood, access to birth control may be severely restricted for many women. The number of unintended pregnancies, which currently account for 45 percent of all pregnancies according to the Guttmacher Institute, would no doubt rise as well.
4. Paid Maternity Leave Might Be Here (Finally!), But it May Exclude Single Mothers
Trump's maternity leave policy was largely created by Trump's daughter, Ivanka. The plan gives women six weeks of paid maternity leave after giving birth, which is notable progress considering the United States is the *only* industrialization nation without paid maternity or family leave.
But the language detailing Trump's plan is confusing and may exclude single mothers: women can only receive the paid leave if their marriage is "recognized under state law," The Washington Post reports. A campaign spokesperson clarified that the paid maternity plan does extend to single mothers, but did not help explain the marriage requirement. Meaning: single mothers are still at risk of being excluded.
5. Trump Has No Policies to Ensure Wage Equality
Did you think women would *finally* get paid the same amount as men?! Ivanka made it clear in her RNC speech that wage equality is a priority. Trump repeatedly said that he pays men and women the same wages at his company, which has been verified by his employees. And he has also said, "women should have absolute access to capital. If they do the same job, they should get the same pay," on MSNBC'sMorning Joe.
That's all great, but still: Trump has not outlined specific policies he would put in place to ensure equal pay for men and women. Not to mention that in June, The Boston Globe revealed Trump was paying men on his campaign staff one-third more than he was paying women.
6. Trump Has A Problem With Sexual Misconduct
The Obama administration has done a lot on the issue of sexual misconduct, specifically sexual assault, including creating the It's On Us campaign and launching investigations on college campuses. Of course, sexual assault does not just affect women (it's a human issue, people), but since women are statistically more likely to be more affected by it, it's important to know what a Trump Presidency has in store for prevention, support, and survivors.
Trump hasn't revealed specific policies on the issue, and he may fully embrace Obama's agenda. But it's crucial to recognize his role in the current national conversation about sexual misconduct. Trump has perpetuated some of the most dangerous behaviors in addition to the misconduct itself. He has publicly shamed his victims and denied the accusations, he has dismissed allegations as "locker room banter," and he has said that if his daughter, Ivanka, was sexually harassed he would encourage her to "find another career or find another company," USA Today reports. If Trump's actions are any indication, sexual assault will continue to be an issue that is bragged about, denied, and tolerated.
7. The Highest, Hardest Glass Ceiling Remains
No, this isn't a change under a Trump presidency, but it's a fact nonetheless. Take a moment to realize that women have further to go in this country. And then devise a way to take down the patriarchy. Because Beyoncé says women run the world, and Beyoncé is never wrong.
Follow Marie Claire on Facebook for the latest celeb news, beauty tips, fascinating reads, livestream video, and more.
Celebrity news, beauty, fashion advice, and fascinating features, delivered straight to your inbox!
Maggie Maloney is the associate editor at Town & Country and ELLE Decor, where she covers style, beauty, jewelry, and the many members of the royal family. She also manages social media and content strategy for both brands.