The Wrong Trump Is Running for President
Ivanka Trump's RNC speech—which articulated passionately and powerfully on a variety of women's issues—makes her look infinitely better than her dad.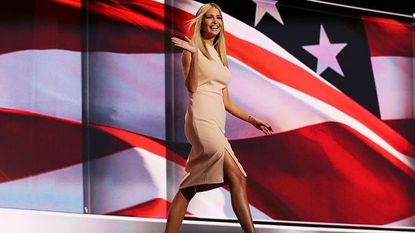 (Image credit: Getty Images)
Marie Claire Newsletter
Celebrity news, beauty, fashion advice, and fascinating features, delivered straight to your inbox!
Thank you for signing up to Marie Claire. You will receive a verification email shortly.
There was a problem. Please refresh the page and try again.
Ivanka Trump is a smart, successful, inspiring woman—and her speech last night at the Republican National Convention absolutely proved it. While Republican leaders like Paul Ryan and Ted Cruz made headlines for speeches in which they refused to endorse Trump, Ivanka's speech held out as a frontrunner for substance and depth—the true high point of the RNC.
Admittedly, Ivanka did not have a great set-up. After a sad cast of characters came up on stage (Scott Baio anyone?), the convention aired a strange video montage of Trump narrated by actor John Voight. It's unclear why Voight was chosen—aside from, perhaps, the fact that he was willing and able.
But Ivanka stepped up to the podium and managed to make the stage her own. In a rousing speech, she addressed how much she now enjoys standing "shoulder to shoulder" with her father. She cast him as a leader who has "sacrificed greatly." While earlier RNC speeches centered on attacks of Hillary Clinton, Ivanka's was personal and focused on painting her father as a "fighter" and "doer."
Putting aside my own feelings for the Republican nominee, I have to admit that anyone listening would think Trump had fought adversity with every step and devoted his life to helping anyone and everyone, regardless of race, religion, gender, or nationality. Ivanka even stated that Trump is "color blind and gender neutral." Do with that description what you will.
She touted Trump as a big supporter of women, citing his gender parity in hiring practices plus his support of equal pay and maternity leave. She pledged that Trump will change labor laws that that discriminate against women—particularly working mothers—and will make child care affordable and accessible for all. Perhaps foreshadowing her potential role in a Trump White House, she said both she and her father would fight nationally for equal pay if he is elected.
These are all important issues that Trump has decidedly not led with on his campaign. But Ivanka may in fact be the best weapon he has in his arsenal. We've seen it before: Often the only intelligent voice on the Donald Trump campaign trail, Ivanka has repeatedly defended and smoothed over her father's gaffes.
But listening to her deliver such a rousing speech at the convention, I'm left wondering: Why can't she run for President? She was so much more compelling, balanced, and substantive than her dad.
For now, alas, it is what it is. And while the campaign promises she made are thoughtful and inspiring, it's hard to believe that her father will carry them out. I hope, if nothing else, the "shoulder to shoulder" comment is true, because there's only one thing that would make a Donald Trump presidency tolerable: Ivanka by his side.
Sam Vinograd is a political commentator and former government official who writes for MarieClaire.com's Opp-Ed column. Follow her on Twitter here.
Celebrity news, beauty, fashion advice, and fascinating features, delivered straight to your inbox!
Samantha Vinograd began her career as the Deputy U.S. Treasury Attaché to Iraq and later held several positions in the Obama Administration, including Senior Advisor to National Security Advisor Thomas E. Donilon. She transitioned to the private sector in 2013 where she has worked on global energy and sustainability issues. She holds a B.A. in Asian and Middle Eastern Studies from the University of Pennsylvania and a Masters Degree in Security Studies from Georgetown. She is a David E. Rockefeller Fellow at the Trilateral Commission, a Millennium Fellow at the Atlantic Council, and a Term Member of the Council on Foreign Relations.