Here's How Many Government Programs Could Be Paid for with the Money Trump Spends Traveling to Florida
Since he's all about eliminating government waste.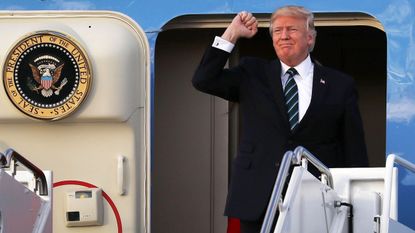 (Image credit: Getty Images)
Marie Claire Newsletter
Celebrity news, beauty, fashion advice, and fascinating features, delivered straight to your inbox!
Thank you for signing up to Marie Claire. You will receive a verification email shortly.
There was a problem. Please refresh the page and try again.
President Donald Trump laid out his budget plan last week, and it's all about cutting what he views as government waste. Numerous agencies and programs, including the Department of Education and Meals on Wheels, stand to see funding cuts or total shutdowns. Yet the President has spent a lot of money thus far on personal travel.
Since his inauguration on January 20, Trump has spent five weekends at his Mar-a-Lago resort in Palm Beach, Florida. Each trip costs around $3 million in security and other costs, according to estimates from multiple news outlets.
For $15 million, Trump could:
Fund the U.S. Interagency Council on Homelessness (which his budget cuts entirely) for more than three years.
Or a year of the National Wildlife Refuge fund, which costs just $13.2 million.
Or more than a year of the Chemical Safety and Hazard Investigation Board, which investigates chemical accidents, for just $11 million.
Or a year of small business grant programs that his budget slashed, which costs just $12 million a year.
Additionally, it's costing taxpayers roughly $500,000 per day for Melania and Barron Trump's security while living in New York, according to police officials, since the first lady and Trump's youngest son have not yet moved to Washington, D.C. Trump has been in office for 60 days—that's $30 million.
For $30 million, Trump could:
Fund two months of the National Endowment for the Arts, a longtime target of Republicans for cuts. The NEA helps fund arts organizations, many of which count children and military veterans among their members.
Or two months of the National Endowment for the Humanities, which typically funds cultural institutions, such as museums, libraries, and universities.
Or an entire year of the African Development Fund, a foreign aid agency focused on Africa, for just $26 million.
Or nearly six months of the Emergency Refugee and Migration Assistance Fund, which lets the president "provide humanitarian assistance for unexpected and urgent refugee and migration needs worldwide."
RELATED STORIES
If Melania and Barron stay in New York through the end of his school year, that would be at least another $30 million in expenses. When you include security for Donald, Jr., Eric, and Tiffany, who all live in New York, the estimate doubles to nearly $1 million a day. It's hard to estimate the total long-term costs of their protection, particularly because Donald, Jr. and Eric travel abroad for work so often. On a recent business trip, security for Eric cost more than $100,000, in case you were wondering where your tax dollars were going.
Follow Marie Claire on Facebook for the latest celeb news, beauty tips, fascinating reads, livestream video, and more.
Celebrity news, beauty, fashion advice, and fascinating features, delivered straight to your inbox!