3 Perfectly Decent Candidates for Sean Spicer's Job
You know, for when the inevitable happens.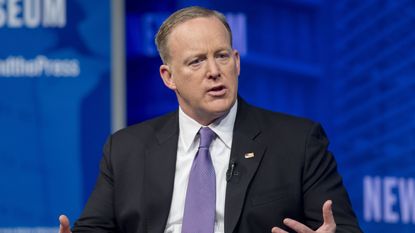 (Image credit: Archives)
White House press secretary Sean Spicer caused an uproar on Tuesday when he compared Adolf Hitler favorably to the president of Syria. In an attempt to criticize Syria's Bashar al-Assad for a brutal chemical weapons attack he's believed to have ordered, Spicer said that Hitler "didn't even sink to using chemical weapons."
This is (of course) patently false; millions of Jews were killed in the gas chambers of execution camps during World War II. Spicer walked back his comments later on Tuesday, and on Wednesday morning, he called them "inexcusable" at a media event.
That hasn't stopped the many members of the public who are calling for his resignation. Here are some possible candidates to fill the role if Spicer steps down:
Hope Hicks
Hope Hicks was Donald Trump's press secretary while he was running for office (opens in new tab) and helped steer the campaign through many of its most controversial moments, so it wouldn't be weird for her to reprise the role. She currently holds the titles of assistant to the president and director of strategic communications in the White House. She began working with the Trump family in 2014, but the campaign was her first political public relations experience. Prior to Trump's announcement that he would run for office, Hicks mainly dealt with Ivanka Trump's clothing brand.
Katrina Pierson
Katrina Pierson was a Trump spokesperson during his campaign and a key player defending Trump (opens in new tab) from October allegations that he sexually assaulted several women. She mounted a bold (if irrelevant) defense against accusations from Jessica Leeds, who said Trump groped her on a commercial flight in the 1980s. Pierson's defense centered on the armrests between seats in first class being fixed. Legions of fact-checkers tore her apart, but Pierson held her ground. It's been reported that Pierson is currently working (opens in new tab) for the pro-Trump non-profit America First Policies.
Sarah Huckabee Sanders
Perhaps the most obvious option is Sarah Huckabee Sanders, (opens in new tab) daughter of failed presidential candidate Mike Huckabee. Sanders is Sean Spicer's deputy press secretary, and she has been increasingly public since Trump was sworn in. A former political consultant who served as a field coordinator (opens in new tab) on George W. Bush's re-election bid and as a senior adviser for Donald Trump, she has the most political experience of the three. She was recently tasked with defending Trump's allegations that former President Barack Obama wiretapped him.
Trump has not yet given any indication that Spicer's job is on the rocks. But if Spicer departs, he definitely would not be the first member (opens in new tab) of Trump's administration to go.
We're nominated for a Webby Award—but we need your vote to win! Vote for the Women and Guns project here. (opens in new tab)