The Funniest Tweets About the James Comey Hearing
Hey now, hey now, this is what dreams are made of.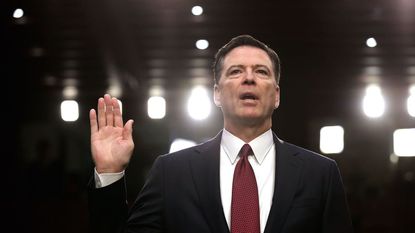 (Image credit: Archives)
If you're someone who has never seen the allure of Twitter—what's with the 140 characters? what's a subtweet? why can't we have longer attention spans?—that may have changed today, June 8, when former FBI Director James Comey testified in front of the Senate intelligence committee. Any interested party on planet Earth with an internet connection could weigh in on the hearing in real time, sharing their shock and of course, their funniest jokes.
While the potential downfall of American democracy may not exactly be a laughing matter, we also need to break the tension of this particular moment in history somehow. Thus, a few of the best tweets about today's hearing.
Unfrozen caveman FBI director James Comey confused, frightened by current events.June 8, 2017
See more
Trump trying not to live tweet: pic.twitter.com/2gjmf6YBUUJune 8, 2017
See more
DC'S HOTTEST READ IS THE COMEY STATEMENT pic.twitter.com/DCesWU1tg1June 7, 2017
See more
Comey's opening statement: pic.twitter.com/YVUzdcr31yJune 8, 2017
See more
Comey: "I could be wrong." Also Comey: pic.twitter.com/HW4oXyzz0KJune 8, 2017
See more
Basking in the glory of Feinstein's seersucker suit, which she is wearing because it's seersucker Thursday #ComeyTestimony pic.twitter.com/uYiaZ3XHD8June 8, 2017
See more
Newsroom email: NPR style will be "lordy," not "lordie." (Apparently 'lawdy' not in consideration)June 8, 2017
See more
Hi Mr. Comey, Marco Rubio here. I ran for President once. Doubt we'd be here if I had won. All of my hair is real. No questions. #ComeyDay pic.twitter.com/KbmgVbVKn2June 8, 2017
See more
James Comey is questioned by completely impartial republicans #ComeyTestimony pic.twitter.com/BqxcZdY0mtJune 8, 2017
See more
today's testimony in meme form. pic.twitter.com/sIu2kc9TNfJune 8, 2017
See more
McCain getting ready for the hearing this morning pic.twitter.com/5245jcJ0mpJune 8, 2017
See more
And the mic drop comes from Rep. Maxine Waters, as always.
So Comey told Jeff Sessions he didn't want to be alone with Trump. Women across the country can relate.June 7, 2017
See more
Follow Marie Claire on Facebook for the latest celeb news, beauty tips, fascinating reads, livestream video, and more.