Here's What You Should Know About Heather Heyer, the Woman Killed at the Charlottesville Rally
Heyer lost her life protesting against white nationalists.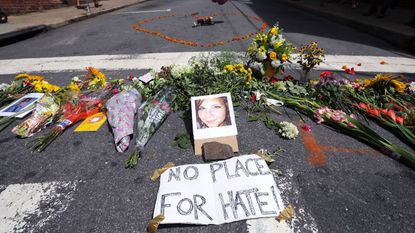 (Image credit: Getty Images)
On Saturday, 32-year-old paralegal Heather Heyer was doing something she was quite familiar with: fighting for justice. She was in the middle of an intense protest against an alt-right white supremacist rally called "Unite the Right," in Charlottesville, Virginia, when a driver fatally struck her and injured dozens of other demonstrators. Days later, many are still mourning the loss of this heroic woman.
The attacker, identified by police as James Alex Fields, Jr., rammed into protesters with a car, injuring at least 19 people and killing Heyer. He is charged with second degree murder and is being held without bail, local Charlottesville newspaper The Daily Progress reports.
Marissa Blair, 27, a friend and colleague of Heyer's at Miller Law Group, was with Heyer and her fiancé Marcus Martin, 26, when the incident occurred. "We hear a commotion from the top of the street. It happened so fast," Blair told the Daily Mail. "I felt myself shoved out of the way. [Martin] had pushed me out of the way."
Blair also said she heard a medical professional at the hospital mention that a woman had died after many attempts at CPR. "I started asking around, but I knew that it was my friend Heather. She had been standing right in front of Marcus," Blair said. "I'm still numb. My friend is dead. Heather was with us because this is what Heather believed in. She died standing up for what she believed in," she added.
On Facebook, Blair shared a live video from the protest that captures the horrifying moment in which the attacker hit. (Warning: The below footage is graphic.)
"This is right when it happened," she wrote on Saturday. "My fiancé pushed me out the way. He got hit, his leg is broke. We're alive. I lost a good friend today."
Blair added a second tribute to her dear friend later that night saying, "I lost one of my good friends today, killed for peacefully standing up for what she believed in. Rest In Peace you sweet sweet soul."
Friends, family and colleagues have since spoken out about the young paralegal's untimely passing, including her former boss Larry Miller, president of Miller Law Group. Miller spoke to The Daily Beast about how Heyer would work patiently with her bankruptcy clients. "She'd hold their hand and make sure they would get the stuff in timely, that way we wouldn't have any issues," Miller said. "She was really good [with] that."
Heyer split her time between helping others as a paralegal and protesting in her spare time. On Twitter, she spoke out against NYPD officer Daniel Pantaleo last December for his involvement in the Eric Garner case.
Dear @NYCMayor - I am calling on you to immediately fire NYPD Officer Daniel Pantaleo. It's long overdue. #FirePantaleo #EricGarnerDecember 7, 2016
See more
"Dear @NYCMayor- I am calling on you to immediately fire NYPD Officer Daniel Pantaleo. It's long overdue. #FirePantaleo #EricGarner," she wrote.
Her mother said Heyer was passionate about being an activist for minorities and the LGBT community. "I always encouraged her to be strong," her mother, Susan Bro, told NBC News. "I was always proud of what she was doing."
"It was important to her to speak up for people that she felt were not being heard, to speak up when injustices were happening," Bro also said. "She saw in the lives of many of her African-American friends, particularly, and her gay friends that equal rights were not being given."
Her loved ones started a GoFundMe page to help Bro with the costs of her daughter's memorial service. "Heather Heyer was murdered while protesting against hate. She will truly be missed," the page read.
Heyer's former high school peers, the William Monroe High School class of 2003, took to their class Facebook page to honor their fellow student and remember the times they shared together. Many noted how Heyer sang at their graduation.
However, Heyer's family and friends aren't the only ones who have spoken out about this tragic loss. Celebrities like Taraji P. Henson and Questlove showed their love and support online, and Senator Bernie Sanders, whom Heyer openly supported during the 2016 presidential campaign, released statements on Twitter and Facebook.
"Our condolences go out to the family of Heather D. Heyer who was killed by a terrorist in Charlottesville, Virginia as she protested Neo-Nazism and white supremacy," Sen. Sanders said on Facebook Sunday.
"Heather sacrificed her life in the fight for social and racial justice. She will not be forgotten. The best way for us to truly honor her memory is to make sure that, every day, we continue that struggle. Together, we will create a nation free of hatred, free of racism, free of sexism, free of homophobia, free of xenophobia."
President Donald Trump issued a statement Saturday expressing his condolences to Heyer's family.
However, Blair told CNN's New Day that Heyer would not want his condolences. "She would not want [Trump] to speak her name," Blair said. "Now, Bernie Sanders—that's what Heather stood for."
On November 19, 2016—just 11 days after the election—Heyer shared a photo on her Facebook with a quote that read, "If you're not outraged, you're not paying attention."
Follow Marie Claire on Facebook for the latest celeb news, beauty tips, fascinating reads, livestream video, and more.
Celebrity news, beauty, fashion advice, and fascinating features, delivered straight to your inbox!
I'm Eileen, the digital news reporter at Hearst Digital Media. As a member of the newsroom, I report on a wide range of news, including entertainment, politics and lifestyle. I also cover red carpet events for over 20 of Hearst's magazine brands. I previously held positions at CNN, Facebook and MTV, where I worked as a digital producer, writer and on-camera host. Fun facts: I'm fluent in Spanish, a BU alum, and love fashion and travel.