Hillary Clinton Gets Candid About What It Was Like to Debate Donald Trump
"Back up, you creep! Get away from me!"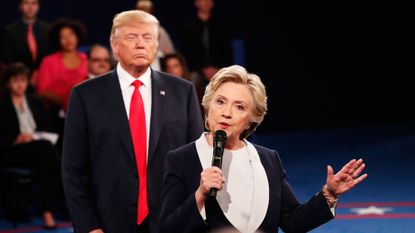 (Image credit: Getty Images)
Hillary Clinton is set to release a new memoir, What Happened, detailing the 2016 election. And it'll likely bring back some moments you may have suppressed because they were just that awful. (Yes, this really happened, and less than a year ago, if you can believe that.)
RELATED STORY
On Wednesday, Morning Joe aired an excerpt from Clinton's audiobook, in which she talks about the campaign and moments she wished she could do again. "Every day that I was a candidate for president, I knew that millions of people were counting on me, and I couldn't bear the idea of letting them down," she said. "But I did. I couldn't get the job done, and I'l have to live with that for the rest of my life."
She talked about how the book will feature moments she wished she could do over. One of those was October's town hall debate, which came after Trump's infamous Access Hollywood tape, in which he bragged about groping women. During that debate, Trump kept walking very closely behind her, and the result was incredibly creepy. Here's what she said in the excerpt aired on Morning Joe:
"No matter where I walked, he followed me closely, staring at me, making faces. It was incredibly uncomfortable. He was literally breathing down my neck. My skin crawled. It was one of those moments where you wish you could hit pause and ask everyone watching, 'Well, what would you do? You stay calm, keep smiling, and carry on as if he weren't repeatedly invading your space? Or do you turn, look him in the eye, and say loudly and clearly, Back up, you creep! Get away from me! I know you love to intimidate women but you can't intimidate me, so back up!' I chose option A. I kept my cool, aided by a lifetime of dealing with difficult men trying to throw me off. I did, however, grip the microphone extra hard. I wonder, though, whether I should have chosen option B. It certainly would have been better TV. May I have over learned the lesson of staying calm, biting my tongue, digging my fingernails into a clenched fist, smiling all the while, determined to present a composed face to the world."
Listen to the full excerpt below, if you can handle it:
Follow Marie Claire on Facebook for the latest celeb news, beauty tips, fascinating reads, livestream video, and more.
Megan Friedman is the former managing editor of the Newsroom at Hearst. She's worked at NBC and Time, and is a graduate of Northwestern's Medill School of Journalism.