Women Who Rock the World
Moving seamlessly through foreign wars and cultures, these rising stars of the United Nations arm themselves with intellect, compassion, and diplomacy.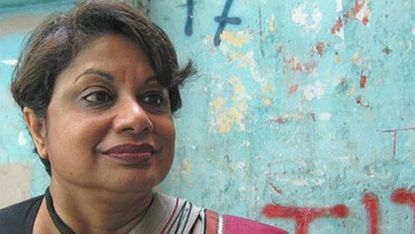 (Image credit: Laurence Gerard)
RADHIKA COOMARASWAMY
Job: Special Representative of the Secretary-General for Children and Armed Conflict
Translation: I am a moral voice and independent advocate for the protection of children in countries of armed conflict.
Where did you cut your teeth for this job?: The American university system in the '60s. I became very involved in the civil-rights movement and the women's movement, and I took those ideas with me for life.
Who is your role model?: Mahatma Gandhi and his movement of nonviolence-the idea of fighting for justice while maintaining the moral edge over your opponent.
If you want to know what Radhika Coomaraswamy is thinking, just ask her. The 53-year-old Sri Lankan didn't get to be top dog by biting her tongue. "My position involves naming and shaming parties that recruit child soldiers," she says. "Every year, we present a list of countries to the secretary-general. Then the Security Council can decide to impose sanctions until the parties end their violations."
The daughter of a U.N. diplomat, Coomara-swamy has spent her life moving between American and Sri Lankan cultures. In her teens, she attended the United Nations International School, which she credits with opening her eyes to global issues, even as her religious family cracked down on her personal freedom. "They wanted to marry me off," she says, raising her eyebrows. "An arranged marriage. They tried hard, bringing me this man and that man, and every time I said no." Finally, her relatives gave up. When Coomaraswamy published her first book a few years later, about the Sri Lankan constitution, she gave a copy to her grandmother as a gift. "I told her she could have it in place of a grandson-in-law!" she says.
In 1994, Coomaraswamy was selected to be the U.N. Human Rights Commission Special Rapporteur on Violence Against Women. In 2003, she became chairperson to Sri Lanka's Human Rights Commission. Last winter, she received the nod for the special-representative position.

Despite her rise to the top tier of U.N. officialdom in New York, Coomaraswamy hasn't forgotten the traditions of her homeland. "I'm not terribly religious, but the Hindu-Buddhist ability to detach from the everyday rat race is important to me," she says. "It reminds me that compassion, and the relationships we have with one another, are what really matter in the end."
BEATRICE MATEGWA
Job: Public Information Officer, TV Unit, United Nations Peacekeeping Mission in Sudan
Translation: I film and file news reports about the situation in Sudan.
Is it dangerous?: Sure, but that's the appeal. You're telling a story that would otherwise go unreported.
Toughest part: The equipment weighs 60 kilos (132 pounds), which is what I weigh, too.
At age 35, Beatrice Mategwa is a one-woman show-researcher, reporter, filmmaker, editor, producer-creating news clips on humanitarian issues to be picked up by agencies and broadcast around the world.

Born to an engineer father and schoolteacher mother, Mategwa grew up in Nairobi, Kenya. The youngest of seven children-and a twin-she decided early on that she was going to become a lawyer.
"But then, in college, I got a job working at a weekly paper," she remembers. She fell in love with telling other people's stories. After graduating, she got a position with Reuters's TV division. A month later, the U.S. embassy in Kenya was bombed. "It was terrible," says Mategwa, "but for a young reporter-trying to beat the competition to the story, making sure the world knew what happened-it was also exciting."
After that, she was hooked. "My bureau was in charge of covering the news for 14 countries, from Sierra Leone to South Africa. I traveled all the time," she says. "You have to love adventure in this job. You work long hours and often put yourself in serious danger. Several of my colleagues were killed in Sierra Leone."While working for Reuters in Sudan two years ago, Mategwa heard about the job with the U.N. "They were setting up their first television unit in the country and needed someone to run it," she says. It was a big leap, from a commercial organization to a humanitarian one. "I just said, 'Let's do it. Let's see if I can make this my new home.'"
Literal home is a two-bedroom flat in the heart of Khartoum, Sudan's capital city. Mategwa's day begins around 8:30 a.m., when she checks in at her office to see what stories are on the radar. Then she grabs her equipment and heads out into the field. Sometimes, as with assignments in Darfur, it gets dicey. "It's a choice-do you stay home or do you go? I always go," she says. "I want to tell the stories. My parents, though, they worry a lot. Some-times I don't tell them where I'm going."
So who is well-suited to this kind of work? Best if you are curious, fearless, and a bit of a loner: "Most of the time, I'm by myself, in 120-degree heat, lugging my equipment and trying to get the best shot." One day, she says, she'll be ready for a "proper relationship." Just not now. "When I see my friends from high school back in Nairobi, it's odd. It's like they've moved on and I've moved on, in very different ways. And I wouldn't trade it for anything in the world."
SHAYMA DANESHJO
Job: UNICEF Program Officer for the Middle East and North Africa Field Support and Inter-agency Collaboration Section Program Division
Translation: I'm responsible for ensuring that UNICEF's programs are reflected in the U.N. agenda. Where else have you worked? Zimbabwe, Namibia, Cambodia, Albania, and Russia.
Why are you so able to adapt to new places?: I spent 20 years as a refugee, unable to go home.
Shayma Daneshjo likes to fly under the radar. Dressed in a black, low-neck sweater, gray pinstripe slacks, and black boots, with her shoulder-length hair tucked neatly behind one ear, Daneshjo, who is in her late 30s, could be mistaken for a typical New Yorker.

In fact, she speaks six languages, has lived in nearly a dozen countries, and hails from Afghanistan. "My father was in the foreign service," she says. "I grew up in one of the richest neighborhoods in Kabul." Her childhood dreams were typical of those of other Afghan girls-to become a wife, a mother, and even, perhaps, "a waitress," Daneshjo says sheepishly. "I love to cook, but it never occurred to me to be the chef."
Then, in 1979, the Russians invaded Afghanistan. "We lost everything-many family members were killed," she remembers. They fled to Zimbabwe, and then, as the country became increasingly unstable, to America, where Daneshjo won political asylum for her family.
"Starting over wasn't easy-I didn't know the culture, I had no friends," she says. "It's been exceptionally hard for my parents. The humiliation my father faces-he went from being his country's ambassador to being a nobody. He's retired; he has no income. I am the breadwinner for my family now."
After applying for a UNICEF position in New York, Daneshjo worked her way up the chain of command. Then, in the weeks after 9/11, she found herself in the unlikely position of helping organize the first mission into Afghanistan. "Never in a million years did I think I'd return to my homeland," she says. "We went right after the fall of the Taliban. I was shocked that this was my country. There was no infrastructure, no electricity, no water."
After more than two decades away, Daneshjo found communicating with other Afghan women challenging-those who stayed through the Russian invasion, the civil war, and the Taliban rule, were often hostile. "They resented the fact that we did not share the same suffering," says Daneshjo. "It was hard for me to say to them, 'Yes, but as refugees, we had our own suffering, too.'"
For the next year, Daneshjo's UNICEF team set up new schools in Afghanistan. Their mission was a success, although today, "the Taliban are burning the schools down in the south," she says, shaking her head. "We build them, they burn them. But still, more children-especially girls-are going to school than before."
Daneshjo is currently UNICEF's desk officer for Iraq in New York. "It's frustrating," she says. "We operate by remote control. Our base is in Jordan, and we're advising local workers on the ground in Iraq without having access inside the country ourselves." Last year, the organization gave more than $100 million to children's health and education programs in Iraq.
In a job where she deals, quite literally, with issues of life and death, the plight of the average American sometimes feels ironic. "I go home at night, and on the TV there are all these people talking about how they are depressed," she says, with a soft laugh. "And I want to say, 'What is the matter with you? You live in America! My god, what do you have to be depressed about?!'"