The Ax Factor: Reality TV Crackdowns
Why Communist China is pulling the plug on the country's tasteless reality fare.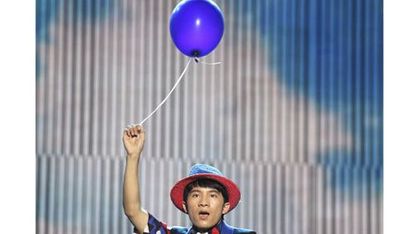 (Image credit: Archives)
In China, reality-television shows such as China's Got Talent are so adored, they attract peak audiences of almost a half-billion, equivalent to the entire populations of the United States, Canada, and Mexico combined. But not for long. The Communist regime, disapproving of the country's "tasteless and vulgar" reality fare, is yanking the plug.
Effective January 1, a government ruling allows the country's 34 satellite TV channels to show only two "light entertainment" shows per week, encouraging them to create more programs on traditional culture, arts, and sciences.
Since reality TV exploded onto Chinese screens around 2005, the genre has spawned an estimated 130 wildly popular shows, including Mongolian Cow Yoghurt Super Girl (their version of American Idol); China's Next Top Model; and a Project Runway copycat, Magical Talented Design-ers. After Susan Boyle's rise to global fame, Chinese underdogs flocked to enter singing contests. A shop worker dubbed "Little Fatty" wowed audiences by belting out Whitney Houston classics, while a farmer in a tattered overcoat won the nation's hearts by crooning old love songs.
Chinese cadres started to get hot under their Mao collars about the trend last year when the popular matchmaking show If You Are The One fell foul of censors for promoting "a materialistic, gold-digging attitude among female contestants." When a 22-year-old model from Beijing named Ma Nuo ridiculed an unemployed potential match by telling him, "I'd rather be crying inside a BMW than laughing on your bicycle," the remark made headlines. On the show Run for Love, a short man was snubbed by female contestants until he bragged about his 1.5-carat diamond ring, luxury apartment, and Lamborghini. Then they all wanted him. Officials decried such behavior as "equivalent to prostitution" and ordered the shows to discuss taking care of the elderly and disabled orphans. Ratings nose-dived.
The current curbs on reality TV, says Chinese author and social commentator Lijia Zhang, are evidence that, despite growing economic freedom, the long arm of the government is still there. But she doubts such censorship will be effective. "They can pull the plug on entertainment shows, but they can't stop young Chinese from being increasingly opinionated and harder to brainwash."
Celebrity news, beauty, fashion advice, and fascinating features, delivered straight to your inbox!